Chelsea sensation Edouard Mendy has been robbed from Ballon d'Or shortlist - and here's why
The Senegalese international was on fire again this weekend.
Watch more of our videos on Shots!
and live on Freeview channel 276
Visit Shots! now
If Edouard Mendy were a biscuit, he might be a Hobnob.
Throw whatever you like at the Chelsea stopper, dunk him into the hottest of waters time and time again, and he simply refuses to crumble.
In large part, it's that resilience that has helped the 29-year-old to enjoy a sweeter honeymoon period than most at Stamford Bridge.
Over the course of his first 13 months in England he has won a Champions League and casually usurped the most expensive goalkeeper in footballing history - although it's worth pointing out that Kepa's threadbare form in West London should forever act as a gentle reminder that nominative determinism isn't always all its cracked up to be.
They're scrappy, unrelenting, and they're probably going to put a few more of the big boys on their backsides before the season is out.
Saturday's match was a perfect illustration as to why.
After going a goal behind, there were no notable signs of wilting or resorting to damage limitation.
Instead, like that fog that turns people inside out on The Simpsons, the Bees choked Chelsea's defence for much of the closing stages, wreaking havoc as they did so.
They were ravenous, harmonious, striped in red and white - somewhere between a swarm of locusts and a barbershop quartet - and the only thing that prevented them from bundling home at least an equaliser was Mendy's superlative display.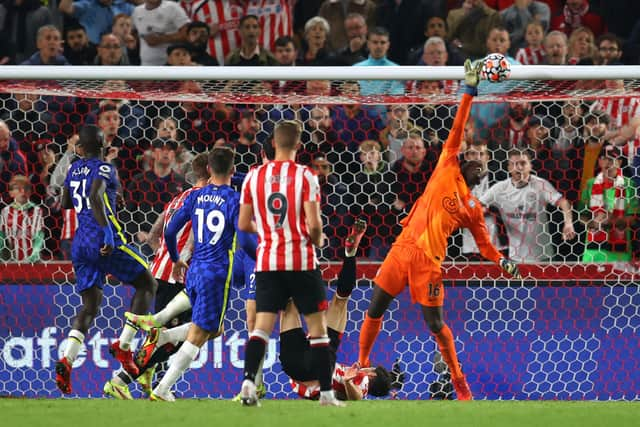 Glove, midriff, face - the Senegalese international made use of just about every weapon in his arsenal as he repelled a late salvo of Brentford efforts, and pretty much every stop was more mystifying than the last.
According to stats aggregator Wyscout, of the six saves he recorded, five required reflexes, and in total, by rights, he should have conceded 2.05 goals.
And yet, against all logic, Mendy came through it with a sheet so clean he would have passed Shane Richie's Daz Doorstep challenge with aplomb.
Taking all of that into account - his weekend heroics, his annus mirabillus, his uncanny shot-stopping ability - it's hard to escape the feeling that Mendy has been robbed.
When the shortlist for this year's Ballon d'Or was released recently, there were no fewer than five Chelsea players included.
There was also one, solitary goalkeeper, but the two circles on that particular Venn diagram had a yawning chasm between them.
While Cesar Azpilicueta, Mason Mount, Jorginho, N'Golo Kante, and Romelu Lukaku all came in for recognition - as did PSG's monstrously precocious Gianluigi Donnarumma - Mendy was left out in the cold.
In the grand scheme of things, it's a sleight that probably won't ruffle the player himself too much.
After all, we're talking about a man who was registered unemployed as recently as 2014, and who came within a hair's breadth of quitting the game altogether.
To be where he is today, regardless of outside acknowledgement, is almost mind-boggling.
But it still begs the question, why isn't he on that list?
At this precise moment in time, there's a compelling argument to be made for Mendy being the best goalkeeper in the world.
People might scoff at that, but at the very least there's nobody who can claim they've got daylight over him.
Some will, justifiably, point to Donnarumma's influential turn at Euro 2020, but the Chelsea stopper played just as much of a role in helping the Blues to this summer's Champions League title. Meanwhile, domestically, he has kept 20 clean sheets in his first 38 Premier League outings.
In truth, the chances are that it speaks more to how criminally underrated goalkeepers still are in the modern game than it does to any kind of personal affront focused on Mendy himself, but no matter which way you cut it, no matter how you weigh up the arguments, there's no getting away from the fact that he has evolved into a world-class talent.
Saturday's display against Brentford was yet another reminder of exactly that.