Just Stop Oil: Protestors throw soup over Van Gogh's Sunflowers at National Gallery
The painting is valued at an estimated £72.5m.
Watch more of our videos on Shots!
and live on Freeview channel 276
Visit Shots! now
Climate protestors from Just Stop Oil have thrown cans of Heinz tomato soup over Van Gogh's Sunflowers painting at the National Gallery.
Two campaigners walked into the room at the National Gallery, in Trafalgar Square at 11am this morning, the group said, and threw two cans of soup over the 1888 masterpiece.
The painting is valued at an estimated £72.5m.
It follows two weeks of chaos in London as campaigners demanding the government halt all new oil and gas licences blocked roads and glued themselves to the tarmac.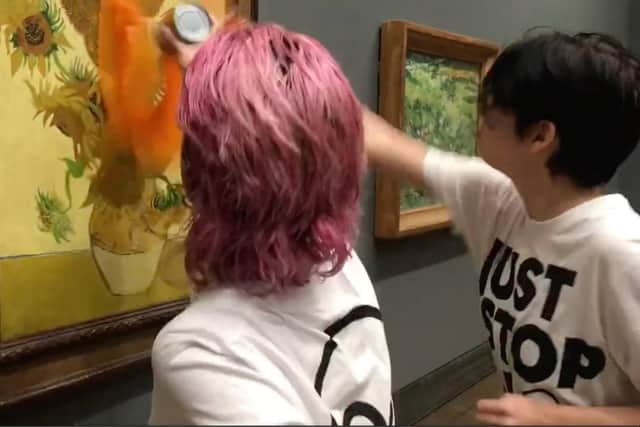 Protestor Phoebe Plummer, from Just Stop Oil, said: "Is art worth more than life? More than food? More than justice?
"The cost of living crisis is driven by fossil fuels - everyday life has become unaffordable for millions of cold hungry families - they can't even afford to heat a tin of soup."
Ms Plummer, 21, from London, added: "Crops are failing and people are dying in supercharged monsoons, massive wildfires and endless droughts caused by climate breakdown.
"We can't afford new oil and gas, it's going to take everything. We will look back and mourn all we have lost unless we act immediately."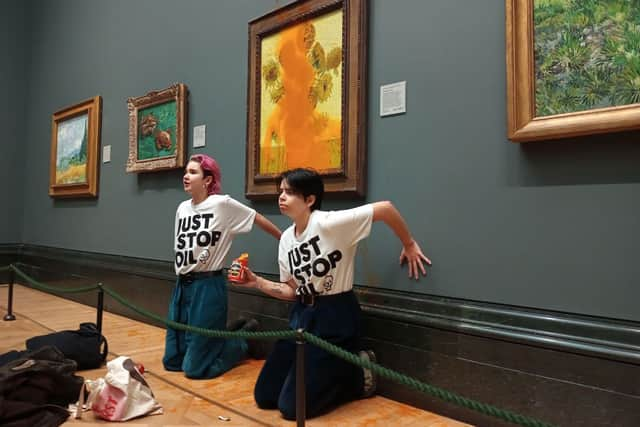 And Anna Holland, 20, from Newcastle, said: "UK families will be forced to choose between heating or eating this winter, as fossil fuel companies reap record profits.
"But the cost of oil and gas isn't limited to our bills. Somalia is now facing an apocalyptic famine, caused by drought and fuelled by the climate crisis.
"Millions are being forced to move and tens of thousands face starvation. This is the future we choose for ourselves if we push for new oil and gas."
The group says its action this month coincides with the planned launch of a new round of oil and gas licensing with over 100 new licences for oil and gas projects likely to be awarded.
While an energy price hike is set for October 1, with almost 8 million households are expected to fall into fuel poverty by April 1, 2023, Just Stop Oil added.
A Just Stop Oil spokesperson said: "We will not be intimidated by changes to the law, we will not be stopped by private injunctions sought to silence peaceful people. Our supporters understand that these are irrelevant when set against mass starvation, slaughter, the loss of our rights, freedoms and communities."
A National Gallery spokesperson said: "At just after 11am this morning two people entered Room 43 of the National Gallery.
"The pair appeared to glue themselves to the wall adjacent to Van Gogh's 'Sunflowers' (1888). They also threw a red substance - what appears to be tomato soup - over the painting.
"The room was cleared of visitors and police were called. Officers are now on the scene. There is some minor damage to the frame but the painting is unharmed. Two people have been arrested."