Just Stop Oil: Climate activists glue themselves to roads around Trafalgar Square
The Just Stop Oil campaign said 35 of its members have blocked roads near Trafalgar Square.
Watch more of our videos on Shots!
and live on Freeview channel 276
Visit Shots! now
A group of seven people dressed in drag formed one of the roadblocks, the group said.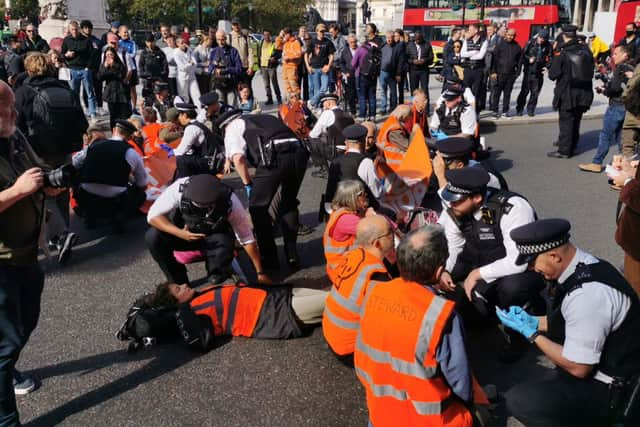 A few have also climbed on top of police cars.
The Met Police said they have arrested 32 people for "wilful obstruction of the highway".
"All protestors who had glued and locked themselves onto the road have now been safely removed by specially trained officers," said the Met in a statement.
"Traffic is flowing again in Whitehall and the surrounding areas. "
Peter Tatchell, 70, an LGBT rights campaigner and Just Stop Oil supporter said: "There is no point campaigning for LGBT+ human rights if we don't have a planet where we can enjoy them.
"Climate destruction is an existential threat to the survival of queer humanity.
"In the tradition of LGBT+ direct action by groups like OutRage!, heroic queer activists from Just Stop Oil are taking on the climate wreckers to save our planet from ecocide.
"They deserve our admiration and support."
Cat Acheson, 27,  a sustainability research student at the University of East Anglia (UEA) said: "We are in an economic and environmental crisis, with oil companies making obscene profits while climate breakdown spirals out of control, and ordinary people can't afford to live.
"We need an end to all new fossil fuel extraction, a redistribution of wealth, and clean, affordable energy for all."
The Met Police tweeted: "We are aware of current protest action in central London.
"Protestors are blocking traffic, having glued and locked themselves to the road, at the top of Whitehall near Trafalgar Square.
"Officers are responding on scene to get protestors removed, we will keep you updated."
Today's disruption follows on from nearly a week of continuous disruption by supporters of Just Stop Oil.
This disruption, which has largely targeted roads in Westminster, takes aim at the government's inaction on both the cost of living crisis and the climate crisis.
The group said they will continue their action over the coming days.
A spokesperson said: "Our supporters will be returning - today, tomorrow and the next day - and the next day after that - and every day until our demand is met: no new oil and gas in the UK."