Just Stop Oil: Arrests made after activists block roads in Knightsbridge
The Just Stop Oil campaign said 32 of its members have blocked roads in Knightsbridge
Watch more of our videos on Shots!
and live on Freeview channel 276
Visit Shots! now
Several climate activists have been arrested after disrupting traffic in Knightsbridge in their 11th day of action.
Police arrested 28 Just Stop Oil protesters by Knightsbridge Tube Station on Tuesday October 11.
The group established 3 roadblocks on Knightsbridge and Brompton Road stopping traffic in either direction by sitting in the road and glueing themselves to the tarmac.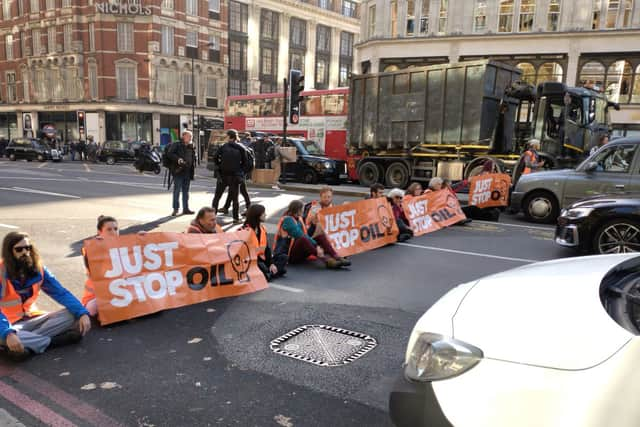 Video footage on social media showed a fire engine and an ambulance being forced to reverse and find another route in Knightsbridge.
Just Stop Oil later posted a video showing protestors pause their roadblock to let the fire engine through.
This follows 10 days of continuous disruption from the Just Stop Oil group, in which a total of 309 arrests have been made.
On Monday, 31 arrests were made, including 23 on The Mall after a group established a roadblock and seven outside Downing Street after they marched in the road with banners.
Holly Exley, 34, a freelance illustrator from Bristol said:"The reality is that there can be no new oil and gas if we want a safe future, but the UK government wants to extract and sell "every last drop" from the North Sea.
"Their plans will make climate breakdown, mass suffering and loss of life inevitable unless good people rise up and resist.
"Right now a very small group of people are making huge sacrifices, risking their wellbeing and their liberty to resist new oil and gas.
"It's time for everyone to stand up and pick a side. "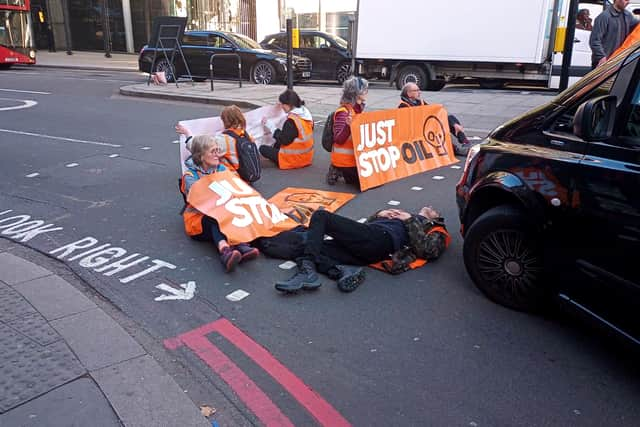 Kathy Dolan, 48, a council worker from Trafford, Greater Manchester said:"I can't stand by while our government chooses destructive self-interest over a liveable future, and, for the global south, a liveable present.
"We're out of time. I will resist, my conscience won't let me do anything else."
This disruption, which has largely targeted roads in Westminster, takes aim at the government's inaction on both the cost of living crisis and the climate crisis.
The group said they will continue their action over the coming days.
A spokesperson said: "Our supporters will be returning - today, tomorrow and the next day - and the next day after that - and every day until our demand is met: no new oil and gas in the UK."
A spokesperson for the Met Police said: "Met officers have arrested 28 Just Stop Oil protesters in Knightsbridge today, Tuesday, October 11.
"All were arrested for wilful obstruction of the highway and have been taken to a number of central London custody suites, where they remain."