The group, who are demanding urgent government action on the climate crisis, will hold a sit-in at Downing Street and plan to replace TfL bus and Tube adverts with their message.
Unions, anti-austerity campaigners, environmental protestors and racial justice movements are expected to protest what XR believe are the "unjust policies of the new government".
It follows 12 days of disruption by Just Stop Oil protestors who glued themselves to roads across the capital, sparking fury from drivers for blocking ambulances and fire engines.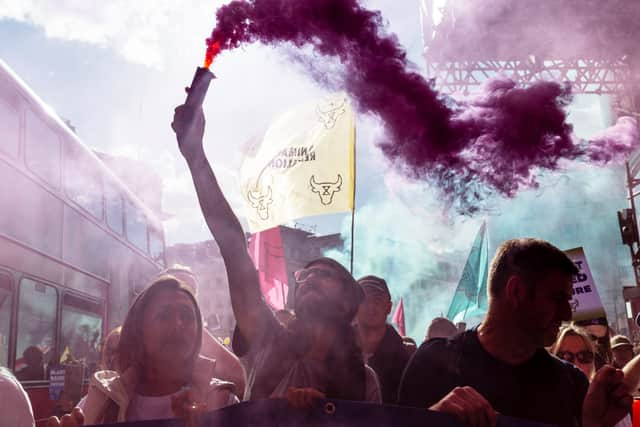 While the House of Lords yesterday (Wednesday, October 12) published a report calling for urgent public behaviour change to prevent the destruction of nature and meet net zero goals.
Sarah Matthews from Extinction Rebellion said: "The trajectory we're on in the UK is a frightening one, with a new Prime Minister proud of her connections to the oil industry and policy now being written directly from Tufton Street lobbyists.
"At least we're able to see corruption and lobbying influence in plain sight. This government isn't hiding it and the people of the UK are showing they aren't going to put up with it."
Protestors say they are aiming to have 100,000 people on the streets calling for climate action by early 2023.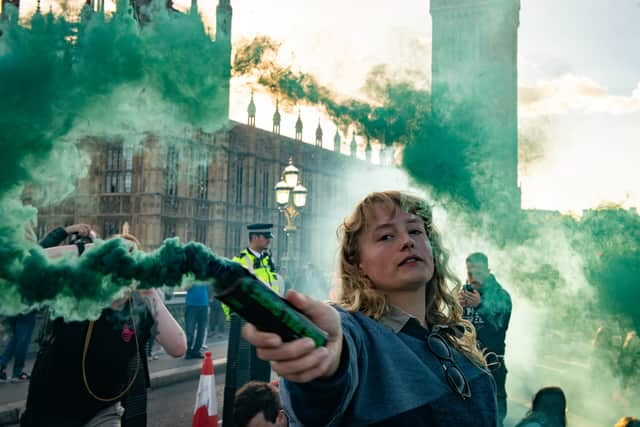 This weekend's campaign will run from Friday, October 14, to Sunday, October 16, and XR say they want to highlight "how the cost of living crisis and the climate crisis intersect".
Friday will see campaigners gather at midday in Trafalgar Square before marching to Downing Street and blocking Whitehall until 6pm with speakers and a mass sit in.
Their website states they intend to "stay until 6pm, irrespective of the police response" and activists are instructed to bring their energy bills with them.
XR says: "Together we have the power. We agree to stay until 6pm. 'We' includes me. We choose to stay to show our resilience until 6pm, whether the police facilitate this or not. It's not about getting arrested, it's about not doing what they tell us to do. An obedient population teaches power what it can get away with."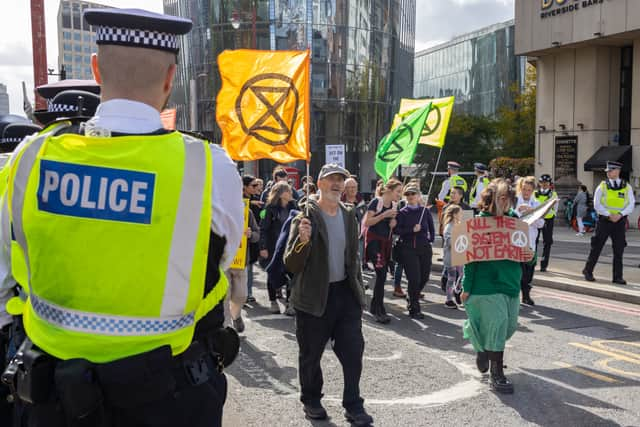 While on Saturday, XR is hosting an open house event on the Tate Modern lawn, described as "family-friendly… with food, art, music and poetry" to raise awareness of their aims.
Economist Kate Raworth of Doughnut Economics; band She Drew The Gun; writer Peter Jukes from Byline Times; and speakers from Black Lives Matter are on the lineup.
On Saturday night, people are encouraged to head en masse into central London for a 'subvertising' campaign - where TfL adverts posters will be replaced with climate information.
And on Sunday, activists will march from the Reformer's Tree in Hyde Park at 11am, to Parliament Square, with an oak sapling representing Kett's Oak, a symbol of protest and resistance.
Sarah added: "It is clearer than ever that despite our differences; organisations, movements and individuals are recognising the necessity to unite and say enough's enough."
Newly appointed Met Police chief, Sir Mark Rowley, told City Hall this week the Just Stop Oil protests did not meet a legal threshold for "serious disruption" and that blocking a road was not of itself a prosecutable offence.
And mayor Sadiq Khan previously stressed while he supported the right to lawful protest and more needed to be done to address the climate crisis, activists should not put London at risk.
His spokesperson said: "The mayor's top priority is protecting Londoners and he fully supports the Met's efforts to keep Londoners safe and to keep our city running."