Just after 8am this morning the group had marched with flags from Jubilee Gardens along Belvedere Road where they stood off the road in a line along the bridge.
Shortly afterwards the eco group dropped a large banner that reads 'APRIL 21: UNITE TO SURVIVE'.
The action officially launches Extinction Rebellion's '100 Days' campaign – the biggest mobilisation campaign XR has ever undertaken.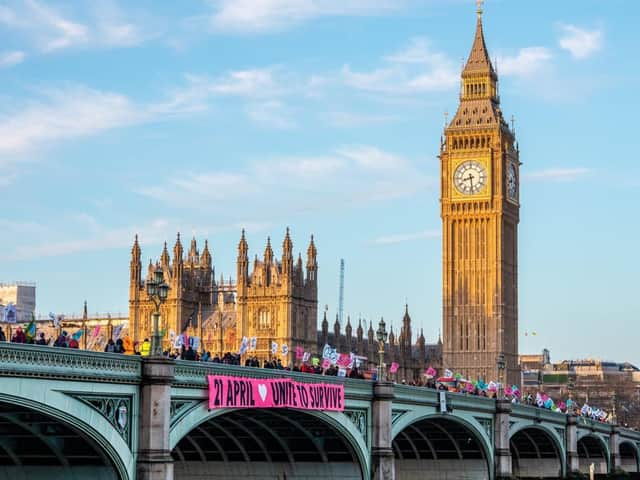 With it, a new Crowdfunder is set in motion with a £1 million target by April 21, 2023, when 100,000 are expected to stand together outside the Houses of Parliament.
Following Extinction Rebellion's New Year statement that promised to 'disrupt the abuse of power and imbalance' by targeting the 'true perpetrators', the passive action is directly targeted at the UK Government.
Anna Hyde of Extinction Rebellion UK, said: "The climate, ecological and biodiversity emergencies are not distant threats – they are happening right now, unevenly affecting many – ultimately affecting everyone, and life on Earth is at stake.
"Covered up by corrupt media, those in power continue to profit from the crises unravelling around us. The fossil fuel era must end, and restoration of the world must begin.
"This is where solidarity comes in."
Dr. Caroline Vincent of Scientists for XR, said: "Disruptive protest has done so much to change the conversation around the climate and ecological emergency over the last 4 years; more and more people are waking up to realities of the climate crisis, and more and more are saying they want immediate and decisive action.
"The reality is however, that as the general public becomes more concerned, the government in the UK backtracks on its already meagre climate promises, sanctioning a new coal mine in Cumbria at the end of 2022.
"So, the government isn't listening and the only way that changes is by all of these newly concerned people recognising their own power and stepping into active resistance.
"At the same time, the government is clamping down on the right to protest and criminalising those raising the alarm.
"In the current circumstances it's clear that only larger numbers of people taking peaceful action together over prolonged periods will prove impossible to ignore."