Mr Sunak marked London Poppy Day today (Thursday, November 3) by joining volunteers at the central London underground station close to the Houses of Parliament.
He was spotted in dark trousers and a black jacket, white shirt and red tie, sporting a poppy and an RBL box.
And the Conservative leader posed for selfies and chatted with commuters in the busy station.
Twitter user Sara Le Roux said: "My wonderful husband Stephen Le Roux is volunteering for [the] Royal British Legion at Westminster Station today."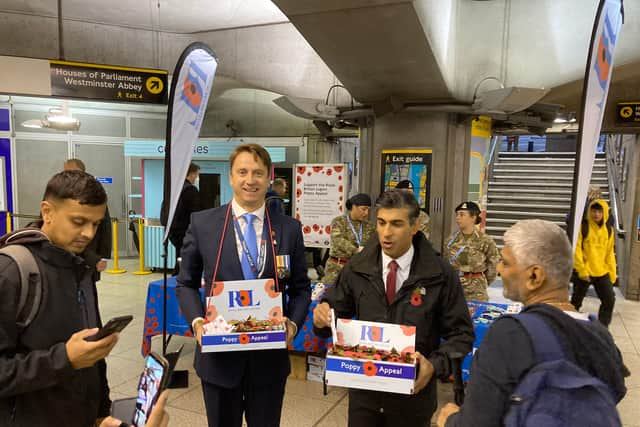 She added: "If you're in the neighbourhood, pop by and show some love for our veterans and armed forces.
"You might also see Rishi Sunak there supporting the Poppy Appeal."
And Conservative MP for Pendle, Andrew Stephenson, added: "Good to see the prime minister selling poppies for the Poppy Legion at Westminster tube station on my way into work this morning."
He shared a snap of the smiling prime minister with armed forces volunteers and members of the public.
However, others were less than impressed, with one Twitter user saying: "Funny how Sunak has time to 'sell' a few poppies but not so much for major international conferences.
While another branded his actions "hypocrisy" and called on the prime minister to show more support for veterans.
A spokesperson for the RBL said: "Thank you TfL for once again supporting the Poppy Appeal and helping RBL continue its vital work.
"If you're travelling in London today, look out for special poppy designs on Underground, Overground, DLR and tram vehicles, plus Elizabeth line trains for the first time!"
They continued: "Join us for London Poppy Day and help us raise £1m in just one day for the Poppy Appeal.
"Pick up a poppy from the more than 2,000 armed forces personnel, veterans and Poppy Appeal collectors who will be out in force across the capital.
"Military bands will be performing at stations including Waterloo, Canary Wharf, Paddington, Kings Cross, Liverpool St, Victoria, Cannon St and London Bridge, so look out for them if you're travelling around London
"Your poppy shows your appreciation for the extraordinary service our armed forces offer to the country and helps us continue our vital work."
And they added: "London Poppy Day is a unique opportunity to meet military personnel and veterans when making your donation to the Poppy Appeal."