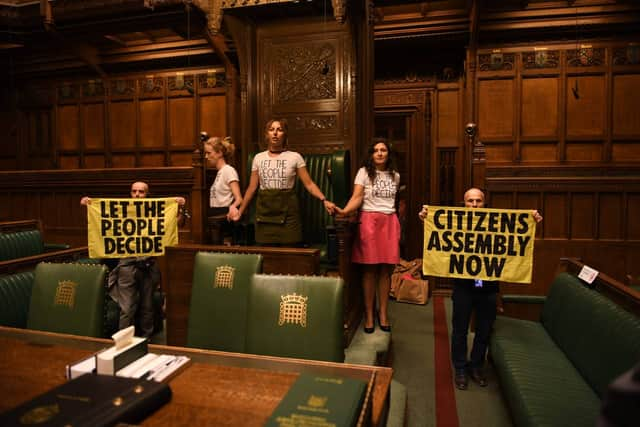 Two others stood beside them holding up signs saying 'Let the people decide' and 'Citizens' assembly now'.
It is understood that they entered the building after booking an official tour, before breaking away from the group to stage the protest.
Outside of the building, an XR member climbed up the scaffolding around Big Ben and held another giant banner that read 'Let The People Decide- Citizens' Assemblies Now".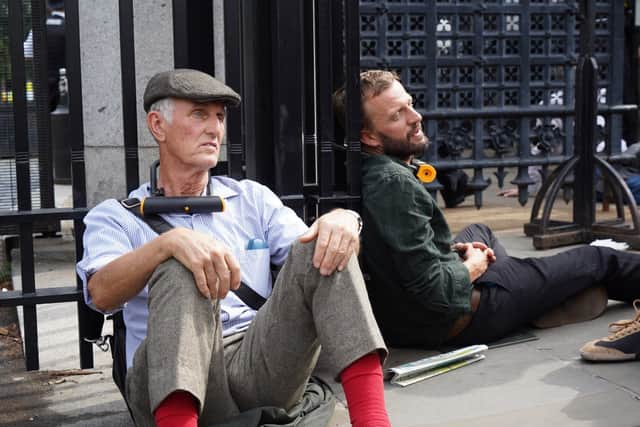 Two protesters could also be seen with locks around their necks and connected to the front gates of the Houses of Parliament.
Extinction Rebellion said around 50 people were involved in the 'non-violent' action at Westminster.
Alanna Byrne of Extinction Rebellion, said: "It is possible to change things and update politics so it really represents ordinary people.
"Independent citizens' assemblies can show that those blocking progress in Westminster have no democratic mandate to continue destroying the environment and give power back to people.
"Selected like a jury and supported with independent, expert knowledge, this is true democracy that reflects the diversity of the population.
"But to create a new, fairer politics will require first thousands, then millions of us.
"It will require sustained culture-shifting civil disobedience, until we become impossible to ignore.
"Then, when there's enough of us, positive change will become inevitable."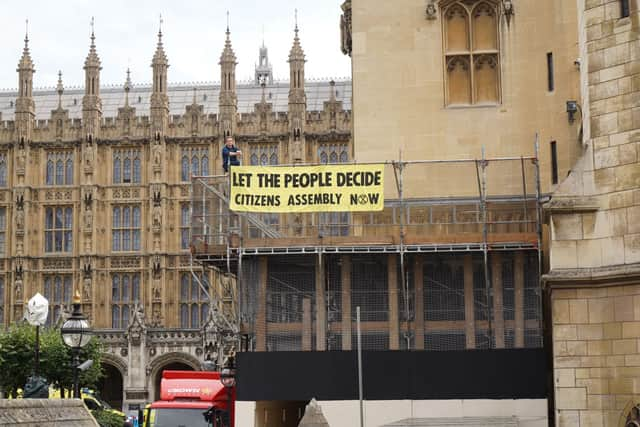 Emergency vehicles from the police, fire and ambulance services arrived at the scene shortly after 12pm.
A police helicopter was also seen flying over parliament.
A House of Commons spokesperson said: "We are aware of an incident on the Parliamentary Estate and are currently dealing with the situation as a matter of urgency."
The climate activist group has a series of actions planned over the coming weeks, with a "Paint the Streets" event on Friday September 9 and a further three days of action starting on Saturday September 10.