A group of Extinction Rebellion scientists have glued themselves to the windows of the Department for Business, Energy & Industrial Strategy in Westminster.
They said they wanted to highlight the climate science which the government was ignoring.
At around 11am, the group assembled at the department's building at 1 Victoria Street, and pasted scientific papers to the windows.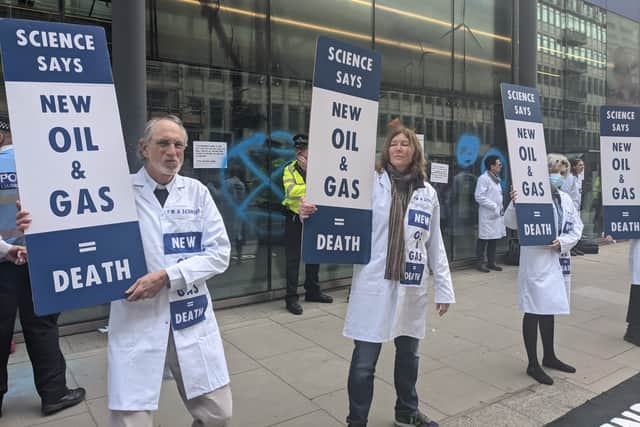 The action comes a week after the government published a new energy strategy which promised to continue the exploitation of oil and gas from the North Sea.
Dr Abi Perrin, 32, a microbiologist from York spoke to LondonWorld while her hands were glued to the windows.
"We're here today as a group of scientists because we've read the warnings from scientific colleagues around the world about climate change, the environmental crisis and the urgent need for action," she said.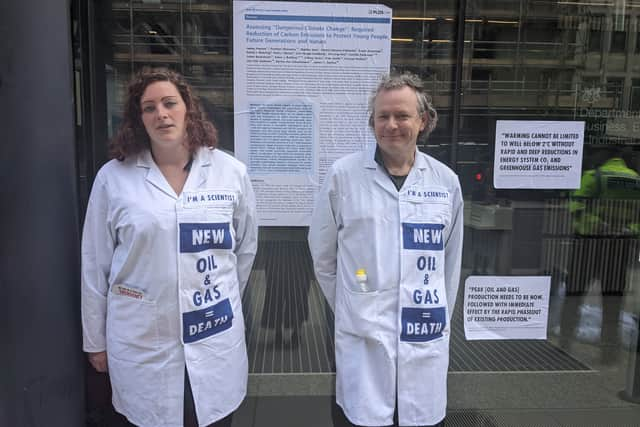 "We're seeing governments not responding in a way that is following the science.
"On Monday last week, we had the latest government's panel on climate change's report which said unequivocally that we need to stop exploring for new oil and gas.
"Days later we had the energy strategy published in which one of its strategies is to extract as much oil and gas from the North Sea as possible.
"And we know that this won't solve the immediate energy crisis that we're in now because that oil and gas will only be available for the next 20 years."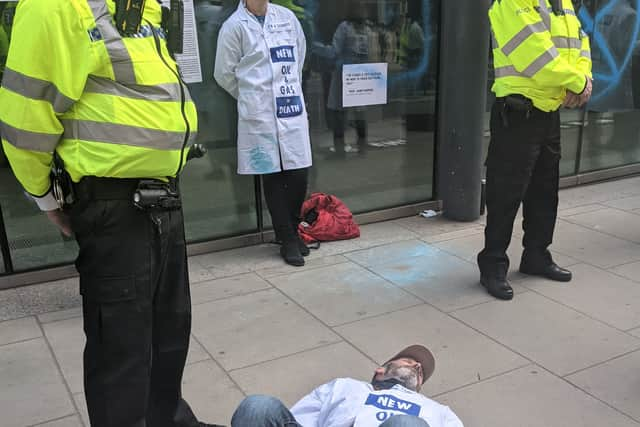 A BEIS spokesperson said: "We are gradually driving down demand for oil and gas, but we cannot have a cliff edge by turning off our domestic source overnight.
"Doing so would put our energy security, British jobs and industries at risk and simply increase foreign imports, not reduce demand.
"Our British energy security strategy sets out a long-term plan to ramp up cheap renewables as we transition away from expensive fossil fuels."
At around 3.30pm, the group affiliated with Scientists for Extinction Rebellion were removed from outside the building by police.
The protests kicked off in Hyde Park on Saturday April 9, and the group said it will continue its action until the government meets its demands to end all new fossil fuel infrastructure immediately.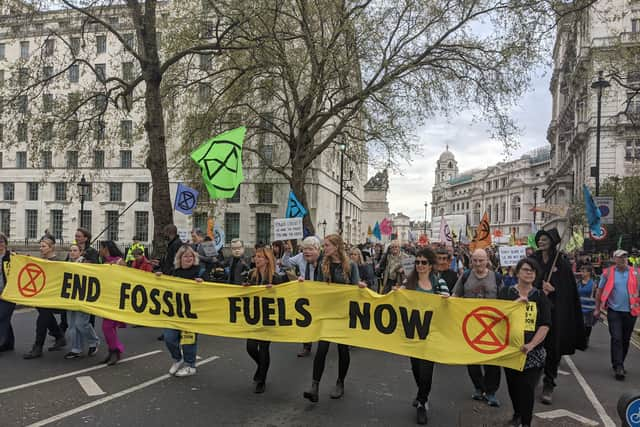 On Wednesday morning, the climate action group met at Speakers Corner in Hyde Park and marched through central London.
More protests throughout the week are expected.
Commander Ade Adelekan, Met police spokesperson for the planned Extinction Rebellion protests in London, said: "Extinction Rebellion have made their intentions clear in their public announcements that they plan to hold 'mass action' and block areas of London for as long as possible to draw attention to their cause.
"Everyone has the right to protest, and the public understands that protest will often result in a degree of disruption.
"However, the rights of protestors have to be balanced against the rights of the wider public, businesses and community.
"We have a comprehensive policing plan, together with colleagues from City of London Police, ready to consider using police powers should the protest result in serious disruption or involve anyone committing criminal offences.
"Our plan includes specialist teams on standby to respond to any protesters who lock or glue themselves to street furniture or complicated structures, should that be necessary.
"We have been in contact with the organisers in the run up to their event, and will continue to engage with them throughout the period, in an effort to avoid serious disruption to London's communities."