The chief of London's under-fire police force has revealed more "embarrassing or disgusting" scandals "probably will" emerge in the coming months.
Met Police commissioner Dame Cressida Dick made the bombshell admission this morning (Thursday, February 10) while taking calls from listeners on BBC Radio London.
Following a string of racism, sexism and discrimination scandals which have forced her to fight for her job, Dame Cressida said: "I'm not complacent.
"There could be, there probably will be over the coming months, some more examples which will be embarrassing - or disgusting - because we'll be rooting them out."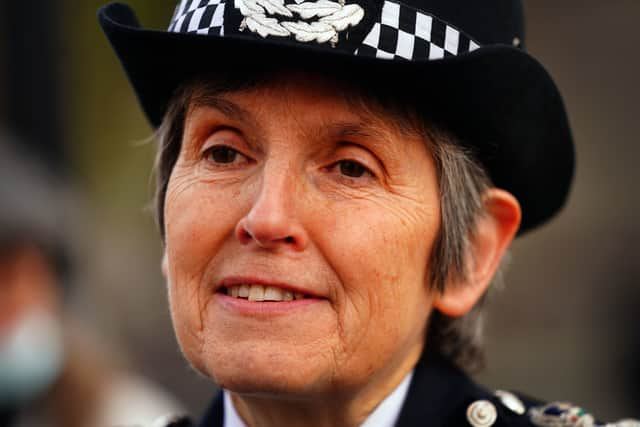 The phone-in follows a recent string of shocking scandals involving the force, including:
Questioned why she had been put on notice by London mayor Sadiq Khan - who reportedly put her on notice with "days and weeks" to tackle the force's culture issues - and a "less than endorsing" statement had been released by home secretary Priti Patel, Dame Cressida defended her position.
She insisted Mr Khan had told her just three weeks ago that he had "never had more confidence in the Met's ability to deliver", and that her success depended on an "effective working relationship and a trusting relationship" with both politicians.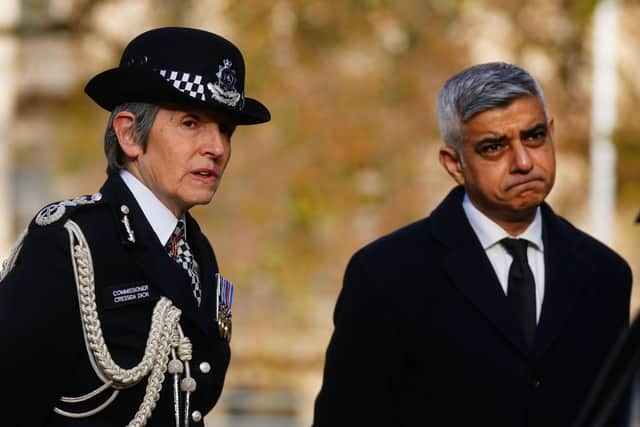 Vile texts between serving officers joking about raping women, killing black children and boasting about domestic violence were revealed in a shocking report, laying bare bullying, misogyny, discrimination and sexual harassment within the ranks of the force.
Messages included telling a female colleague "I would happily rape/chloroform you"; jokes about paedophilia; derogatory remarks about Muslims and Auschwitz and ableist slurs.
The phone-in follows anger that two officers had since been promoted.
Dame Cressida said one officer involved in the report had moved up the ranks before the IOPC investigation began, while the other was not found to have any "finding of guilt".
She told listeners she has never used the phrase 'a few bad apples' and added: "We have a problem of far too much very bad behaviour."
The commissioner said she and senior leadership had been "laying down the law" to officers.
"We need the Met to be a service that Londoners are proud of in every way," she added.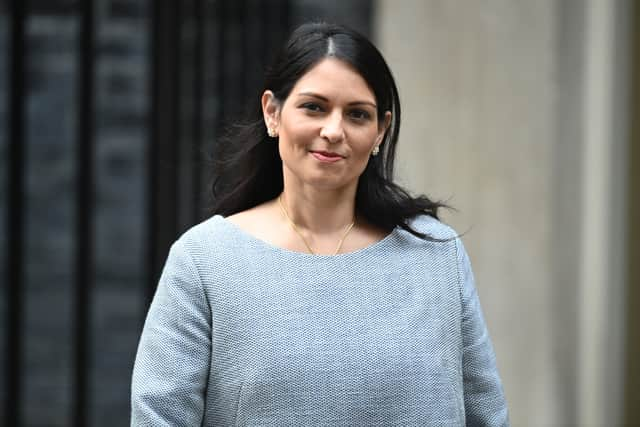 Another caller quizzed Dame Cressida on her future in the job - asking: "Will you now go?"
But she hit back, insisting she was working on reforming the force and had "absolutely no intention" of leaving the job.
She added that violent crime was going down "year on year on year... we have good people in the main".
"I have absolutely done my very best and I will continue to do so until the day I leave the Met," she said.
"Most people would absolutely agree I have been leading the Met very well. I can evidence in very many ways... I have a bunch of 40-something thousand people in the Met who think I've been doing a very good job.
"I cannot allow it to be said that the experience at Charing Cross - disgraceful as it is - is commonplace."
Mr Nestor asked: "Do you think the families of the gay men who died in Barking would say that? Do you think the mother of Nicole and Bibaa would say that? Do you think Daniel Morgan's brother would say that?
Dame Cressida said: "I'm not possibly going to try to put myself in their shoes. They've been through ghastly experiences of different sorts over different sorts of time periods. They will say whatever they will say.
"But I know what they will say, which is that there needs to be a determination to root out individuals and teams that are abusing trust and are racist, sexist, homophobic or whatever else.
"There needs to be a programme for ensuring people are even more culturally competent and protection for people who are uncomfortable and that is what we have in place and we will be very happy as Baroness Casey goes along to improve that."