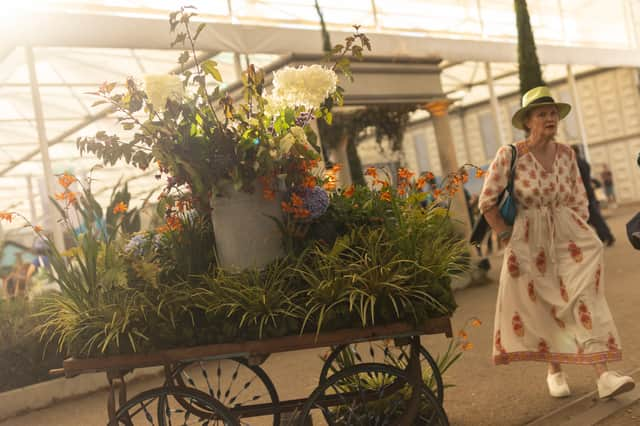 The RHS Chelsea Flower Show is currently on. Credit: Dan Kitwood/Getty Images
It's official: urban gardening has never been so cool.
In fact, a recent survey of 2,000 18-34-year-olds found 54 per cent of them would rather visit a garden centre than a nightclub.
London is teeming with green-fingered talent, refusing to be put off by the lack of space – in fact many don't even have gardens themselves.
So now we want to give you even more inspiration from some of the best Instagram pages around.
Whether you have a balcony, a container or even just a vase crying out to be filled with flowers, we have the account for you.
Super smart Alice Vincent became Insta-famous for creating a mini hanging garden in her London flat.
Although she moved to a more spacious house last year, her feed is still filled with practical ideas for maximising space and light, as well as thoughtful reflections on the benefits of plants on mental health.
Visual artist Harriet Parry uses flowers as her medium to dazzling effect.
She's worked on shoots with fashion houses such as Louis Vuitton, and also creates fun series such as flower versions of human portraits and teeny, tiny posy arrangements.
Her account is a multi-coloured, visual feast that's sure to leave you feeling inspired.
A self-taught gardener who started her business while at university, Emma has pretty much single handedly transformed terrariums as a must-have interior design feature rather than a Victorian curiosity.
Her feed is filled with shots of plants popping against the walls of her millennial-pink painted shop in Deptford, as well as mood-boosting snaps of her dog, Walnut Wiggins.
Swedish fashion designer Stina has lived in London for 20 years.
Her grid includes occasional shots of her fabulous outfits, but is mostly dedicated to flowers snapped in London gardens, including her own narrow plot in Hackney.
Since 2011, garden designer Isabelle has been transforming some of London's least inspiring concrete corners into mini Edens.
She's written several books for green-fingered city types, including one on house plants and another on growing in containers.
She lives in a top-floor flat in Hampstead, so knows first hand how to maximise space.
How to get tickets to the RHS Chelsea Flower Show
Grab yours now to see some incredible gardens like the ones above.
Public tickets cost £83.75, while RHS members tickets get a reduced rate.
There is currently only tickets on sale for Sunday, however the RHS says returns may be available for other days.