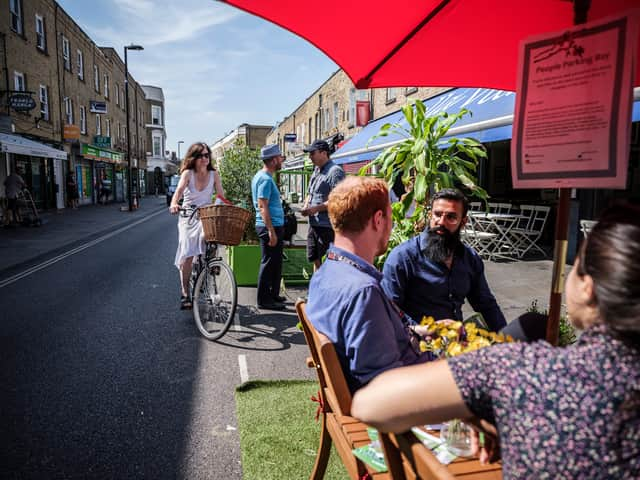 What is a parklet?
In case you haven't heard of the term, a parklet is a small pavement extension, usually covering one of two car parking spaces.
It is designed to add green open space to dense urban environments.
Parklets provide spaces for people to interact, to rest, for children to play, for greenery, bike parking and other commercial and community uses.
Where did the idea come from?
Parklets have been popular in the US since the 1990s, but the first one of its kind didn't appear in the UK till 2015.
Brenda Peuch led London's parklet revolution when she transformed an unused parking space in Hackney into a mini garden.
The immensely popular creation led to parklet permits being made legal in Hackney and other London boroughs.
Why now?
Also in recent years London has successfully reduced the number of cars on its roads.
This leaves lots of empty parking spaces that could be put to good use.
How do I create a mini-park?
Do your research
Talk to your neighbours, hold informal meetings and share your plans on social media.
Get permission
Talk to your local council and see if you can start a pilot project.
Present the council with your plan for your parklet and evidence of community support.
The council will review your proposal to make sure your design is safe and accessible. Once you've got permission you can build your parklet.
Be persistent
Depending on where you live, you may have to wait to get permission for your parklet.
Work out the logistics
Find out what funding is available and how much money you'll need to build your parklet, and set up a crowdfunder.
See if local businesses can donate materials and reuse and recycle what you have.
Be as creative as you like with your design.
Tell people it's happening
Invite your councillor, MP or local celebrity to officially open the parklet and invite the press to come along.
Contact local schools and community centres and invite them to visit.
Keep it going
If you become a parklet keeper, you will be responsible for the design, installation and maintenance of your parklet.
It's a great chance to be part of how your neighbourhood develops.