RHS Chelsea Flower Show 2021: Alexandra Noble's top tips for urban gardeners ahead of London garden show
London-based garden designer Alexandra Noble, who is exhibiting at this year's Chelsea Flower Show, gives her top tips on gardening in small spaces.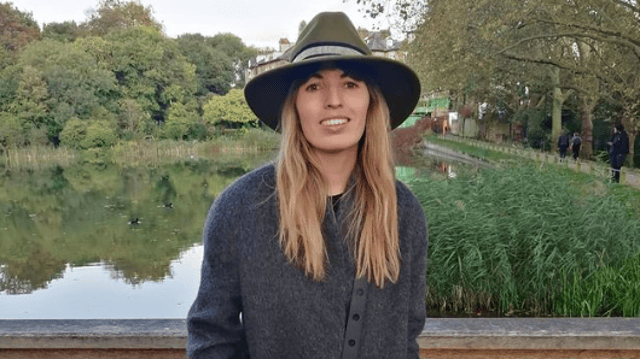 Alexandra Noble, who is appearing at the Chelsea Flower Show, gives her top tips for urban gardeners.
If the pandemic taught Londoners anything, it was how precious green spaces are.
Few things can compete with the satisfaction of watching a plant sprout from seed, or the gentle sense of well-being that comes from seeing nature's yearly rhythm unfold before your eyes.
It's a joy north London-based garden designer Alexandra Noble knows well.
After completing an architecture degree, Noble assisted highly-regarded garden designers Luciano Giubbilei and Jo Thompson before founding her own studio in 2017.
Since then her romantic, whimsical style has won her the RHS People's Choice Award at Hampton Court Palace Flower Show in 2018.
She will also be exhibiting at this year's Chelsea Flower Show in a new category, Balcony Gardens, which starts on Tuesday.
The design of Alexandra Noble's Balcony of Bloom for the Chelsea Flower Show 2021. Credit: Alexandra Noble/Ben Wu-Holmes
Alexandra's design is called the 'Balcony of Blooms'.
The garden will feature blooms for pollinators and culinary herbs and aims to show how small spaces can be productive, practical and enchanting.
And if you can't make it to the Chelsea Flower Show 2021, you can find out Alexandra's advice below.
She shares her top tips for how to make the most of your outdoor space, no matter the size.
A stunning garden designed by Alexandra Noble. Credit: Anna Skorupska
Window boxes
Herbs are ideal for window box gardening and it makes sense to grow the ones you use most in cooking. I favour curly parsley, rosemary 'Miss Jessopp's Upright' and lemon thyme which are all happiest in a sunny, well drained spot.
Alternatively, sow seeds of annual edible flowers such as borage, cornflowers or nasturtium which all work well in window boxes and make picture perfect additions to cocktails and salads. 
If your window box is in a sunny position, you could try growing a combination of alpine plants. These are best appreciated up close and can get lost in a border so are ideal for a bright, exposed and raised area such as a window sill.
Try your local garden centre or the Alpine Garden Society website, which has a list of specialist nurseries.
Balconies
Maximise planting space and greenery by considering climbers. I love the scent of star jasmine (Trachelospermum jasminoides) on a summer breeze or winter jasmine (Jasminum nudiflorum) for its bright blooms in the winter months.
Remember to use evergreen plants within your planting to ensure year round interest.  I have recently been drawn to both pink and white flowering lavender cultivars such as Lavandula 'Edelweiss' and Lavandula 'Rosea'.
Arnaud Mortimer's stunning patio design, called Home Exposure, in a courtyard in Ealing. Credit: Arnaud Mortimer
Consider drought tolerant plants which suit containers and need watering less such as curry plant (Helichrysum italicum), rock rose (Cistus parviflorus), African lily (Agapanthus africanus) and stonecrop (Sedum spectabile).
Cluster pots of different sizes and always in odd numbers for an informal effect.
Gardens
Use repeat flowering perennials for longevity of colour. Favourites include catmints (Nepeta), lady's mantle (Alchemilla mollis) and cranesbill geraniums.
Plant spring bulbs in autumn for a show stopping display next spring time. On my wishlist this year are Tulipa sprengeri, Tulipa acuminata and Narcissus 'Elka'.