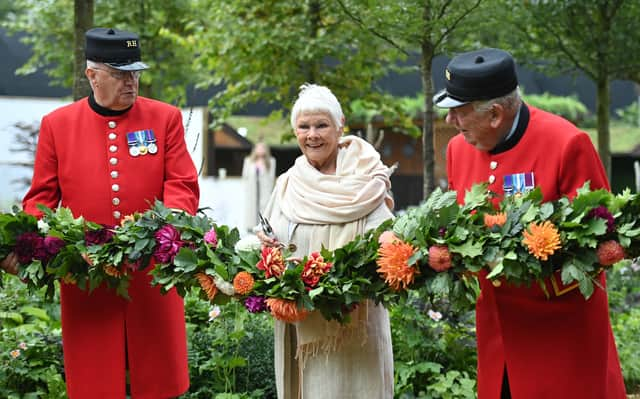 Judi Dench reacts as she stands with Chelsea pensioners to open the Queen's Garden display during the 2021 RHS Chelsea Flower Show. Credit: JUSTIN TALLIS/AFP via Getty Images
The RHS Chelsea Flower show is back this week, after being postponed due the pandemic.
It will be the first time it has ever been held in autumn rather than its usual May slot.
What is the Chelsea Flower Show?
The Royal Horticultural Society's show is quite simply the world's most famous gardening event, combining cutting edge garden design with glorious floral displays and food, drink and shopping.
The whole thing has the air of a summer garden party – or in this case, an autumn one.
A display of dahlia plants are pictured during the 2021 RHS Chelsea Flower Show in London. Credit: JUSTIN TALLIS/AFP via Getty Images
Each year, more than 100 green-fingered experts present Gold, Silver-Gilt, Silver and Bronze medals across categories such as Show Gardens, Space to Grow Gardens and the Artisan Garden categories.
There are also various specialist awards such as Young Florist of the Year and Best Discovery Exhibit.
How to get tickets
Grab yours now, they're sure to sell out.
A woman wearing a Tomato inspired hat photographs her stand on Chelsea Flower Show's press day. Credit: Dan Kitwood/Getty Images
Public tickets cost £83.75, while RHS members tickets get a reduced rate.
There is currently only tickets on sale for Sunday, however the RHS says returns may be available for other days.
Where is the RHS Chelsea Flower Show?
The show has been held at the Royal Hospital in Chelsea since 1913.
This Grade I and II listed site is home to the Chelsea Pensioners who are retired soldiers from the British Army.
More than 300 veterans live there today who have served in the likes of Korea, the Falkland Islands, Cyprus, Northern Ireland and World War II.
Visitors look at a garden display on Chelsea Flower Show preview day. Credit: Getty Images
How to get to the Chelsea Flower Show?
There are shuttle buses to the showground from Battersea Park and Victoria Station.The Battersea Park service runs from 7am to 9pm Tuesday to Saturday with the exception of Friday when it is extended to 10.30pm. Sunday it will run from 7am to 6.30pm.
The Victoria Station service operates from Buckingham Palace Road every 10 minutes, dropping off at Royal Hospital Road Bus Stop U and picking up on Chelsea Bridge Road Bus Stop T, by Barrack Gate.
A man carves a gorilla's face into a pumpkin on the 'All Carved Out' stand on Chelsea Flower Show's press day. Credit: Getty Images
The closest Tube station is Sloane Square, on the District and Circle Lines, which is a 10-minute walk from the showground.
Alternatively, visitors can try the newly opened Battersea Power Station underground station on the Northern Line, which is 25 minutes away.
Public parking is available in Battersea Park and must be pre-booked with tickets.
The RHS says: "If you are parking at Battersea Park and using a sat nav, please use the postcode SW11 4BY. This will take you straight to the Rosary Gate entrance."
There is a park and ride bus from Battersea Park, with the price included with parking tickets.
Britain's Prince Edward, Earl of Wessex, (R) and Britain's Sophie, Countess of Wessex react as they visit the 2021 RHS Chelsea Flower Show. Credit: CHRIS JACKSON/POOL/AFP via Getty Images
Highlights to look out for from this year's show
The Florence Nightingale Garden: A Celebration of Modern-Day Nursing, designed by Robert Myers, built by Bowles & Wyer, sponsored by The Burdett Trust for Nursing.
The Yeo Valley Organic Garden, designed by Tom Massey, supported by Sarah Mead, built by Landscape Associates, sponsored by Yeo Valley.
Finnish Soul Garden – A Nordic Heritage Seaside Garden, designed by Taina Suonio, built by Conquest Creative Spaces, sponsored by Ministry of Agriculture and Forestry of Finland.
The design of Alexandra Noble's Balcony of Bloom for the Chelsea Flower Show 2021. Credit: Alexandra Noble/Ben Wu-Holmes
The Boodles Secret Garden, designed by Thomas Hoblyn, sponsored by Boodles.
Guide Dogs' 90th Anniversary Garden, designed by Adam Woolcott & Jonathan Smith, built by Conway Landscapes, sponsored by The Guide Dogs for the Blind Association.
RHS Queen & Green Canopy Garden, designed by David Dodd.
A Tranquil Space in the City, designed by Mika Misawa.
Which celebrities are attending?
Many celebrities attended the preview event on Monday.
These included Princess Anne, Prince Edward, Earl of Wessex, Sophie, Countess of Wessex.
In the past the Queen and Prince William have visited.
Dame Judi Dench and environment secretary George Eustice also attended the preview.
Dress code
There isn't a formal dress code at the event, however a lot of people tend to dress up for the event.
Visitors normally wear summer dresses and smart shirts, but with the weather slightly colder people may choose to wear fashionable jackets.
There is no cloak room at the event.
How to watch on TV
You can also watch the show from the comfort of your own home.