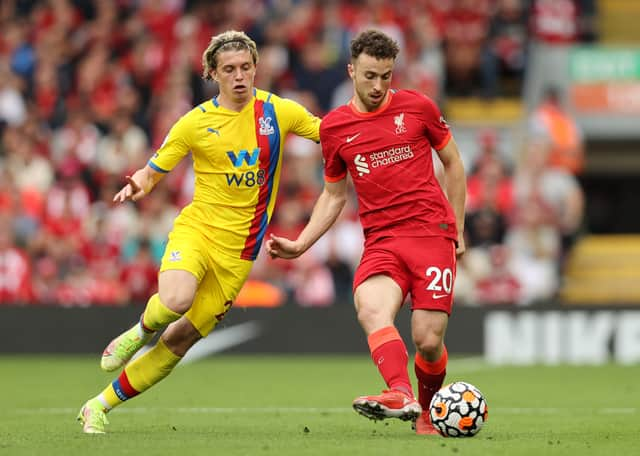 Liverpool forward Diogo Jota. Picture: Clive Brunskill/Getty Images
Gallagher has had to prove his worth and ply his trade in the second tier of English football, but is now flourishing under Vieira at Palace.
And he did his parent club a huge favour as he put in a stellar performance as Palace beat reigning champions Manchester City 2-0 at the Etihad.
After the game, in which Gallagher grabbed a goal and an assist, Vieira was in awe of the midfielder.
Patrick Vieira enjoyed his return to the Etihad. Credit: Getty.
"I think (Gallagher & Zaha) both of them, like the rest of the players, worked really hard," Vieira said.
In the game, Gallagher dispossessed Laporte and teed up Zaha, before a role reversal in the second half saw the Ivorian set up Gallagher who left Ederson with no chance as he wheeled away in celebration.
It wasn't just Vieira who was impressed by the youngster's performance, as former Palace striker Ian Wright was heaping praise on Gallagher.
Speaking on Match of the Day, Wright was impressed with his pressing: "This is brilliant from Conor Gallagher, because he's cutting off Laporte's left foot, he wants him to go inside, bam.
"Pep's saying they gave it away - no, Palace sucked them into that trap.
"Again, you look at Conor Gallagher, he goes into a position where we know that Man City like to play in that area.
"Bernardo Silva's there, cuts it out again.
"And they did that all day, the plan was perfect. He was everywhere, he was doing everything."
Gallagher was clearly feeling jubilant after the win on Saturday, and took to Instagram to say: "Wow, what a feeling! Brilliant team performance!"
He could follow his former Cobham teammates Reece James, Mason Mount, Callum Hudson Odoi and Tammy Abraham into becoming a Chelsea regular.