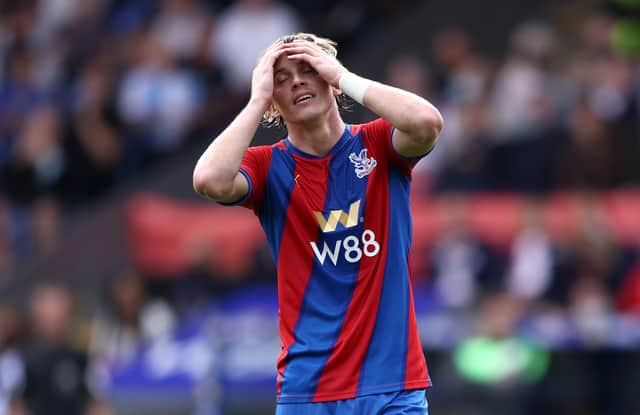 Conor Gallagher of Crystal Palace reacts after a missed chance during the Premier League match (Photo by Paul Harding/Getty Images)
Crystal Palace manager Patrick Vieira says he is not looking into the details to sign impressive youngster Conor Gallagher from Chelsea permanently yet.
The former French international, who has had a bright start to life as Palace manager, explained it was too early to entertain thoughts of a permanent move for the Chelsea midfielder.
Gallagher on-loan from Chelsea has been a real power engine for Palace and perfectly embodies the all-out-energy football philosophy Vieira has been trying to implement at Selhurst Park this season.
The 21-year-old Gallagher has two goals, two assists and two man-of-the match awards from his first nine games of the season.
Patrick Vieira returns to the Etihad this weekend. Credit: Getty.
What Vieira said about Conor Gallagher
Crystal Palace manager Patrick Vieira said when asked about signing Conor Gallagher permanently from Chelsea: "I have the same kind of relationship I have with Conor and with all the other 25 players.
"Working with Conor is a joy, really.
"He is a player who wants to fulfil his potential.
"He is prepared to learn, to work hard.
"He brings his energy to the team and I think the staff, myself, we are enjoying working with him.
"It's really too early to talk about this kind of decision of signing him fully.
"We are really glad that he decided to come to our football club.
"I think we had the tools to attract him to our football club.
"And I believe that he made the right decision.
"But what will happen in the future? I think we have to wait a couple of months to talk about that.
"He comes in every morning with a big smile on his face and leaves the training ground with a big smile as well.
"And when he's on the field he is working hard every single day.
"He is a player that wants to fulfil his potential.
"And I think that is a really important tool to have as a player to improve yourself and to keep challenging yourself."
Crystal Palace are unbeaten in their last three games but haven't been able to take the three points.
They travel to the Etihad to face Premier League Champions Manchester City, and Vieira will be hoping that Conor Gallagher puts in another stand-our performance to help his side get something from the game.
Following deadline day, it was revealed that Gallagher had been offered to Newcastle earlier in the window before he opted to move to Crystal Palace. (Photo by Paul Harding/Getty Images)
He added: "I will want them to play with the same kind of competitiveness, the same concentration, determination. We played quite well as a team.
"It is not enough yet but we are going through a process where experience, maturity, will improve the team.
"That will allow us to win football matches. What we are doing on the field the way we play, is positive.
"There is some aspect of the game that takes time to develop, one of them is maturity.
"You need to be strong t some really important moments in the game. At some really important moment in the game.
"And I think when we managed to get that kind of experience we will be better and we will win football matches."