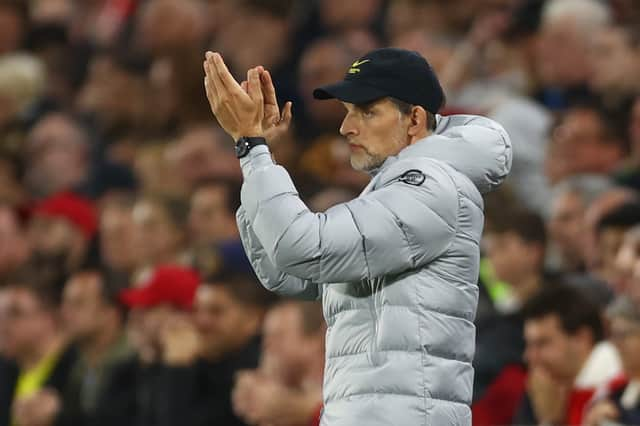 Thomas Tuchel, Manager of Chelsea applauds his team during the Premier League match (Photo by Clive Rose/Getty Images)
Chelsea manager Thomas Tuchel admits he is thinking of making tweaks to the system that won him the Champions League title last season.
The German manager established himself as a true titan in coaching after leading Chelsea to their second Champions League title last May in Porto.
Thomas Tuchel had been to the final with PSG prior to that, but lost to Bayern Munich and the lessons from that defeat came in handy when he outwitted Pep Guardiola's side to win the prestigious trophy.
His 3-4-3 system also got the best out of Kai Havertz and Timo Werner who were stagnating under Frank Lampard, giving hope that the duo with the addition of Romelu Lukaku could form a fearsome trio at the top of the Chelsea attack.
But the Blues manager has struggled to find a place for all his attacking talent and games have been won with their backs against the wall.
Tuchel revealed he and his coaching team are concerned and spend time thinking of how they can improve the system to suit the abundance riches they have at the club.
Thomas Tuchel, Manager of Chelsea and Thiago Silva of Chelsea react following the Premier League (Photo by Catherine Ivill/Getty Images)
He said: "We can create chances in every kind of structure and system off course.
"Yes we think about sometimes finding a system that will let us put more attacking players in the team, but we have to be very careful and find the right structure.
"There are reasons we stay in this structure and the reason is that we want to have a team that is very difficult to play against.
"We know we struggle to win games but who doesn't struggle to score or win games because this is the Premier League.
"We are looking for solutions one could be that we change the structure but we will see."
Another issue that will undoubtedly enter the mind of Thomas Tuchel will be the form of Romelu Lukaku who has failed to score in his last four league games.
Since scoring on his debut against Arsenal and following it up to find the back of the net against Villa, the former Inter Milan striker has cast a rather frustrating figure in the last few games.
The Belgian hitman can be seen constantly throwing his hands up in the air when the ball does not find him.
Romelu Lukaku of Chelsea shoots at goal during the Premier League match (Photo by Catherine Ivill/Getty Images)
His demeanour and form is a stark contrast to the lively striker who signed from inter Milan for £97.5m earlier in the summer.
Tuchel says he is aware of Lukaku's issues but adds that the striker might just be paying for playing a lot of games last season.
"In my opinion I feel Romelu overplayed," the Chelsea boss told the press ahead of the Champions League game against Malmo.
"I think he played too many competitions over the summer and now that is affecting him.
"He is a fantastic athlete, a competitive guy and he wants to be out there and win, digging deep."
Ahead of Malmo on Wednesday, Tuchel also revealed Antonio Rudiger and Thiago Silva who both missed the 1-0 win over Brentford were back in training with Christian Pulisic, the only player still nursing an injury.
Christian Pulisic #10 of United States gathers himself after being knocked to the ground (Photo by Brett Carlsen/Getty Images)
The American has only played once in the league this season and picked up the ankle injury while on international duty.
Chelsea manager Thomas Tuchel admits the player has been frustrated by the set-back but was close to a return.
"He got injured on international duty with the US, he took a tough foul and got injured," Tuchel said.
"There is nothing to worry about in terms of hiding details, but at the moment he has setbacks through pain.
"It's not a re-injury but it's pain that disturbs him but he is close to returning, he is sometimes inpatient but we see the frustration in his eyes when we see him here for team meetings."