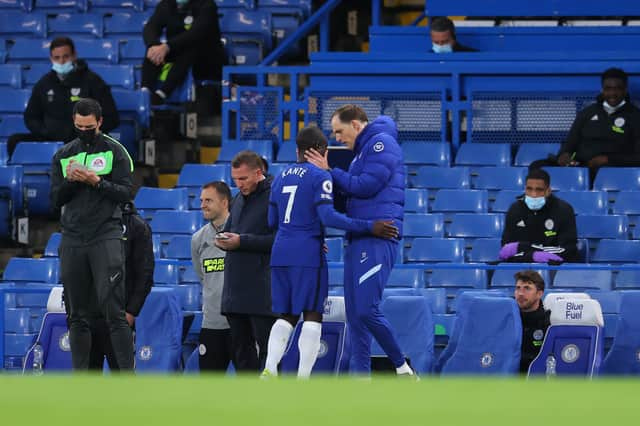 N'Golo Kante might have fully recovered from Covid-19, but LondonWorld understands that the midfielder is concerned about interacting with unvaccinated players.
The Chelsea star is reportedly fully vaccinated and took the jab at the first time of asking but a number of Premier League players are still hesitant.
The French midfielder tested positive in September, but has returned to the Chelsea team unaffected.
This however has heightened concerns from his family members and loved ones as there is history of heart-related issues in his family.
World Cup winner N'Golo Kante's father passed away when he was only 11 due to a heart attack, and his brother, Niama N'Golo, died a few months before the 2018 World Cup from a heart attack.
The Chelsea midfielder has also fainted twice in the last two years, even though all checks on his heart have given him a clean bill of health.
The issue of vaccines has split opinion among Premier League footballers, with managers revealing that players have been influenced by social media conspiracy theories.
The Premier League recently revealed that only 68% of players were fully vaccinated, with 81% having received one dose.
What managers have said about Covid-19 vaccinations
"It is a serious question, vaccinations seem to be the proper protection.
"I am vaccinated but I don't see myself in the position to speak out on recommendation.
"I don't know mate. I really don't know mate, we are a reflection of society and the players have the right to make a choice on their own.
"We should accept and this is more or less what I can say. I know the situation is very far from over and it makes you very aware that it is far from over."
Tuchel's position is a stark contrast to England manager Gareth Southgate who is encouraging players to trust the doctors and scientists who have worked hard to get us a vaccine.
As expected with everyone who dares to encourage people to take the vaccine, the England manager received abuse on social media for his stance.
In a video, encouraging people to get vaccinated, Southgate said: "There's no doubt that the vaccination programme is our best route out of this problem, not only for us as a country but across the world.
"So I just wanted to say how important it is, if you haven't had your vaccine yet, to go and get it done."
Affecting Kante's interactions with fans
When the Premier League decided to resume after the first lockdown, Kante and former Watford captain Troy Deeney were two of the leading voices who expressed concerns over the return of football.
The 30-year-old midfielder eventually held a meeting with former Chelsea manager Frank Lampard, who assured him of his support, before eventually returning to group training.
What did not return with the midfielder though was his interactions with fans.
Before the pandemic, Kante was one of the friendliest players, and would spend time taking selfies and signing autographs.
A source told LondonWorld that concerns over who is vaccinated has left the midfielder skeptical and wary of fan interactions and activities.
It is thought Kante would feel more secure if all Premier League players got the vaccine.
The Premier League started a programme in the summer to get players vaccinated, with club captains meeting the Government's deputy chief medical officer Dr Jonathan Van-Tam.
But despite these efforts not everyone has been vaccinated.
Other Premier League managers including Manchester United's Ole Gunnar Solskjaer and Newcastle United's Steve Bruce have said their players are reluctant to take up the vaccine.
There are several players in the Premier League like Kante who are hoping that a day will come when every player is vaccinated.