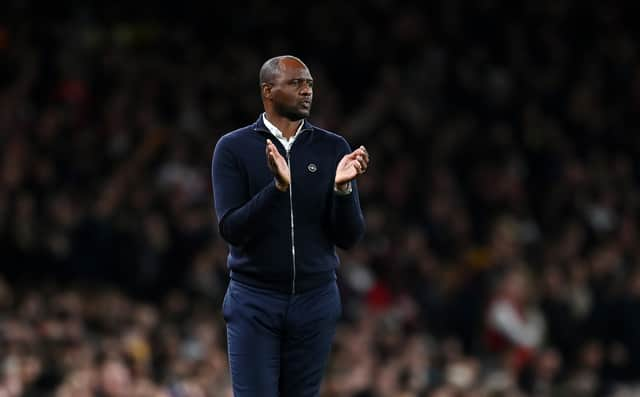 The Eagles were the better side against Arsenal at the Emirates but were denied all three points with French striker Alexandre Lacazette scoring with the last kick of the game to save a point for the Gunners.
LondonWorld brings you everything the manager said ahead of the weekend's clash against Newcastle.
Played so well, must-win?
I don't think it is a must-win.
The performance we are going to put on the field will tell us if we have a chance of winning the game or not.
Yes we played at times some good football but it is important for us to turn those good performances into a win.
To do that we have to play even better so that means making less mistakes, taking more chances and that will allow us to win games.
Good or bad time to play Newcastle?
We have to wait until after the game. I don't think there is an easy time to play any team.
They will have their problems but at the same time when you are in this situation as a player you will want to perform because you want to show you can be part of the new project.
We will be ready, we will be ready to perform, to work hard and to give ourselves the best shot to take the three points.
Steve Bruce may not manage again, why do you keep doing it despite the abuse?
I think it is the love of the game, the passion of the game and at the same time the pressure that goes with the game.
We are involved in the number one sport in the world.
Everybody is a manager and we can receive criticism of the way that the team is playing because we are managers and we will take the responsibility.
I think sometimes it goes over the line and the abuse that Steve received was unaccepted.
When we are talking about this kind of abuse, we are talking about any kind of abuse, it can mean any kind of discrimination or abuse the manager is receiving.
I think it is unacceptable and we know where we are and we know the importance of managers and the responsibility that we are taking, but I think people are going over the line.
Even if we are strong and proud, we are still human beings and have a family because it can have an impact on our family.
David Moyes and Mikel Arteta did not know abuse like it, when was your abuse?
I don't want to really go into it and talk about it.
This is something at times we say this is the world we live in, but we shouldn't accept that.
Sometimes the best way is to ignore these people.
We are maybe giving too much time to those people who are making that kind of abuse, especially on social media.
One of the best ways to deal with it is to ignore this kind of abuse.
When I say to ignore this kind of abuse it is coming as well from the media.
The less we talk about it, maybe people will stop this kind of abuse. We all have a responsibility to live in a better world I would say.
Are ex-players being put off my social media abuse ?
I hope they will not make a decision based on that because that would be giving them (the abusers) too much credit and too much importance.
I hope that any ex-players or anybody that wants to go into that world, I would invite them to go because it is a fantastic job. A fantastic job.
I hope they would not make that decision based on what abuse they can receive.
Fear of conceding late goals becoming a trend ?
It's not a trend at all. That's not a worry for me at all.
What I'm doing and what I want to do is to challenge my players individually and collectively to play even better than what we did in the last couple of games.
That way we will be much stronger as a team and allow us to be more successful and have more chances to win football matches.
Eze likely to play a game for Under-23s before he is back on bench?
He really just started training with the team and he didn't do the full session yet so really it is not the time to give a date about when he will be back on the bench or on the field again in a game.
We will evaluate his progression week after week and obviously we are all excited to see him back on the field, he is working well but we don't want to put any pressure on ourselves or any pressure on him to jump the protocol that we have in place for him.
Don't want to rush Eze because it's important when AFCON players are away?
No, I am not thinking about that at all.
It is just the protocol that has been put in place by the medical staff and we will follow it.
There is no date about when he will be back in action for us. It is just about week after week we will evaluate his progression and see where he will be.
Then we will make a decision on that.
Did Man City feel like a big club in 2010 or something made them a big club?
I think with the Manchester City project they wanted to build a sustainable football club so year after year the club grew with the number of people who are coming to work at the football club.
City had a really good idea of how to build this club and they knew where they wanted to go.
When you know how you want to build, where you want to go and you have the right people around with the financial backing, you will be successful.
This is what City has been in the last couple of years.