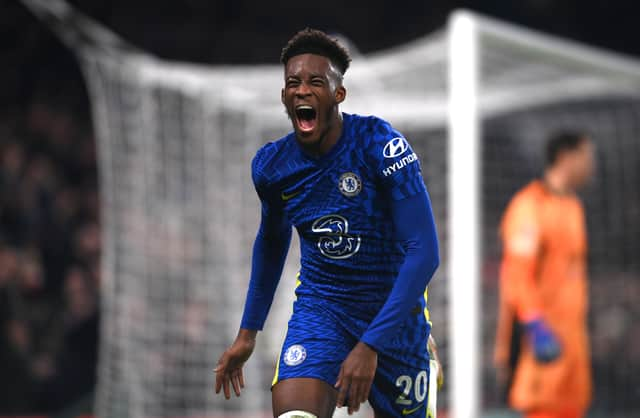 The defeat was the heaviest Juventus have suffered in the Champions League era, and underlined Chelsea's credentials as one of the favourites to retain the title they won in Porto last season.
James joined Chelsea as a six year-old boy, Hudson-Odoi as a seven-year while Chalobah joined aged just eight.
Chalobah went home with the most valuable award, but it was Callum Hudson-Odoi who once again impressed, looking dangerous when attacking and diligent when defending.
The England international is enjoying the best form of his Chelsea career, but has had to make some tough decisions to arrive at this special place.
How Callum Hudson-Odoi compares to other youngsters this season
Callum Hudson-Odoi Games played (12) Assists (2) Shots per game (1.3) Goals (2)
Phil Foden Games played (14) Assists (4) Shots per game (1.9) Goals (5)
Mason Mount Games played (14) Assists (2) Shots per game (1.8) Goals (3)
How has Callum Hudson-Odoi turned things around?
Decision to snub England U-21 call up is helping him focus on his Chelsea career
Hudson-Odoi has grabbed the bull by the horns, after years of showing potential without particularly delivering on the promise.
This season he's taken advantage of the injuries of others, reminding everyone why Chelsea decided to offer him a long-term deal even when Bayern Munich and Dortmund were lurking.
Having shone brightest for Chelsea in 2017, he was rewarded with a bumper contract in 2019, pocketing around £120,000 a week in wages, but he has failed to live up to initial promise until this season.
The emergence of players like Phil Foden, Mason Mount and Bukayo Saka also meant his potential England slot was taken, and he was looking on from afar when England dazzled to the Euros finals at Wembley.
He was criticised for turning down two England U-21 call ups, but he explained he needed time to focus on his club career which was falling up.
A combination of injuries and drop in form for key players like Timo Werner and Kai Havertz presented opportunities which were initially absent, and he's never looked back since.
Hudson-Odoi has three caps for England, and this summer would have particularly hurt with rumours that he was pondering switching nationality to Ghana due to lack of opportunities from his country of birth.
But the last two months have rekindled spirits and given hope that he could yet fulfil all his potential.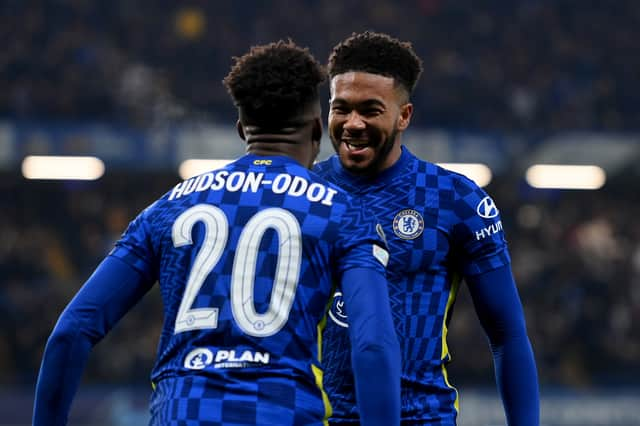 Playing in the left side of attack
It has taken some time but Hudson-Odoi has now been given a run on the left side of the Chelsea attack and he is repaying the faith of the Chelsea manager with top level performances.
Over the years-players like Eden Hazard and more recently Timo Werner have occupied that position, but this season Callum Hudson-Odoi has been the most impressive of all the players who have been given a run at the left side of the Chelsea team.
His ability to be dangerous when attacking and disciplined when defending has won over manager Thomas Tuchel who is rewarding him with game time.
Against Juventus he was like a kid in a toy shop, playing with a smile on his face and tormented the opponents until he got his goal.
And on this form, its hard to see him not starting games regularly.
The Juventus game was Callum's seventh straight start, the most he's ever had in his entire career and it was befitting that he crowned it off with another memorable performance against a true European giant.
In the seven starts, he's made 3.8 key passes, according to WhoScored.com, the most by any Chelsea player, and with Romelu Lukaku and Timo Werner all nearing full fitness it will be interesting to see how the increased numbers and competition for playing time affect his current form.
In his breakthrough season, then Chelsea manager Maurizio Sarri was hesitant to play him consistently for several reasons, but key amongst them were concerns on his fitness and decision making.
He's improved in both aspects, and he is looking after his body which is reflecting on how much little time he needs to recover in between games.
Fitness is such a key part of a top athlete's game and Hudson-Odoi is now reaping the reward for the hard yards he has put in since Thomas Tuchel's arrived at the club.