The family of murdered teacher Sabina Nessa have demanded an "end to violence against women" at a vigil to mark the first anniversary of her killing.
The 28-year-old primary school teacher was beaten and strangled to death in Cator Park, Greenwich, southeast London, on September 17, 2021.
Koci Selamaj, an Albanian-born man living in east Sussex, pleaded guilty to her murder in February and was sentenced to life imprisonment with a minimum of 36 years behind bars.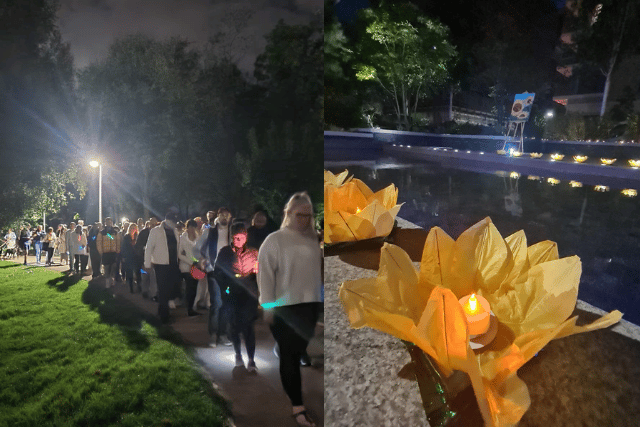 Ms Nessa, a graduate from the University of Greenwich, was raised in Bedfordshire and taught at a school in Lewisham, south London.
Her body was found the following day by a dog walker.
Now one year on from her death, her family held a walk in her memory via Cator Park through to Kidbrooke Village, on Saturday, September 24, 2022.
Friends, loved ones and community members gathered to walk in remembrance, led by Sabina's family.
Greenwich councillor Averil Lekau led a minute's silence in her honour, to mark Sabina's life.
Sabina's older sister Jebina Islam spoke to the crowd, saying: "It is time for change, it's time to put an end to violence against women and girls.
"Women should not have to look over their shoulder to see if someone is behind them."
And a student from Greenwich University's Sabina Project, read a poem of hope by Sabina.
London mayor Sadiq Khan said: "One year on from Sabina Nessa's horrific murder, my thoughts remain with her family and loved ones.
"Every woman and girl should be able to feel safe wherever they are in our city. I'm determined to continue doing everything we can to make London safer for everyone."
While Claire Waxman, victims' commissioner for London, said: "Tonight we walked together in remembrance of Sabina Nessa and to show support to her family.
"Tackling male violence, and making the justice system fairer for victims must be an absolute priority for the government.
"I will be calling for Sabina's Law to be part of the upcoming victims' law."
She added: "Thank you to Sabina Nessa's family and Annie Gibbs for including me in last night's walk for Sabina.
"It was an honour to stand with them and witness the overwhelming support they have from their community. I will do all I can to help them make Sabina's Law a reality."
Campaigner Annie Gibbs, who founded black domestic abuse charity Amour Destiné, thanked artist Mira C for her sunflower painting in memory of Sabina.
She said: "Thank you to member of our community Mira C for painting this beautiful piece of art in memory of Sabina Nessa and all the women who are in paradise due to male violence."
And Met Police officers from Greenwich joined the walk.
A spokesperson said: "Southeast engagement team officers joined Sabina Nessa's family and the community on the Sabina Light walk one year on from her tragic death.
"The Jet team continue to stamp out violence against women and girls."
Majid Rahman, Labour councillor in Greenwich, said: "Sabina Nessa's Light Walk for Sabina's Law [was] a heart warming gathering of families, friends and the wider community."
While participant Suzanne Jacob added: "Sabina Nessa trod lightly on the earth.
"Tonight it was so moving to walk for her and each of us has a slightly louder voice and more substantial steps to act in her name in future. End violence against women."
Women's rights activist Jamie Klingler said: "Thinking of Jebina Nessa and Annie Gibbs and Sabina Nessa's community tonight as they celebrate her life.
"We need men to stop killing us. That's it. That's how you stop the epidemic of male violence against women and girls."
The Royal Borough of Greenwich Council invited people to light candles at home for Sabina.
A spokesperson said: "The family of Sabina Nessa are walking tonight in remembrance of their beloved Sabina.
"We ask those at home, and unable to join us, to light a candle at 8.30pm in her honour."
Greenwich council leader Anthony Okereke said: "We remember Sabina Nessa, a wonderful teacher, loved and dearly missed.
"Sabina's murder is a reminder of the awful violence women & girls face, and why it's at the top of Greenwich's agenda. Join us in solidarity with her family and our community to honour her life."