The devastated family of Sabina Nessa have told how her "cruel" murder left their "world shattered into tiny pieces".
Koci Selamaj, 36, from Eastbourne, East Sussex, admitted killing Ms Nessa as she walked through Cator Park in Greenwich, on her way to meet a friend on September 17, 2021.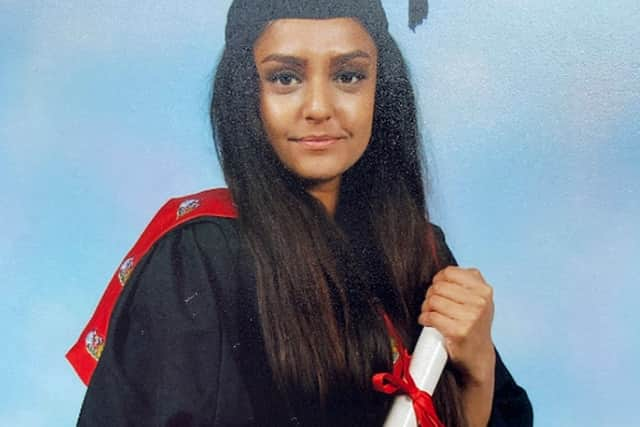 At a sentencing hearing today, the court heard from Sabina's heartbroken parents and her sisters.
Her parents Abdur Rouf and Aziban Nessa shared a victim impact statement with judge Mr Justice Sweeney, which was read out in court.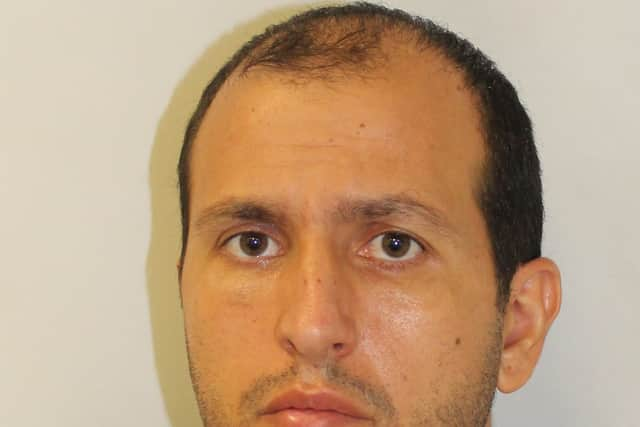 It said: "Our beautiful loving, caring, and funny daughter is no more.
"As a parent you would never have thought that your child would die before you, not in a way that our daughter Sabina did.
"You had no right to take her away from us in such a cruel way."
They told of the moment police came to their home to tell them of her death, and said: " Our world shattered into tiny pieces and these pieces cannot be put back together.
"How could you ever do such a thing to an innocent girl walking by… you are not a human being you are an animal.
"Sabina died in a way that no one should die and this will torment us for the rest of our lives."
The court heard: "If Sabina died of an illness, we could have been there until her death, holding her hands, making sure we cherish every memory.
"However, Sabina died alone being brutally attacked in your hands and as parents how do we live with ourselves?"
They described their daughter as "amazing… kind, generous, funny and determined… a girly girl [who] loved to shop… and loved animals."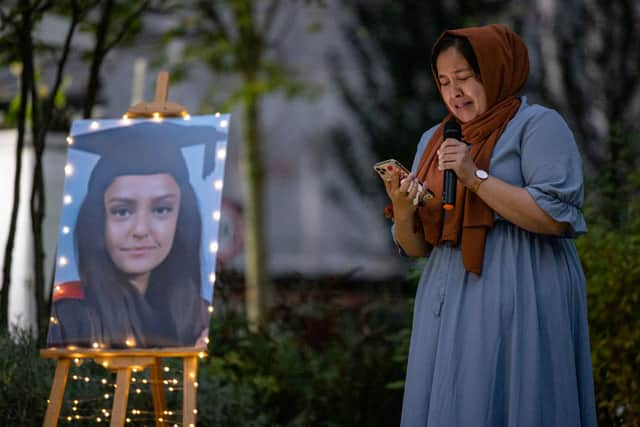 Of her teaching career, they said: "She loved her job and her children in her class and would go the extra mile.
"This was just the start and this too was snatched away. She had a purpose in life and it was to teach."
They said their hearts were "aching" spending their first Ramadan without Sabina, and asked: "How do we continue with our life?"
While her sisters Jebina Islam and Sadia Nessa said: "Our sister Sabina Nessa was more than just a sister, a daughter, teacher - she was a life that mattered.
"A life that did not deserve to be taken in such a heinous and cowardly way.
"Everyone kept saying to us she was in the wrong place at the wrong time.
"But she wasn't, she had every right to be walking down that path, all glammed up and going to enjoy herself after a long week of work.
"She had the right to feel safe."
They told how they will "never forget the pain in our parents' eyes when they heard their daughter's body was found dead".
And they described how their parents had always told them to be careful when going out, saying: "We all thought they were over paranoid and a bit too overprotective.
"They weren't. The worst came true for them.
"Our parents are petrified every time one of their girls steps foot outside the house
Ms Islam and Ms Nessa continued: "You robbed us of our sister.
"You robbed the chance of us going on our next adventure… She was an amazing role model, she defied all norms, she strived to be independent.
"She was powerful, fearless, bright, and just an amazing soul."
And they said: "The emptiness of walking past her bedroom knowing she's not there breaks us each time walking by, knowing that she won't be sitting on the middle sofa in the living room, munching on crisps or biscuits or taking Tilly the cat for a trim.
"I would do anything to just hold her one more time, see her, hear her, talk to her.
"We just want answers why you killed her? Why? How on earth are you allowed to sit here and say nothing and think it's ok, because it's not.
You have no right to take an innocent life… our family will never forget what you did, but we will not let you take anymore from us.
The judge is expected to hand down a sentence tomorrow.