Barnet is one of the key battleground councils in the local elections on May 5, with Labour looking to take the north London council for the first time in history.
Before the poll, LondonWorld covers the key issues across the borough and also provides a full list of all the council candidates in every ward.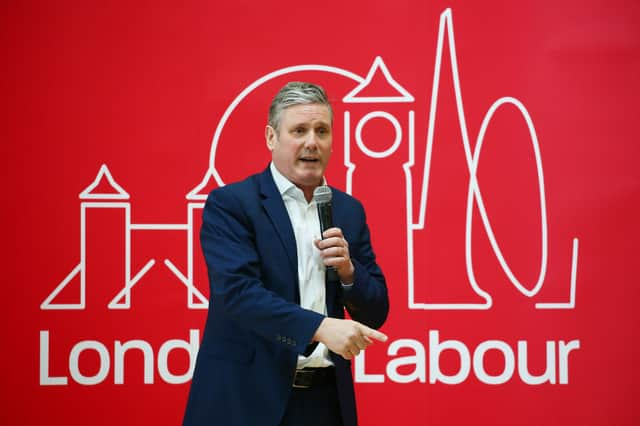 Key Issues
Barnet has emerged as Labour's top target in the upcoming local elections, ahead of other Tory strongholds such as Westminster and Wandsworth.
The issue was cited as one of the reasons that Labour councillor Jessica Brayne defected to the Lib Dems in 2019.
Around 15% of Barnet's population is estimated to be Jewish.
While Labour is hoping to capitalise on national issues to make headway in Barnet in May, the Conservatives are hoping that local issues such as council tax, rubbish collection and development of greenbelt land will be enough to see of Labour's challenge.
An issue which the Conservatives will aim to capitalise on are plans by TfL to build homes on Tube station car parks.
One such development, on Cockfosters station car park, has drawn the ire of locals and last month saw an intervention from Transport Secretary Grant Shapps, who blocked the plans.
Conservative Chipping Barnet MP Theresa Villiers has also been vocal in her opposition to the scheme.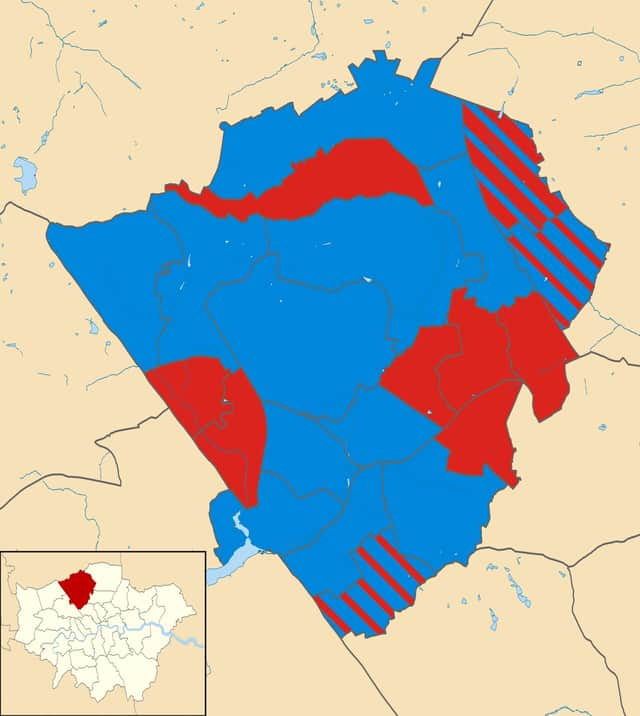 History
Barnet London Borough Council was established in 1963, replacing the five local authorities that had been responsible for the area previously.
At the council's first election in 1964, the Conservatives gained control by winning 37 seats to Labour's 13 and the Liberal Democrats' six. The Tories would retain control of the council until 1994, when no party had a majority big enough to gain overall control.
The following election in 1998 again saw no party gain overall control, but the Tories retook the council in 2002 and have remained in control ever since.
Following last year's Local Government Boundary Commission review, the number of wards in Barnet will increase from 21 to 24, though the borough will still be represented by 63 councillors.
Fifteen wards will have three councillors each and the remaining nine wards will be represented by two councillors each.
At the last election in 2018, the Conservatives won 38 seats with 44.5% of the overall share of the votes, while Labour won 25 seats with 39% of the vote share.
Despite increasing their overall share of the vote by 3% compared to the 2014 election, Labour lost five seats in 2018 while the Liberal Democrats lost their only seat, with all six seats being won by the Conservatives.
However, in the years following the last election, a series of defections and a resignation shifted the political makeup of Barnet council.
In 2019, Labour councillor Jessia Brayne left the party before eventually defecting to the Lib Dems, while Conservative councillor Gabriel Rozenberg also defected to the Lib Dems.
Labour's Jo Cooper resigned as a councillor in April 2021 to focus on her work for the NHS, with the Conservatives picking up the seat in the subsequent by-election.
In May 2021, Conservative councillor Shimon Ryde stepped down from the Conservatives to become an independent.
Just this month, Conservative councillor Helene Richman defected to the Lib Dems citing the Conservatives record on living standards and inequality.
Councillor Richman will defend her seat at the upcoming election for the Lib Dems.
Full list of candidates in Barnet
Barnet Vale: Stephen Barber, Liberal Democrats; Richard Barnes, Labour; Simon Cohen, Liberal Democrat; Marianne Haylett, Labour; William Kumar, Conservative; David Longstaff, Conservative; Benjamin Papworth, Liberal Democrat; Robert Persad, Labour; Robert Teare, Conservative; Charles Wicksteed, Green.
Brunswick Park: Luigi Bille, Liberal Democrat; David Farbey, Green; Paul Lemon, Labour; Josh Mastin-Lee, Conservative; Giulia Margarita, Labour; Nicole Richer, Conservative; Lisa Rutter, Conservative; Jonti Stern, Liberal Democrat; Tony Vourou, Labour; Glyn Williams, Liberal Democrat.
Burnt Oak: Sara Conway, Labour; Kamal Gurung, Labour; Ruth Hart, Conservative; Timothy McGeever, Conservative; Ammar Naqvi, Labour; Rashina Shah, Green; Samuel Shupac, Conservative.
Childs Hill: Sam Cohen, Liberal Democrat; Toby Davis, Liberal Democrat; Karen Dolby, Green; Rebecca Fluss, Conservative; Adam Gheasuddin, Conservative; Giulia Innocenti, Labour; Matthew Perlberg, Labour; Emma Rozenberg, Liberal Democrat; Nigel Young, Labour; Peter Zinkin, Conservative.
Colindale North: Maggie Curati, Green; Andreas Ioannidis, Labour; Ben Margulies, Conservative; Marcin Nocek, Independent; Joseph Prager, Conservative; Sabriye Warsame, Independent; Zakia Zubairi, Labour.
Colindale South: Adam Collins, Conservative; Shivaji Ghosh, Conservative; Humayune Khalick, Labour; Nagus Narenthira, Labour; Nigel Saidler, Conservative; Gillian Sargeant, Labour; Rajul Shah, Green.
Cricklewood: Anne Clarke, Labour and Co-operative; Yosef David, Conservative; Charles Lawton, Liberal Democrat; Sophie Leighton, Liberal Democrat; Danielle Pollastri, Green; Alan Schneiderman, Labour and Co-operative; Ajantha Tennakoon, Conservative.
East Barnet: Felix Byers, Conservative; Philip Cohen, Labour; Edith David, Labour; Judith Echlin, Green; Sean Hooker, Liberal Democrat; David Keech, Liberal Democrat; David Nowell, Liberal Democrat; Pavan Pavanakumar, Conservative; Simon Radford, Labour; Paul Roberts, Conservative.
East Finchley: Robert Buckwell, Conservative; Claire Farrier, Labour and Co-operative; Julia Hines, Liberal Democrat; Lesley McIlmoyle, Conservative; Arjun Mittra, Labour and Co-operative; Alison Moore, Labour and Co-operative; David Noble, Liberal Democrat; Steve Parsons, Green; Sachin Patel, Liberal Democrat; Megan Tucker, Conservative.
Edgware: Lisa Bard, Women's Equality; Nikhilesh Chakraborty, Labour; Sorah Gluck, Labour; Shuey Gordon, Conservative; Ryan Jackson, Labour; Nick Mearing-Smith, Conservative; Dudley Miles, Green; Lucy Wakeley, Conservative.
Edgwarebury: Lachhya Gurung, Conservative; Samuel Murray, Green; Nila Patel, Labour; Josh Tapper, Labour; Sarah Wardle, Conservative.
Finchley Church End: Dominic Aubrey-Jones, Liberal Democrat; Suzanne Baker, Labour; Hilary Burrage, Labourl; Daniel Fenesan, Liberal Democrat; Eva Greenspan, Conservative; Sarah Hoyle, Liberal Democrat; Nina Jacoby-Owen, Green; Mary McGuirk, Labour; Daniel Thomas, Conservative.
Friern Barnet: Pauline Coakley Webb, Labour; Graham Craig, Liberal Democrat; Kishar Ghateh, Conservative; Lavinia Jessup, Liberal Democrat; Linda Lusingu, Labour; Zoe Myerson, Liberal Democrat; Barry Rawlings, Labour; Kate Salinger, Conservative; Anila Skeja, Conservative; Ed Tytherleigh, Green.
Garden Suburb: Alton Akbiyik, Liberal Democrat; Nicolas Ceasar, Green; Rohit Grover, Conservative; Brian Ingram, Independent; Adam Kayani, Labour; Kathleen Levine, Labour; Daniel Mermelstein, Liberal Democrats; Michael Mire, Conservative.
Golders Green: Debbie Brazil, Women's Equality; Dean Cohen, Conservative; Melvin Cohen, Conservative; Penny Gostyn, Liberal Democrat; Simon Shaer, Liberal Democrat; Karen Walkden, Labour; Susan Waller, Labour; Gillian Ward, Green.
Hendon: Joshua Conway, Conservative; Charlotte Daus, Labour; David Dunitz, Labour; Christopher Fordyce, Green; Michael Hughes, Liberal Democrat; Franca Oliffe, Independent; Eunice Phillips, Liberal Democrat; Alex Prager, Conservative; Mark Shooter, Conservative; Janice Turner, Liberal Democrat; Viljo Wilding, Labour.
High Barnet: Lara Ayodeji-Akindiji, Conservative; Paul Edwards, Labour; Richard Hewison, Rejoin EU London; Dan King, Conservative; Peter Lusher, Liberal Democratic; Joan Waterson, Green; Michael West, Liberal Democrat; Emma Whysall, Labour.
Mill Hill: Rachel Barker, Labour; Val Duschinsky, Conservative; Pascale Fanning-Tichbourne, Labour; Frankie Grant, Labour; Laithe Jajeh, Conservative; Kay Simone, Women's Equality; Richard Logue, Liberal Democrat; Donna Pickup, Liberal Democrat; Elliot Simberg, Conservative; Roger Tichbourne, Liberal Democrat; Elizabeth Wardle, Green.
Totteridge and Woodside: Jack Cohen, Liberal Democrat; Alison Cornelius, Conservative; Richard Cornelius, Conservative; Vanessa David, Labour; Brendan Donnelly, Rejoin EU London; Oliver Rodwell, Liberal Democrat; Parmodh Kumar, Labour; Tanya Spensley, Liberal Democrat; Caroline Stock, Conservative; Fabio Vollono, Green; Laurie Williams, Labour.
Underhill: Zahra Beg, Labour; Victor Corney, Liberal Democrat; Patrick Daly, Liberal Democrat; Andrew Dolby, Green; Taiye Garrick, Conservative; Ben Rend, Rejoin EU London; Tim Roberts, Labour; Reuben Thompstone, Conservative.
West Finchley: John Colmans, Green; Clareine Enderby, Liberal Democrat; Robert Fucilla, Conservative; Ross Houston, Labour; Kath McGuirk, Labour; Danny Rich, Labour; Gabriel Rozenberg, Liberal Democrat; Gregory Ruback, Liberal Democrat; Linda Savin, Conservative; Thomas Sheppard, Conservative; Ruth Vincenti, Women's Equality.
West Hendon: Ernest Ambe, Labour; Andrea Bilbow, Labour; Rishikesh Chakraborty, Labour; Tye Hunter, Green; Pauline Lewis, Conservative; Harvey Odze, Conservative; Helene Richman, Liberal Democrat; Jeremy Ross, Conservative.
Whetstone: Andrew Newby, Green; Sachin Rajput, Conservative; Ella Rose, Labour; Thomas Smith, Conservative; Liron Velleman, Labour.
Woodhouse: Golnar Bokaei, Conservative; David Burns, Green; Geof Cooke, Labour; Gerard Fitzgerald, Liberal Democrat; James Goldman, Liberal Democrat; Anne Hutton, Labour; Shaan Owusu-Afriyie, Conservative.