An British-Iranian activist on his 23rd day of hunger strike says he is "willing to give whatever price" it takes until the UK government adds Iran's Islamic Revolutionary Guard Corps (IRGC) to its list of international terrorist organisations.
Vahid Beheshti, a 46-year-old journalist, who used to live in Camberwell but now lives in Coventry, says he is determined to make his voice heard.
"24 years ago when I moved from Iran to England, I had no rights when I was there," Mr Beheshti told LondonWorld.
"When I moved here I tasted freedom and democracy and I don't want to lose them again."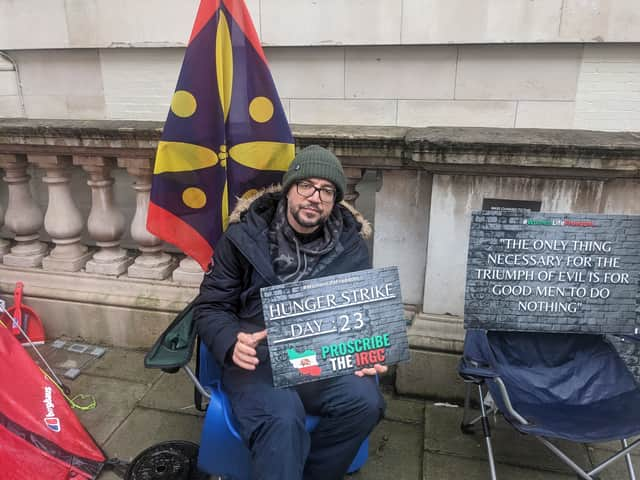 The IRGC gained the attention of the world in recent months due to its brutal crackdown on protesters in Iran, led by women fighting for their human rights
Human Rights Activists, a group in Iran that has been tracking the crackdown, reported that more than 19,700 people were arrested during the protests.
The group claimed that at least 530 people had been killed as authorities violently suppressed demonstrations.
But Mr Beheshti thinks the number is much higher.
The Iranian regime's actions at home and abroad in recent months compelled him to use his voice to speak out in defense of people in his homeland whom he says are suffering for simply voicing opposition to the regime.
He attended several meetings with MPs pleading with them to make the proscription, but he grew frustrated over a lack of action.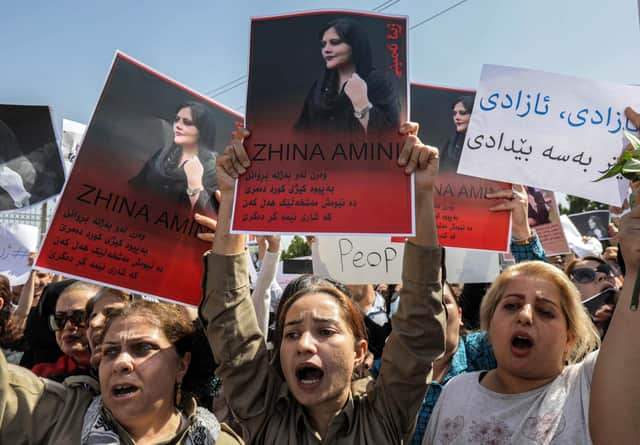 The tipping point, he said, came in February when the TV station Iran International was forced to close its London studios after journalists received death threats from the Iranian regime.
The company made the decision to temporarily relocate some journalists to its Washington site while others were told to work from home following months of round-the-clock protection from the Metropolitan Police.
"This hunger strike is not just for Iranians, it's not just for Ukrainians who get killed by the drones of the IRGC, which supply Putin," he said.
"The majority of politicians, of leaders around the world, should know now that this time is different.
"Three weeks ago Hossein Salami, the head of the IRGC announced publicly that we are at World War 3 with the West.
"The West are not aware of what they are planning and where they are heading.
"We should act now, we shouldn't just wait to see what's going to happen or try to see from their angle."
Mr Beheshti has received support from MPs and activist groups during his hunger strike and on Friday, he received a visit from Richard Ratcliffe and Nazanin Zaghari Ratcliffe.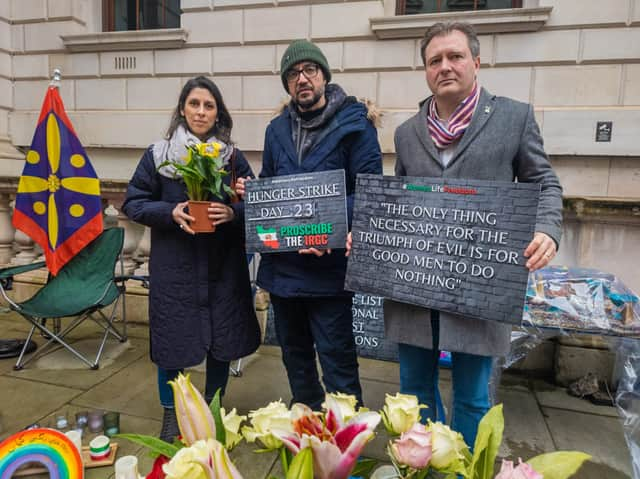 "Seeing Vahid today on hunger strike encamped in front of the Foreign Office brought back memories I had hoped to put away," he told LondonWorld.
"It reminded us both how tough that struggle continues to be.
"We went down today on day 23 of his hunger strike to tell him to please keep safe. But also that we see his sacrifice. And that people inside the Foreign Office will do also.
"In the end, Nazanin came home last year, not just because of my struggle. But because people saw it, and cared. They saw it with their hearts.
"I do hope the Foreign Office does start to see the significance of Vahid's sacrifice on their doorstep. Hunger strikes are not normal things.
"They should realise it is time to end the impunity for the Iranian authorities' crimes.
"There has been enough innocent suffering, particularly this past year.
"In a couple of days it is Nowruz, Iranian new year. Nazanin wanted our picture to be by Vahid's Nowruz display, his haftsin. We hope that this Nowruz a new spring comes to many more in Iran, and that the UK steps up to protect it."
UK Home Secretary Suella Braverman is responsible for proscribing groups as terrorist entities.
A UK government spokesperson said: "Whilst the government keeps the list of proscribed organisations under review, we do not comment on whether a specific organisation is or is not being considered for proscription."