Mrs Zaghari-Ratcliffe, who has been held in Iran for five years on spying charges, recently lost her appeal against a second prison sentence.
Her husband has been campaigning for her release ever since, and has been camped outside the FCD Office in Whitehall.
The 45-year-old accountant has received support from a number of politicians and celebrities, including the Mayor of London Sadiq Khan, former Foreign Secretary Jeremy Hunt, comedian Bill Bailey, and BBC presenters Claudia Winkleman and Victoria Coren Mitchell.
Mrs Coren Mitchell, 49, met Mr Ratcliffe three years ago, and their daughters are playmates.
"It's now been more than two weeks and he's sleeping in the street, it's freezing cold and he hasn't eaten," the Only Connect presenter told LondonWorld.
"I mean he's ill and weak and cold and hungry and I think it's time somebody took over and said: 'It's alright Richard we've got this.'
"As a friend I want him to come home but he doesn't want to go home, he's trying to stick it out and I came just to try and encourage him."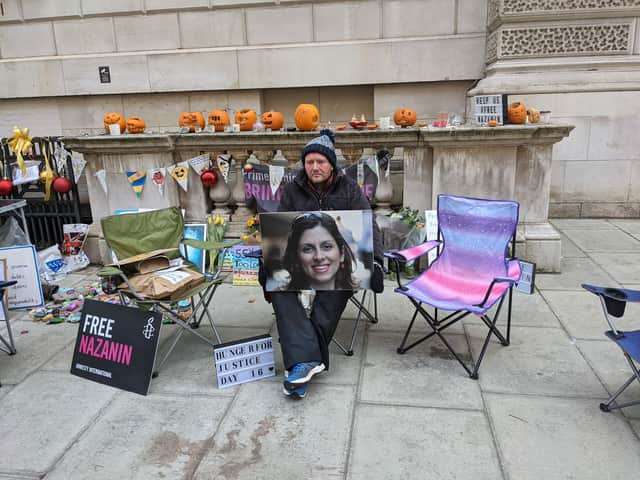 Mrs Zaghari-Ratcliffe, 43, from West Hampstead, Camden, has been detained in Iran since 2016 and has not seen her seven-year-old daughter Gabriella in two years.
She is currently staying with her mother in Tehran, but is not allowed to leave the country.
Her husband believes that she is being held hostage by Iran over a £400 million arms debt owed to them by the UK.
Mrs Coren Mitchell thinks that this is an issue the Foreign Office should be able to solve.
"It feels like a small thing, an achievable thing," she said.
"In one way it's enormous, it's something we can all relate to, a mother is separated from her child.
"She's not the only hostage, there's a grandpa who's being held, whose family hasn't seen him for a very long time and there's a mother being kept from her child and we relate to this huge tragedy and terror of that.
"In another way it's quite small, I mean for the Foreign Office, you look at this building full of these brilliant people with amazing diplomatic minds, these sort of huge challenges that they have to sort out.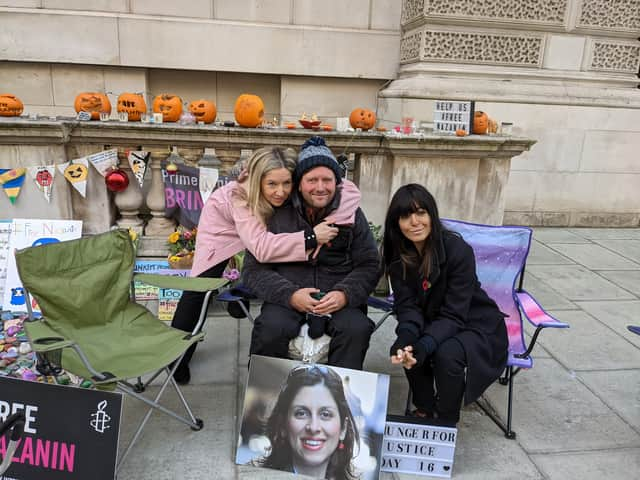 "For this, it's not that complicated. I understand we've sort of fumbled our relations with Iran over a very long time, successive governments, there's grievances and we owe them money and there's a long history.
"To just have the conversations, to do the diplomacy required and when you think of all of the enormous things in the world that we can't control and can't do, there's just this little handful of people that have been taken from their families, let's just get them back."
Mr Ratcliffe is being supported by family throughout this period, with his sister, parents and uncle keeping him company throughout the day and keeping him hydrated with herbal tea, electrolytes and water.
"I'm definitely feeling a bit slower, definitely a bit colder," he told LondonWorld.
"Over the weekend, it felt like it turned a bit so I was plateauing for a while but now I can feel the effects more, meaning that I just get tired more.
"Mentally I'm still reasonably coherent but it feels like my body is saying listen, don't take this for too much longer.
He said that his family, especially his wife Nazanin, are now starting to worry about him.
"Nazanin is definitely in the worried camp amongst the family," he said.
"She's far away, she can't control it, she can't do anything, she can check the weather forecast, she can see how cold it is.
"Three weeks ago, she was worried about going to prison, now she's mainly worried about her husband camping on the streets in hunger strike.
"A hunger strike is never healthy, whether you do it for one day or five days, but the longer it goes on the more risk there is of not just damage but irreversible damage."
Mr Ratcliffe met with Foreign Secretary Liz Truss on the fifth day of his hunger strike, but has yet to get a concrete answer from the government about their plan to get his wife home safely.
"We'll see what the government says. I suspect after COP26 there will be more headspace on their part.
"Maybe they are waiting to see how long we'll do it for, so I've had no answer yet, we're still sitting hoping one will come."
As he enters his third week without food, Mr Ratcliffe says that although he's not planning to quit just yet, he's not looking too far ahead.
A spokesperson for the Foreign Office said: "Iran's decision to proceed with these baseless charges against Nazanin Zaghari-Ratcliffe is an appalling continuation of the cruel ordeal she is going through.
"Instead of threatening to return Nazanin to prison, Iran must release her permanently so she can return home.
"We are doing all we can to help Nazanin get home to her young daughter and family and we will continue to press Iran on this point."