Parliament protest: Anti-Brexit activist Steve Bray has speakers seized by police over new law
"I can make any noise I like… this is a protest… this is fascism by the back door. You slap all the fines on me you like, not paying them. If it means getting locked up, so be it."
Watch more of our videos on Shots!
and live on Freeview channel 276
Visit Shots! now
Anti-Brexit activist Steve Bray who protests outside Parliament had his speakers confiscated and was warned he risks arrest and a fine, after a new law came into force.
New legislation known as the Police, Crime, Sentencing and Courts Act 2022 - a series of major reforms to the justice system - took effect on Tuesday.
Police warned Mr Bray, who is known for his loud and often musical demonstrations outside Parliament, in Westminster, this morning, that the new rules meant his protest was unlawful.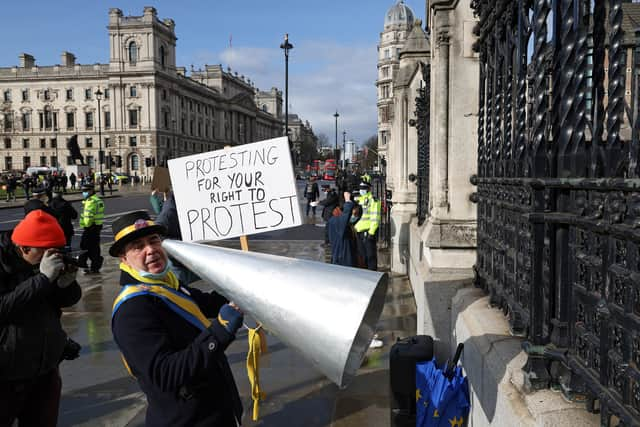 He was told he could not carry out a "noisy" protest within an area outside Parliament - and he accused officers of "harassment" and "fascism".
The government has said that "from today, it will be a statutory offence to intentionally or recklessly cause public nuisance – ensuring that the penalties for these crimes reflect the severity of the rise in guerrilla protest tactics we have seen in recent years".
A spokesperson added: "Police will also be supported with new powers to tackle non-violent protests that have a significant disruptive effect on the public or on access to Parliament."
Officers surrounded the protestor, who is famed for bellowing 'Stop Brexit', and seized his sound system - before he resorted to ringing a large gold bell.
A video shared just before 12.50pm on Tuesday showed officers removing the equipment, while Mr Bray shouted: "You fascists. This is not law."
At 12.53pm, Mr Bray tweeted: "Police have just seized our amplifiers x 2. And microphone. I still have megaphone. We are going to need more amplifiers and people."
Mr Bray shared a series of videos throughout the morning of interactions with officers, captioning them: "The police are harassing hell out of this protest today."
He tweeted at 7am: "Nice early start today. Am I the first breaking the law?"
And by 9.20am, Mr Bray was filmed in a confrontation with Met Police officers, who said: "You realise now you're not allowed to protest making anti-social noise like this - not here.
"It now extends all the way down this road. It comes in today - I'm telling you now. You could end up with a very large fine and all your stuff confiscated. I'm just giving you fair warning."
Mr Bray responded: "I can make any noise I like… this is a protest… this is fascism by the back door.
"You slap all the fines on me you like, not paying them. If it means getting locked up, so be it."
The officer said the exclusion zone was all of Parliament Square, Cook Street, all the way along the front and Parliament Street down to Derby Gate.
The law has been criticised by opponents as a clampdown on the right to protest, following an increase in demonstrations by activists including Extinction Rebellion and Insulate Britain.
It gives police powers to impose conditions on demonstrations; strengthens rules over single person protests causing "serious disruption"; and tightens penalties for obstructing highways.
Of the new bill, home secretary Priti Patel said: "The laws coming into force today show the government's beating crime plan in action and will help drive down crime, better protect victims and make streets safer up and down the country.
"Whether it's tackling knife crime, violence against women and girls or anti-social guerilla protest tactics, these measures are all about backing the police and standing up for the law-abiding majority of the British public.
The Met Police have been contacted for comment.