What are Met Police operations Assure, Dragnet, Trawl and Onyx?
Resources have been diverted from policing organised crime and terrorism to tackle the force's toxic culture.
Watch more of our videos on Shots!
and live on Freeview channel 276
Visit Shots! now
The dysfunction, corruption, racism, misogyny, homophobia and crime present within the Metropolitan Police has come into sharp focus in recent years, and today its commissioner wrote to the home secretary with details of what is being done to try to salvage its reputation.
Baroness Louise Casey's review into standards and culture, published last month, revealed the extent of the rot, following a series of 'scandals', including the terrible crimes of serving officers Wayne Couzens and David Carrick.
Despite Baroness Casey's explicit conclusion that the Met is beset with institutional racism, sexism and homophobia, Commissioner Sir Mark Rowley has continued to refuse the word 'institutional', claiming it has become politicised.
In his letter today to Home Secretary Suella Braverman, he sets out action taken in a bid to clean up the force, including diverting resources from organised crime and terrorism.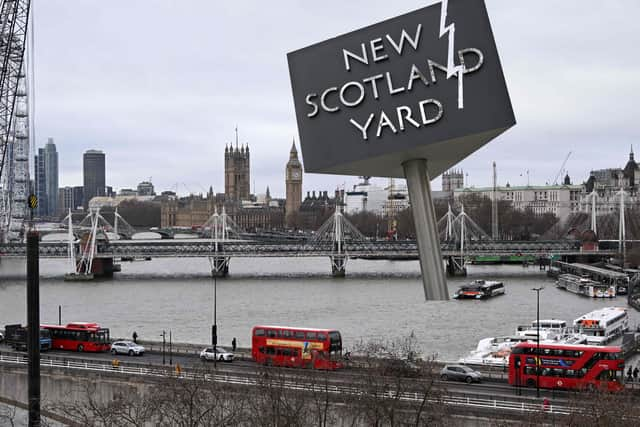 Operation Assure
Operation Assure is a new process for reviewing the vetting of serving officers and staff concerns about behaviour have been raised.
A review could trigger a "gross incompetence process" and an office could be dismissed.
"Essentially, we are embarking on a programme of removing vetting from those that cannot be trusted to police London – and which will likely result in them being removed from the Met and also being placed on the police barred list," writes Sir Mark.
The first 30 cases have been reviewed, and he writes that he expects "the total to exceed 100 cases given the other legacy review work we are doing".
"That this is a wholly new process to remove officers who fail re-vetting will surprise most people. This reflects longstanding weaknesses in police regulations that there is no explicit power to dismiss in these circumstances. Our advice is that this new approach is lawful but a faster more explicit legal route to remove officers failing re-vetting is urgently required."
Operation Dragnet
Operation Dragnet is the process of checking every member of the Met against the Police National Computer (PNC) - which records convictions.
Sir Mark writes that 161 Met officers have a criminal conviction - around 0.5% of officers.
Of those, 112 had convictions before they joined - and 26 were convictions when the person was under 18.
Of the total, 76 convictions for serious traffic-related offences, including drink drive and careless driving.
Sir Mark adds: "A further 49 have convictions for crimes of dishonesty or violence, and again we have established that the majority of the 49 already held that conviction before joining the Met – 8 officers committed their offence whilst in the Met and remain serving. This all makes for uncomfortable reading.
"I have instructed my professional standards unit to examine each of those 161 cases – and to be satisfied that for every officer with a conviction we have considered whether any special restrictions need to be placed on those officers, or whether they need to be placed into the vetting review process that I have described. We will do the same for police staff."
He adds: "The majority of those officers' convictions were known to us when they joined, begging the wider questions about whether national standards on vetting and entry requirements are right."
Current guidance is that convictions are subject to a "proportionate risk-based assessment".
"I am concerned that, currently, this guidance is too wide and allows too great a risk of too many unsuitable people joining the police today," he adds.
A new vetting code of practice is expected from the College of Policing - and a Lady Elish Angiolini is carrying out an inquiry into the case of Wayne Couzens - but Sir Mark writes that he has asked his team to "consider whether we should deviate from national guidelines and impose a stricter set of rules for new Met officers which bar those with convictions beyond the most trivial matters, or crimes committed as a young person, from joining".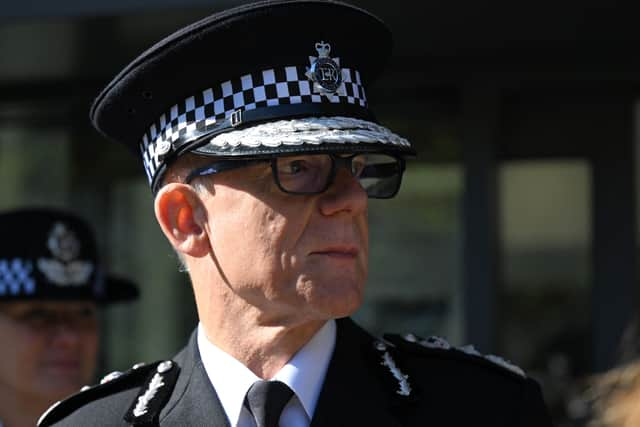 Operation Trawl
Operation Trawl is a process of checking every member of the Met against another set of digital records, the Police National Database (PND) - the national intelligence database for policing.
The name, date of birth and address of each of the 50,000 Met staff will be checked against more than five billion intelligence records.
Sir Mark writes that the first phase is complete and that now around 40,000 matches need to be checked to see whether the names are the same person, and the relevance of the record.
About a quarter have been reviewed, prioritising reports relating to organised crime or child abuse, and for officers and staff in leadership, safeguarding and firearms roles.
He writes that 38 cases of potential misconduct by officers are being investigated, as well as 55 cases where an officer has an "off duty" association, knowingly or not, with someone of a criminal background.
Operation Onyx
Operation Onyx is work to re-assess allegations of sexual offending or domestic violence against Met officers and staff between April 2012 and April 2022, where the person remains in the police service.
Background assessments had been completed on more than 1,131 individuals by the end of March.
Of those, 246 will be subject to no further action.
New assessments will be carried out on 689 allegations "to actively pursue new or missed lines of enquiry, including, where appropriate, specially trained officers re-engaging victims and witnesses who may have felt a lack of confidence or who've been let down by the Met in the past".
Formal risk management measures have been launched for 196 cases.
This month an external oversight panel, including "independent violence against women and girls (VAWG) expertise", will begin reviewing cases.
Other measures
In November the force launched a hotline asking for reports of officers abusing their position.
Sir Mark writes that more investigations are now being launched: 431 gross misconduct investigations in six months, a 62% increase on the previous period.
Suspension increased from 69 in the six months to September to 144 to the end of March.
A total of 59 misconduct hearings took place, compared to 48 in the previous period.
In six months 51 officers were sacked, compared to an average of 30 previously.
Organised crime and terrorism officers diverted
Sir Mark writes: "Not only have we increased our directorate of professional standards by 150 people but the scale and urgency of this work has meant diverting officers from other missions such as serious and organised crime and counter terrorism. Over the last three months we have had, on average, 90 additional officers and staff from these areas supporting DPS. The shared determination has been seen through the excess of volunteers. We have taken this decision because we cannot succeed in any policing mission unless we resolve these issues as urgently as possible."
Sadiq Khan
Mayor of London Sadiq Khan said: "The commissioner's letter sets out some disturbing findings. Londoners, like me, will be appalled to hear that 161 serving police officers in the Met have a criminal conviction and it is right that every single one of those cases will be reviewed by the Met's professional standards team.
"It is right that action is now being taken to review and remove vetting from officers who cannot be trusted to police London – the first step to removing them from the Met altogether. This work is particularly urgent for the hundreds of officers against whom allegations of sexual offending or domestic abuse have been made. These investigations must be concluded without delay."
He added: "I am encouraged by the significant increase in the number of officers and staff within the Met who are bravely coming forward and calling out unacceptable behaviour. We will only succeed in creating a new Met with their help and I encourage more of the many thousands of hardworking officers – who are being let down by the culture within the Met and those committing wrongdoing - to be part of the change they want to see and Londoners deserve.
"I will continue to do everything I can to empower Sir Mark and hold him to account in fixing the systematic failings identified in Baroness Casey's review. I agree with her conclusions that the police are institutionally racist, institutionally homophobic and institutionally misogynistic. We must change the culture, root out officers who are unfit to serve and create the right environment for officers and staff of all backgrounds to thrive, so we can build a safer, more equal London for everyone."
London Assembly
Susan Hall, chair of the London Assembly Police and Crime Committee, said: "It is concerning that 161 serving police officers in the Met have a criminal conviction and we trust that these cases will be reviewed robustly by the Met's professional standards unit.
"The findings of Baroness Casey's review of the Met were truly shocking and it is important for Londoners to see that change is being delivered quickly.
"It is promising to see that the Commissioner is determined to deliver on more suspensions, more hearings and more dismissals of those who simply should not be police officers."
Liberal Democrats
Liberal Democrat assembly member and police and crime spokesperson Caroline Pidgeon said: "It is clear that the problems faced by the Met are as bad as many of us feared.
"Cleaning up the organisation is going to be incredibly resource intensive and take many months and years.
"I am pleased to see a greater commitment to involving external organisations and non-police staff in this process, something the Liberal Democrats and I have long been calling for.
"Given internal systems have failed in the past, the involvement of external voices should help to provide increased confidence to the public that this is a rigorous process.
"It is vital that we ensure that these non-police participants are empowered and supported throughout the whole process."