The 16-year-old died on May 5, after police were called to the scene of a stabbing in Walthamstow. Another 16-year-old has been charged with murder.
Mr Khan told LondonWorld this week: "I'm truly devastated for all the families and friends of those who have lost their lives to violence. As both an MP (in Tooting from 2005 to 2016) and mayor, I've met with many bereaved families and communities and have seen first-hand the profound and long-lasting impact of violent crime. Every death is a tragedy and it strengthens my determination to continue leading from the front to build a safe London for everyone.
"Due to massive government cuts to policing and youth services, there has been a nationwide increase in violent crime over a number of years, but thanks to record investment in the police from City Hall and the hard work of London's Violence Reduction Unit, the number of murders in London last year fell to its lowest since 2014. Teenage murders also reduced by more than 50% compared to the previous year and violent crime, including knife crime, has been falling in London, bucking the national trend.
"But there is much more to do and one death will always be one too many. I'm determined to continue making progress by being both tough on crime and tough on the complex causes of crime."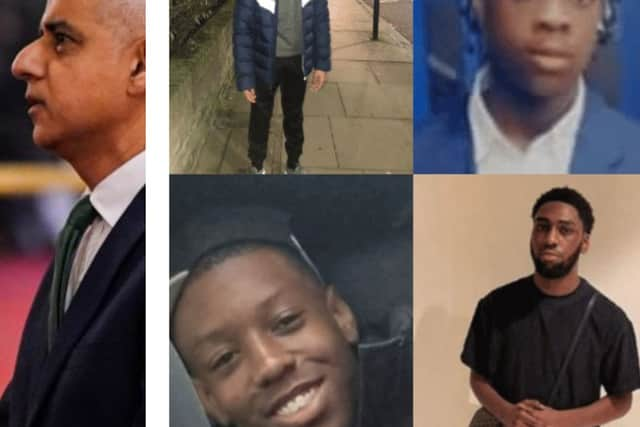 He continued: "As mayor, I'll continue to invest in policing, which has already helped to expand neighbourhood policing and elevate police officer numbers to the highest level in history.
"But we know we'll never simply be able to arrest our way out of the problem. That's why we're also investing in prevention and early intervention. This is about intervening at critical stages in the lives of young Londoners and providing positive opportunities, support and mentors to help divert vulnerable young people in our city away from crime and gangs and towards training and employment."
In January the government announced that an additional 1,420 officers had joined police forces across England and Wales in the previous three months. It has not yet announced whether it hit a target of a total of 20,000 new officers by March.
The government said overall funding for policing would rise by up to £287 million in 2023-24, compared to 2022-23 funding, bringing the total up to £17.2 billion for the policing system.