A heartbreaking video shows a teenager, who was stabbed to death outside his school gates, saying "young Black boys like me deserve a chance".
Renell Charles, 16, a pupil at Kelmscott School in Walthamstow, east London, died after being stabbed in the chest on Friday afternoon (May 5).
The teenager had taken part in acclaimed filmmaker Kay Rufai's Smile-ing Boys Project, which uses creative arts to address the mental health needs of Black boys.
Rufai shared a video, filmed just months before Renell's murder on social media.
Dressed in his school uniform Renell said: "Right now especially in this time, this generation it's not really the best generation let's be real.
"People are dying out there unnecessarily, people are getting hurt. Civilians are being hurt, innocent people are being killed.
"Young Black boys like me and other Black boys in the programme, they all need a chance. We deserve a chance to show that not all Black boys are just those tough hard gangsters.
"We've always got a smile on our face no matter the situation."
Discussing what he took away from the sessions, Renell stated that he needs to open-up and "not hold everything in".
The video continues: "Seeing and hearing there's like other Black boys just like me out here going through the same things, and we still all manage to put a smile on our face and just make our mums proud make our families proud, make our parents proud, make some of our teachers proud and just doing what we want to do and just trying to make the best out of every situation possible."
The teenager was given a shopping voucher for being involved after Rufai praised him as a "shining light and a leader".
Posting on his social media on Tuesday, Rufai said in his caption: "We must do better to create an environment for Black children, Black boys, to feel safe, thrive and dare to wear a smile on their faces."
Emergency services were called to the school road at 4.09pm to reports of a stabbing.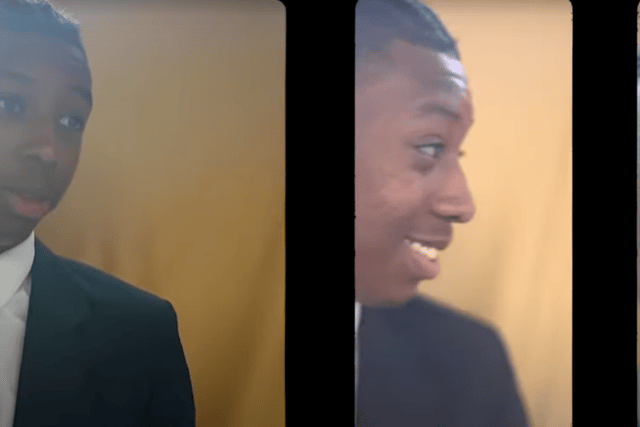 Despite their efforts, Renell died at the scene a short time later.
A post-mortem examination found that the teenager had died from a stab wound to the chest.
Kelmscott School headteacher Sam Jones called it a "senseless knife attack" and said it is the "darkest days" for the student's family and the Kelmscott community.
A 16-year-old boy who has been charged with Renell's murder will appear at the Old Bailey on Thursday.
Following a separate incident, a 15-year-old boy has been arrested over the murder of 18-year-old Wazabakana Elanda Jordan Kukabu, who was stabbed to death near Dagenham Heathway Tube station just hours after Renell. Three further males aged 16, 17 and 20 were detained last night in the Suffolk area on suspicion of murder and violent disorder. All four remain in custody.