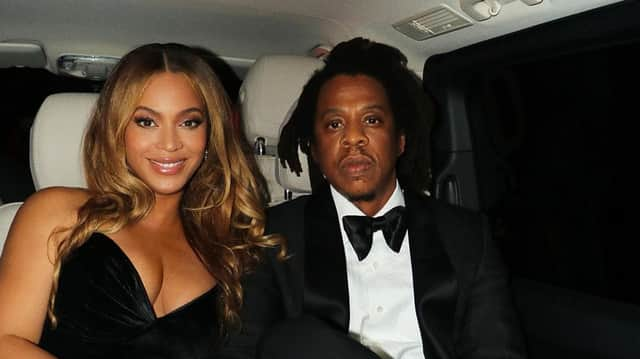 Beyonce and Jay Z stunned fans with a surprise visit to the capital for the BFI London Film Festival.
The superstar couple appeared on the red carpet at the South Bank for the premiere of Idris Elba and Regina King's movie The Harder They Fall.
Beyonce, 40, wore a stunning black velvet strapless gown for the occasion, while rap star Jay Z, 51, donned a swish black tuxedo.
The Crazy In Love singer shared an array of photos of the trip to her 212 million followers on Instagram.
They showed Beyonce posing in a pair of trademark sunglasses on a glamorous spiral staircase next to chandelier.
This looks like the venue where the iconic pair were staying in London.
The Halo hitmaker also uploaded some stunning snaps next to an incredible mirrored wall - at what looks like a hotel.
The singer shared pictures in the taxi with her rapper husband.
In one, she has her head on Jay Z's shoulder, while in another the pair look ready to party.
Photos from the red carpet at the BFI London Film Festival show Beyonce posing in sunglasses last night.
Why are Beyonce and Jay Z in London?
The superstar couple visited the capital for the premiere of Netflix movie The Harder They Fall at the BFI London Film Festival at the South Bank.
The film stars friends Idris Elba and Regina King.
Beyonce and Jay Z didn't reveal in advance they were attending the premiere, which was last night, and it is unknown how long they are spending in London.
The iconic rapper is a producer on the movie, which is a western based on real-life figures from American history.
It follows an outlaw, played by Jonathan Majors, who has reunited his gang to seek revenge on his enemy, Idris Elba, after finding out he is being released from prison.
Jay Z said he wanted to be involved in the project to see black people represented in western films.
At the premiere, he said: "Just to see us represented, you know, with a lot of films we didn't see ourselves in westerns, as if we didn't exist.
"It is almost odd, people think that it's like a caricature, that they are playing roles, but they're not playing roles.
"These names like Stagecoach Mary, all the actors in this, they really existed in this time, so just see us represented and see that we have voices."
The Harder They Fall is released on October 22 in UK cinemas. It will be available on November 2 on Netflix.