Coffee break with Four Legs: the London chefs redefining pub food
LondonWorld caught up with Four Legs' Ed McIlroy on his coffee break to discuss his new pub The Plimsoll, how London inspires his cooking and his favourite death row meal.
Watch more of our videos on Shots! 
and live on Freeview channel 276
Visit Shots! now
After more than two years of delighting crowds at The Compton Arms with their punchy, nostalgic plates - including that smashed cheeseburger - roving chefs Four Legs have crowdfunded their very own pub.
Jamie Allen and Ed McIlroy are gearing up to open The Plimsoll later this month, serving their incredible take on pub food.
Here Ed chats about how London inspires his cooking and how the pandemic has provided a much-needed opportunity to address inequality within the hospitality industry.
What are some of your earliest food memories?
Ed McIlroy: I grew up in Chessington which is in the suburbs near Kingston.
It was a pretty working-class background but my parents always prioritised good food.
When he had the money, Dad always spent it on going out to eat.
I remember trying seared tuna for the first time at Chez Bruce, a Michelin-starred gaff on Wandsworth Common.
Mum was always happy to travel to a market or butcher rather than shopping at supermarkets and she really made me understand the value of good ingredients.
My grandma was an incredible cook and I'd go round for dinner most days after school.
My favourite was her sausage pie with shortcrust pastry and she also made a killer Bakewell tart.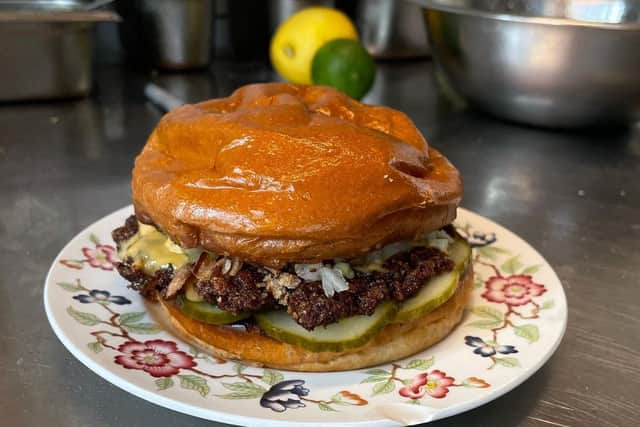 How would you describe your cooking style?
EM: Jamie worked at new wave bistros in Paris before Broadway Market butcher Hill & Szrok, and I was at Bao.
Our style is constantly evolving but I would say we're mostly about good technique, focus on ingredients and a proper pub setting.
There are loads of gastropubs out there but not many people exploring restaurant-quality food in a proper boozer.
This appeals because there's no formality in a pub and we want people to feel as relaxed as if they're dining in our home.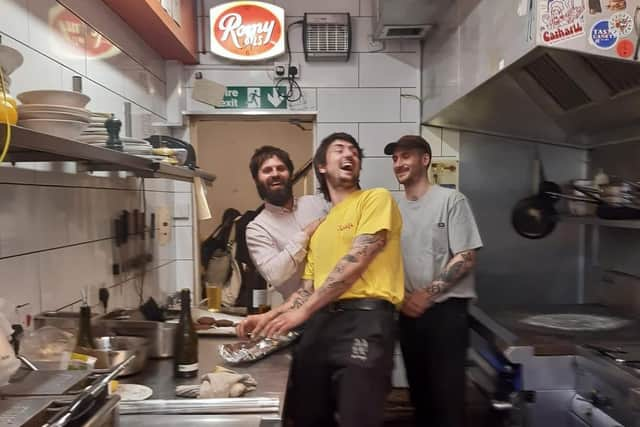 Where do you look for inspiration?
EM: Writing our menus is a collaborative process and we draw much of our inspiration from London itself.
The food scene is just so varied here and you see so many different ingredients.
I eat out the majority of the time and it's the places where you can have a proper feed for £20 that I find really inspiring.
Whenever I go to Xi'in Impression I come away excited to use more fungus, and I always get fresh ideas from Umut 2000 in Dalston.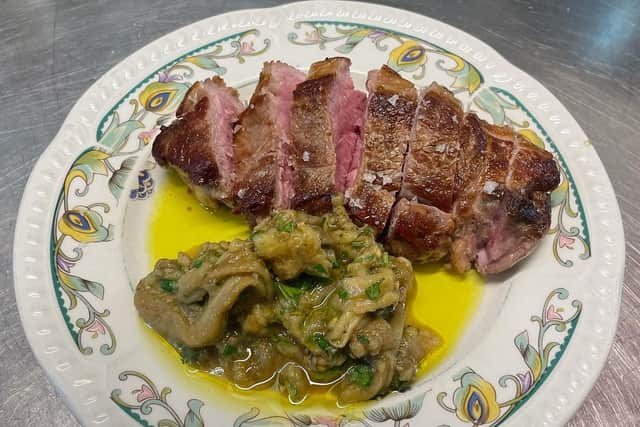 How do you think the pandemic has changed London's dining scene?
EM: The situation got so bad it actually provided us with an opportunity to rebuild the industry for the better.
There's a movement of people on the inside saying: "We're not going to stand for this shit anymore."
Wages are unacceptable because overheads are so high.
As a junior sous chef I was getting £7.50 an hour and it's not enough.
Customers think they're paying a service charge, but the reality is that they're topping up subpar wages.
People are also having conversations about the treatment of women in the industry and how to encourage more female chefs.
I put out a shoutout for female chefs on Instagram when we were hiring recently and barely got a single response.
I think chefs are becoming much more aware of the knock-on effects of their day-to-day conduct in the kitchen, and I'm proud to say that our lads will always pull people up on the way they speak about anyone, particularly women.
It's not enough but it's a start.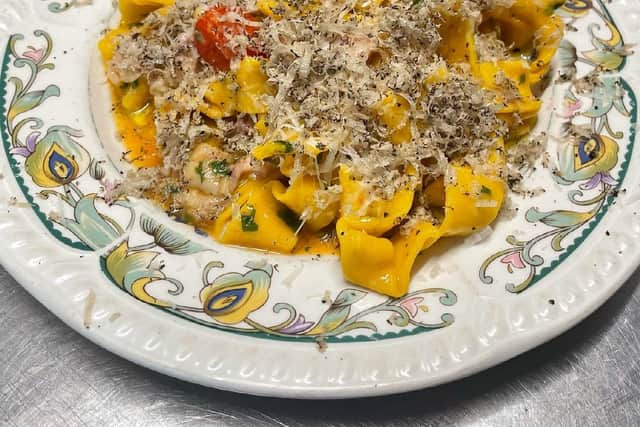 What appealed to you about The Auld Triangle as a site for The Plimsoll?
EM: It was the first pub we looked at, which is very typical of us. It just felt right.
So many pubs have had generic makeovers in the last 10 years and this one has so much character: wood panelling, high ceilings.
There's also a really lovely private landlord who isn't being greedy and it's only because our overheads aren't too high that we can afford to make our vision a reality.
The first night we got the keys we sat in every corner with a beer and it just has a great atmosphere.
We also love the fact it's on a residential street.
We'd love to see locals in every night.
You recently raised more than £80,000 from a Kickstarter campaign. Why did you decide to crowdfund rather than getting investment?
EM: A few investors offered us money which was very flattering and it's definitely a route we'll go down in the future.
But Jamie and I have been talking about this pub for two years and we have such a vision of how we want it to be that an investor might get in the way.
This is a real passion project and we'd like to be able to do exactly what we want.
A really important part of the vision is paying staff the London Living Wage - £10.85 an hour - and an investor might have a problem with that.
Typically, within the industry staffing costs account for around 28% of the total and at the moment ours is set to be more like 36%, but it's worth it.
It's also lovely for so many local people to be involved from the beginning – it's going to be their regular after all and it's nice for them to feel some ownership of it.
Ed MIlroy: flash fried
Death row meal? A fry up.
What's your favourite song to cook to? Green Sugar by Kikagaku Moyo.
What's your go to London fast food order? Lamb heart and liver with esme salad, Umut 2000.
What would you cook for less than a fiver? Cat rice.
What's your top London hidden gem? The Victory on Vyner Street.
The Plimsoll is due to open at the end of September, exact date TBC. 52 St Thomas's Rd, Finsbury Park, London N4 2QW. Insta: @the.plimsoll