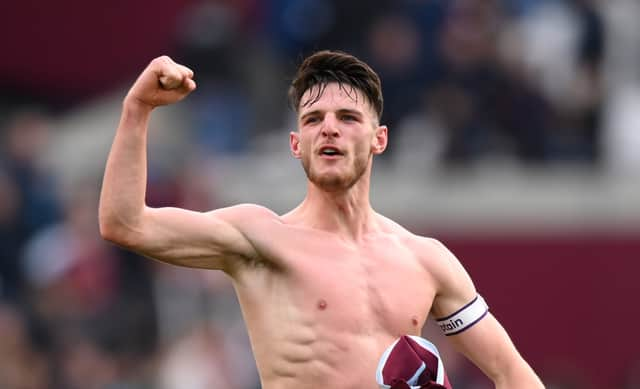 West Ham's Declan Rice is enjoying arguably the best year of his career as the Hammers sit third after 11 games.
The midfielder has covered the most grass with the ball in the league at over 4,000 yards, and is a considerable distance ahead of Joao Cancelo in second position.
Thus, Rice is not only arguably the hardest working player in the Premier League, but his energy arguably makes him the engine behind West Ham's success this season.
The England international has also ran the furthest in terms of progressive distance – which measures the distance covered by a player while moving towards the opposition goal - with 2,205 yards.
Again, Rice's closest competitor plays in sky blue, as Ruben Dias sits close behind on 2,155 yards.
This statistic shows Rice's ability to drive the ball forward, which is something that has been a standout aspect of his game this season.
The Hammers star also sits sixth in terms of total progressive carries – which are carries which move the ball forwards at least five yards or any carry into the penalty area – with 76.
Rice sits behind four Manchester City players – with Jack Grealish topping the list on 129 – and Newcastle's Allan Saint Maximin for this metric.
Furthermore, Rice has demonstrated that he can move the ball into dangerous areas where his teammates can create goalscoring chances.
He has the third most carries into the final third in the league with 33 – only six behind Saint-Maximin who tops the list.
Additionally, it's not just on the ball and in transition where the midfielder is among the best in the league.
Rice is also among the top performers for interceptions, recording 30 interceptions so far this campaign.
Southampton's Tino Livramento has recorded the most in the league at 33.
With West Ham taking on Manchester City this weekend, Rice will undoubtedly be key for the Hammers at thwarting Pep Guardiola's side, and starting attacks for the Irons.
Total distance with the ball in yards
Declan Rice (West Ham United) 4,066
Joao Cancelo (Manchester City) 3,674
Ruben Dias (Manchester City) 3,500
Marc Guehi (Crystal Palace) 3,203
Jack Grealish (Manchester City) 3,040
Bernardo Silva (Manchester City) 3,003
Aymeric Laporte (Manchester City) 2,950
Allan Saint-Maximin (Newcastle United) 2,929
Joachim Anderson (Crystal Palace) 2,820
Mohammed Salisu (Southampton) 2,800
Progressive distance with the ball in yards
Declan Rice (West Ham United) 2,205
Ruben Dias (Manchester City) 2,155
Aymeric Laporte (Manchester City) 2,032
Jack Grealish (Manchester City) 2,027
Joao Cancelo (Manchester City) 1,955
Allan Saint-Maximin (Newcastle United) 1,905
Joel Matip (Liverpool) 1,806
Bernardo Silva (Manchester City) 1,715
Valentino Livramento (Southampton) 1,714
Marc Guehi (Crystal Palace) 1,710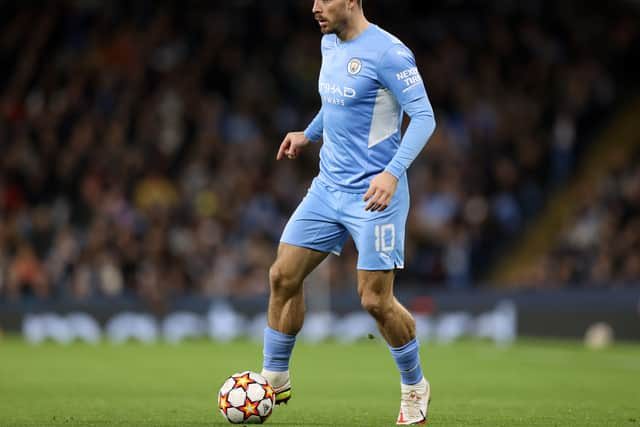 Progressive carries
Jack Grealish (Manchester City) 129
Joao Cancelo (Manchester City) 111
Bernardo Sliva (Manchester City) 98
Ruben Dias (Manchester City) 92
Allan Saint-Maximin (Newcastle United) 87
Declan Rice (West Ham United) 76
Ismaila Sarr (Watford) 76
Aymeric Laporte (Manchester City) 74
Emile Smith-Rowe (Arsenal) 72
Bukayo Saka (Arsenal) 71
Carries into the final third
Allan Saint-Maximin (Newcastle United) 39
Joao Cancelo (Manchester City) 35
Declan Rice (West Ham United) 33
Emile Smith-Rowe (Arsenal) 33
Bernardo Silva (Manchester City) 30
Luke Shaw (Manchester United) 29
Mateo Kovacic (Chelsea) 29
Demarai Gray (Everton) 27
Ismaila Sarr (Watford) 26
Jack Grealish (Manchester City) 25
Interceptions
Valentino Livramento (Southampton) 33
Joao Cancelo (Manchester City) 31
Declan Rice (West Ham United) 30
Mohammed Salisu (Southampton) 30
Charlie Taylor (Burnley) 29
Andreas Christensen (Chelsea) 28
Christian Norgaard (Brentford) 27
Ben White (Arsenal) 27
Joachim Anderson (Crystal Palace) 26
Trent Alexander-Arnold (Liverpool) 25