West Ham 'intensifying' pursuit of international striker ahead of January swoop
The Hammers are reportedly eyeing yet another Czech swoop.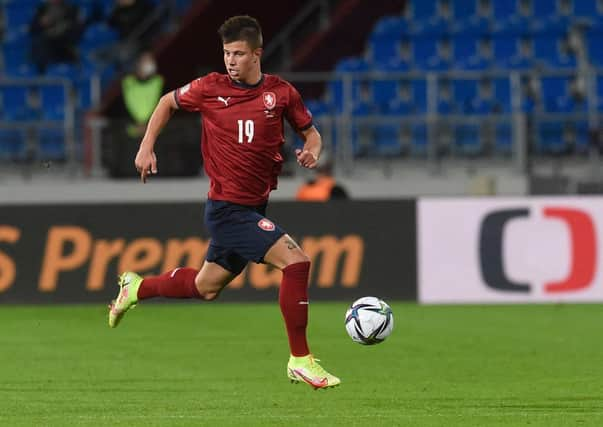 West Ham are weight up a potential move for Sparta Prague's teenage sensation Adam Hlozek, according to a report from Football Insider.
The Irons have already enjoyed notable success with previous forays into the Czech market, having already brought in Tomas Soucek and Vladimir Coufal in recent transfer windows.
And now it would appear that they are eager to repeat that feat with a January swoop for the precocious striker.
As per this latest update, West Ham are said to be "intensifying" their pursuit of the 19-year-old, although they could face widespread competition for his services from a number of continental sides.
Who is Adam Hlozek?
The young striker doesn't turn 20 until July next year, but he's already making waves in the Czech game.
A product of Sparta's own youth academy, the teenager has already wracked up 32 goals and 29 assists in 106 outings for the senior team, and his performances at club level have earned him recognition on the international stage too.
Hlozek has already amassed 12 caps for the Czech Republic, and was used as a regular substitute during their Euro 2020 campaign this summer.
With Champions League experience and claims from his current manager that he is an "exceptional" talent, there's no doubting that the starlet's career is on a very promising trajectory.
How likely are West Ham to seal the deal?
You would think that by this point the Hammers would have some kind of Czech First League loyalty card. While Soucek and Coufal may have arrived from Sparta's city rivals Slavia Prague, their repeated transfer endeavours into the Czech Republic's top flight prove that at the very least, affordable deals are there to be done.
Obviously, every move has to be assessed on its own individual merits, but there's a promisingly decent precedent to be followed in this instance.
The main stumbling block could be the threat posed by the plethora of other clubs who are also said to be keeping tabs on the youngster.
While no specifics are given in this latest report, it's easy to imagine the calibre of side who would be chasing a teenage international with top tier continental experience. Liverpool, for example, have been cited as potential suitors in the past.
Still, the fact remains that West Ham are in desperate need of striking reinforcements to provide cover and competition for the superb Michail Antonio, and there's no reason to believe at this early stage that Hlozek couldn't give them it.
What are fans saying on the matter?
A quick glance at social media would suggest that West Ham supporters would be more than happy to see Hlozek arrive at the club in January – provided he isn't their only acquisition.
@JamesGunn23 tweeted: "Hlozek, Lingard, Boubacar Kamara - make it happen @davidgold"
@Garyrut03096526 tweeted: "Yeah I like Hlozek, but why can't we get him and Lingard?"
@Whu_life tweeted: "It would show real intent to get both Lingard and a younger player for the long term in Hlozek. If we do this it will be another example of the club changing and having a long term plan, like how Leicester do their business".