West Ham tipped to battle AC Milan and Man City for big-money lethal striker
The Hammers are reportedly set to make a play for Benfica striker and midfielder Darwin Nunez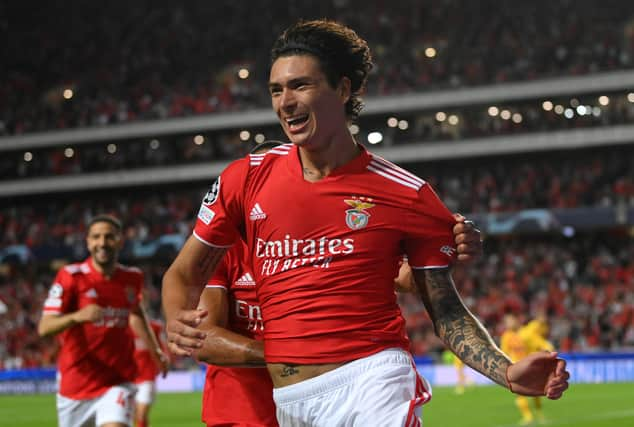 Uruguayan footballer Darwin Nunez has become a hot target for many clubs around England and Europe, but it is now looking that another club is set to add itself into the mix.
The attacking midfielder has been gaining more and more interest from clubs such as Atletico Madrid, Barcelona, and Manchester City but West Ham United have now also been reported to make a move to sign the 22-year-old.
The newspaper Record have named the Hammers as another club who have been 'linked with insistence' to Nunez and they now appear to be in the race along with Manchester City, Manchester United and Newcastle United who have been in contention to sign Nunez for a few months.
West Ham have not been present in past stories relating to the movements of the Uruguayan striking midfielder and it remains unclear as to whether their intentions are substantial or if Record are simply pulling them into the fight.
It has been stated that his current club, Benfica, are only willing to let Nunez go in January in the hope that someone triggers his release clause which is worth €150million.
If he were to go in the summer signing season, it is expected that the midfielder would break the club's record, previously held by Joao Felix which stood at €120million when he moved to Atletico Madrid.
The competition that is currently ongoing will enable Benfica to get as much as they can from their sale of Darwin Nunez.
Who is Darwin Nunez?
Nunez was born in Artigas, Uruguay in 1999 and joined Penarol's youth setup in 2013. Although his initial stay only lasted a few months, he subsequently rejoined in 2014 and finished his formation.
The striker made his professional debut for Penarol on 22 November 2017. His first professional goal was scored on 13 October 2018 during a 2-0 home defeat of Feniz.
In 2019, the Spanish club Almeria, who are in the Segunda Devision, announced they had signed the midfielder on a five-year deal. The Uruguayan's first goal for Almeria came two weeks after his debut and he finished his season as the league's joint fourth top scorer with 16 goals.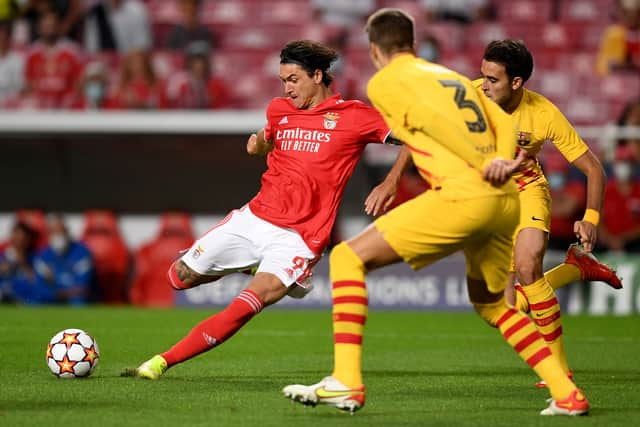 After just one season, Nunez then signed a five-year contract with the Portuguese club Benfica who had paid a club record fee of €24 million for the midfielder. The deal was also the Segunda Devision's biggest transfer and Almeria would receive 20% of a future transfer.
Nunez scored his first Primeria Liga goal in a 2-0 away victory over B SAD.
Nunez then caught COVID-19 and while he came back to the pitch three weeks later, he struggled for the remainder of the season with its long-term effects as well as various injuries.
What has Nunez's recent form been like?
The effects of Covid-19 on Nunez lasted longer than just the three weeks he was away from the pitch. The midfielder did not score for four months on his return to football.
However, by the end of the season, he had still managed to score six league goals and provide 10 assists, which was the second-best in the league and helped Benfica to finish third place.
Nunez was forced to miss the first months of the 2021 new season due to surgery on his right knee but made his return on 21 August.
The 22-year-old went on to score back-to-back braces against Santa Clara and Boavista in the Primeira Liga and was consequently named the Player of the Month as well as the Forward of the Month for September and October 2021.
On 2 September, Nunez scored his first two UEFA Champions League in a victory over Barcelona and was named Player of the Match for his efforts, the second of two Player of the Match awards he has received in 2021.
The midfielding striker has scored nine goals so far this year, eight of them for his club and has also provided two assists for Benfica in the Liga NOS.
How likely are West Ham United to sign Darwin Nunez?
With the number of other competition that surrounds Nunez, it seems unlikely that the Hammers will be particularly successful in their endeavours.
Over 30 clubs had their scouts watching the Uruguayan work his magic during Benfica's Champions League win over Barcelona with all of the Premier League's 'Big Six' clubs being represented.
Manchester City have long been admirers of Nunez's work according to Record, but Nunez's manager has reportedly been in talks with Atletico Madrid, AC and Inter Milan and it would appear that even Newcastle United are hoping to make a bid for the player.
Benfica look likely to only let their prized player go if the €150million release clause is met so it will be a battle of who can negotiate the best deal with this price tag in mind.
What are the fans saying?
@Mobyhaque1 has said "I don't think darwin Nunez fits our style he might do well for a team like west ham who I believe wanted him last summer"
@hammers_uy tweeted "BUY DARWIN NUNEZ"