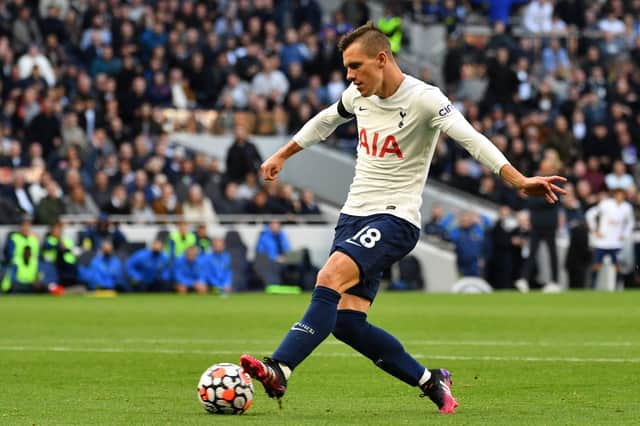 Argentinian midfielder Giovani Lo Celso passes the ball during the English Premier League football match (Photo by JUSTIN TALLIS/AFP via Getty Images)
The Italian has them firing in the league, and will see this EFL quarter final game as a major chance to get to the last four of a winnable trophy.
Key to the recent success has been the renewed energy and competition for positions.
With the January transfer window just around the corner, some players will not only be playing for game time, but also fighting for their long term future at the club.
So which players will be looking to catch the eye against West Ham tonight?
Dele Alli of Tottenham Hotspur reacts during the Premier League match between Tottenham (Photo by Alex Pantling/Getty Images )
Dele Alli
Dele Alli is in the last chance saloon under Antonio Conte, having tried and failed to rediscover his sparkling form under Jose Mourinho, Ryan Mason and Nuno Espirito Santo.
The good news for the former Milton Keynes Dons man is that he will go into the game against West Ham on the back of his most impressive performance in months, after impressing against Liverpool over the weekend.
More of that, and he will be staking claim for regular playing time and a chance to reclaim a spot in Antonio Conte's army.
Barcelona are keen to sign Tottenham midfielder Tanguy Ndombele in the January transfer window. (Sport) (Photo by Julian Finney/Getty Images)
Tanguy Ndombele
In many ways Ndombele is in a similar situation to Alli.
Both have struggled to perform consistently under the last three Tottenham managers, despite having enough quality and skill set to do it.
Conte recently urged the former Lyon man to play more like a team player if he wants to get into his plans, and it's fair to say he responded with a great showing against Liverpool.
Blessed with a silky technique and enviable balance, the 24-year-old Ndombele became Tottenham's record signing when Spurs signed him for £53.8m in 2019.
Since then, he's only managed seven goals and six assists in 50 appearances across all competitions.
He's attempted to leave the club in the last two summers, but it will be the club's turn to try and move him on if he can't cut it under a proven winner like Conte.
Giovani Lo Celso of Tottenham Hotspur and Vitorino Antunes (Photo by Catherine Ivill/Getty Images)
Giovani Lo Celso
The diminutive Argentine is blessed with skill, but can be frustrating and brilliant in equal measure.
Tottenham won the race to sign the sought-after midfielder, first on loan before making the move permanent in January 2020, agreeing a £27.2 million fee with Real Betis.
The midfielder signed a long term deal until 2025, but he's only managed three assists and a goal in 50 Premier League appearances.
His season has been interrupted by injuries and Covid issues, but he'll know that with the new manager looking to turn Tottenham into a winning machine, he'll have to improve on his fitness, form and statistics if he wants to see out his entire contract in North London.
Nuno Espirito Santo would be interested in signing Tottenham's Matt Doherty if he is appointed Everton manager this summer. (Football Insider) (Photo by Eric Alonso/Getty Images)
Matt Doherty
Tottenham signed Matt Doherty for an undisclosed fee after he was flying for Wolves, and was talked of as one of the best wing-backs in the Premier League.
He was one of the pillars of the Wolves side that won the Championship and took the Premier League by storm, but his time in north London has been disappointing so far.
Signed by Jose Mourinho to replace Serge Aurier, his arrival rather spurred the Ivorian on and left Doherty scratching his head at how to get in the team.
Even when Nuno Espirito Santo took over, a man who brought the best out of him at Wolves, the Republic of Ireland right-back failed to kick on.
He's barely had a sniff since the arrival of Antonio Conte, but it will be interesting to see if he gets the nod against West Ham.
With opportunities being far and few between at the moment, he'll need to take his chance if he gets one against the Irons.
Steven Bergwijn
When Steven Bergwijn arrived at Tottenham in the winter of 2020, he was talked about as the most exciting talen to come from the Netherlands since Robin Van Persie.
His debut against Manchester City was one of the best introductions to English football in the Premier League era.
Less than 48 hours after signing for the LillyWhites, he was scoring the winner against City which made excited fans believe they had signed a superstar.
But since then, moments like that have been fleeting.
This summer he attempted to force a move to Ajax, but Nuno stopped that and he started the season well in the absence of Harry Kane.
Since the England captain's return, the Dutchman has been on the fringes but he'll do well to remind everyone that he is still around when Tottenham face West Ham in another London derby.
That could go a long way in deciding if he sticks or twists.