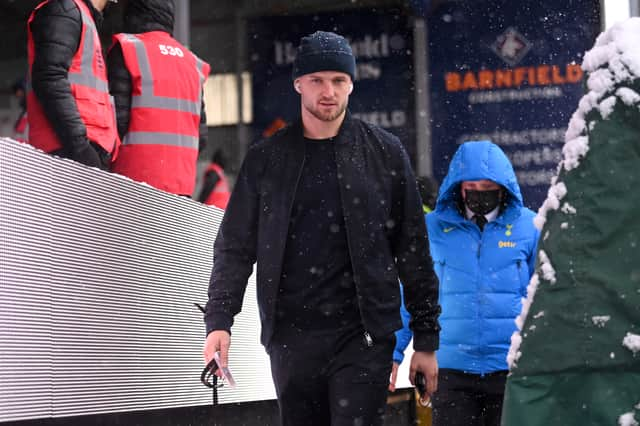 Tottenham defender Eric Dier says the latest Covid crisis at the club that led to the closing of training facilities at Hotspur Way got everyone worried and thinking of their loved ones.
At some point in time the club had as many as nine players and six staff testing positive to Covid,leaving authorities and the club with little to do but close down the training base in Enfield, North London.
Defender Eric Dier-one of the players who consistently tested negative said his first thoughts were with his mates and their loved ones in that difficult period.
He revealed: "First and foremost you worry about the well being of those affected," the 27-year-old told the club's Match day programme.
"I know there are players with wives or girlfriends that are pregnant and those kinds of things always worry you.
"Plus, with all of us living with other people, in our households living with family you don't want to have to pass it on to a loved one.
"When you are wrapped up in your job or whatever your life entails-,you sort of forget about the small things but peoples welfare is most important.
"Your health and your family's health is the most important thing above everything else."
With the training grounds closed Tottenham returned to zoom sessions with limited contact between players and staff.
There was still uncertainty regarding the game against Rennes in the Europa Conference League which was eventually called off but Dier revealed they had to keep an eye on that all the way.
He added: "Obviously the situation affects your preparation and affects every other thing in the building.
"All we could do ahead of the Stade Rennes game was to continue to prepare as best as we could, which was obviously very difficult.
"It really was just a day-by-day scenario, we were training while taking all the precautions we could to try and stop the spread.
"There was just a real sense of togetherness with the rest of the squad that was still available to try and do well with the limited numbers.
"There was a good sense of togetherness going into the Rennes game and then it was called off.
"We had our backs against the wall heading into it really but we had to try and get through it. Obviously the game got cancelled and everything changed."
Even though Tottenham were ultimately better off with closing their training ground and working from home, they returned to put up a spirited performance to get a point against Liverpool in one of the games of the season so far on Sunday evening.
The results kept their unbeaten start to life under manager Antonio Conte in the league going and Dier who is of no doubt that halting their games was the right thing to do also admitted it came at a time the team was just building momentum.
"It was obviously a real shame from the footballing perspective. It was a real shame because we were coming off the back of some really good results and I felt we were building momentum," Dier added.
"We were under no illusion that we still have a lot of work to do and a lot of improvement still to do but naturally, there was a good feeling within the camp.
"But the Covid situation then put a halt to that, it really snatched that away from us.
"It was very strange to be away from the training ground. In the middle of December it was a strange feeling not to be playing football and it was not enjoyable at all.
"I think everyone is just happy to be back at training and with each other, obviously in a limited capacity when you're away from it you miss it. You always miss it, you miss that general interaction you have with each other.