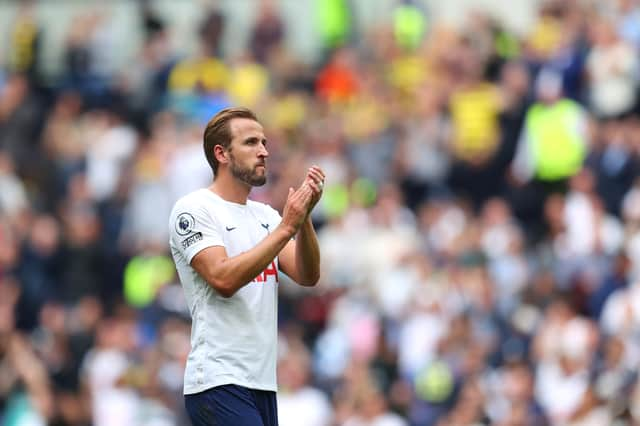 Manchester City broke the British transfer record to sign Jack Grealish, United rescued Cristiano Ronaldo from Juventus and Chelsea paid enough to land Romelu Lukaku, but the winners of the transfer window were Tottenham Hotspur.
Football director Fabio Paratici boxed smartly with acquisitions and moving on some players, but Daniel Levy's handling of the Harry Kane transfer saga has placed the club as one of the heavyweights in English football.
He proved once again why he is considered by many as the last man clubs want to negotiate with, and once again he protected his prized asset Kane.
The England captain wanted out, but a brilliant piece of foresight in 2018 meant the striker was tied into a six-year-deal which eventually played in Tottenham's favour.
Manchester City wanted Kane and Kane wanted Manchester City, but Levy has him on a £200,000-a-week contract for the next four years.
That meant the England captain could not force a move due to the length of his contract, and Manchester City would have to break another British transfer record to sign him.
Either way, Tottenham would have won.
Statement to others that Tottenham are not a selling club
In the final years of the Arsene Wenger era at Arsenal, Manchester City raided the club, signing players like Emmanuel Adebayor, Bacary Sagna and Gael Clichy.
Those signings weakened Arsenal and strengthened City, leading to the creation of the current side that is sweeping up all domestic trophies.
Real Madrid eventually got Eden Hazard despite Chelsea's strong resistance at the beginning.
But Levy's refusal to sell Kane will send a strong message to all clubs across Europe that Tottenham does not mess about when it comes to keeping their top players.
Show of ambition
Tottenham Hotspur has not won a trophy since 2008, when it won the League Cup, and the team has now failed to qualify for the Champions League for the last two seasons.
However, holding on to Kane is an indication that the club is determined to return to the top of both English and European football.
The England captain won the Premier League Golden Boot last season, the third in his career and is without doubt one of the best finishers in world football.
The longer he stays at Tottenham, the better the chances of ending the trophy drought and returning to the Champions League.
Handing Nuno the best striker in the Premier League
Nuno Espirito Santo has had a dream start to life as a Tottenham manager, winning his first three league games and qualifying for the group stage of the maiden Europa Conference League.
And all this without a fully fit Kane, who only started his first league game of the season against Watford before the international break.
Coach Nuno Espirito Santo will be quietly delighted and hopeful that the returning Kane will be the difference again with his goals this season.
The 28-year-old bagged 24 league goals last season. He has scored 223 goals in 339 games for the club.
To put that into perspective only Jimmy Greaves with 266 has scored more for Tottenham.
He is also fourth on the list of the most Premier League goals scored by a player for one club.
Wayne Rooney ( Manchester United) 183
Sergio Aguero ( Manchester City) 182
Thierry Henry (Arsenal) 175
Harry Kane (Tottenham Hotspur) 165
Aguero has since moved to Barcelona and both Rooney and Henry are retired, leaving Kane as the only player who can move up the exalted list.
This could encourage him to stay at Tottenham and build something special.
Establishing Levy as football's toughest man
Daniel Levy has also emerged from the situation with his reputation enhanced, especially within a section of the Spurs fans who were angry about the European Super League.
The easy decision this summer would have been to cash in on Kane given the player's desire to move, the club's challenges with funds after moving into a new stadium and the losses Covid-19 has brought.
But Levy chose ambition, something he's always had according to former midfielder Luka Modric.
The now Real Madrid star was close to joining Chelsea in 2011, before Los Blancos signed him 12 month later, but the transfer was far from smooth sailing.
"First he was the one who brought me to Tottenham - for a record fee in the club's history," the 2018 World Cup finalist said in his autobiography 'Luka Modric: My Autobiography'.
"They gave me a big chance. He cares about the club and I respect that.
"My status at White Hart Lane was excellent, and I think I earned it with my behaviour, performances and by always giving my best for Spurs.
"I resented him because on a couple of occasions he had promised to let me move to a bigger club and then broke his promise.
"Anyone who knows anything about my relationship with the clubs I have played for knows money has never been my priority otherwise.
"After one of those solitary training sessions, at the pitch hidden behind the club facilities, I went to take a shower.
"When I came out of the dressing room, I ran into Levy.
"He seldom went to the training ground, this time he couldn't avoid me.
"He was typically dry and cold during this short conversation that began with a question: 'How are you? Nervous?
"'I'm begging you to keep your promise.
"'I'd like to play in the Super Cup against Barcelona. Don't take that away from me.'
"Then he told me, 'I'll let you leave on Monday.'"
Will he do the same with Kane at the end of the season, only time will tell.