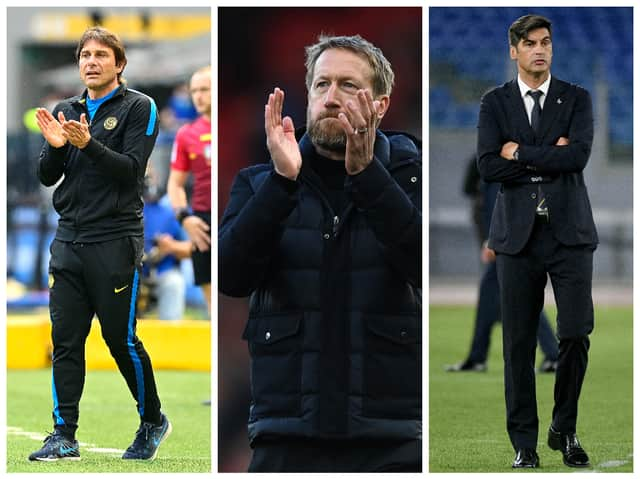 Could one of these men replacement Nuno at Spurs?
Antonio Conte
The one that got away for Spurs fans. The Italian looked set to sign but for reasons unknown, the move failed to materialise, and Spurs fans knew they'd missed out on what would have been a world-class appointment.
Conte is ruthless and is a winner everywhere he goes.
He led Chelsea to a Premier League title in the 2016/2017 season, making light work of the league as they romped home, amassing over 30 wins and breaking various records along the way.
Conte is fresh off the back of winning a Scudetto with Inter Milan, ending Juventus' 9-year reign as Italy's best.
He disrupts the status quo wherever he goes, and would be a top, top appointment if Spurs can get him.
Graham Potter
Rising through the ranks with the likes of Ostersunds and Swansea, Potter has been building a good project at Brighton and it could be the right time for him to make the step up.
His Brighton side showed their plaudits as they drew to, and outplayed Liverpool at the weekend.
His side have been at the top of the table based on xG, and with one of the world's deadliest finishers at his disposal, Harry Kane under Potter could be frightening.
One thing that Spurs need, and Potter could provide is stability and a long-term project.
Paulo Fonseca
Again, another one who got away. Fonseca, like Conte, was all set to sign and then just never did.
Rumours about the project and backing he would get was why he didn't sign but now he could be the man Spurs try and lure in again.
He's won trophies in Portugal and Ukraine, but has never managed in the Premier League, and the best side he's managed was Roma, and left after two years.
Paulo Fonseca is tipped to be the next Newcastle United Manager
Fan's view
Tottenham fan and season ticket holder Finley Chung reacts to the news and gives us his thoughts on who should be next manager.
As a Spurs fan who would be your number one pick for a new manager?
"It has to be Antonio Conte.
"I don't actually think he'll come to us but it's hard to not get carried away with all the links on social media.
"He's a born winner, would tell the players exactly what he thinks and can get the best out of players as seen at Chelsea with Moses and Alonso".
What qualities would a Spurs fan want from the new manager?
"Someone who can unify a broken dressing room and a broken fan base.
"The players have been disjointed since Jose was here and you can tell certain players need a fresh start.
"We all thought we had with Nuno, but it didn't seem to work out that way unfortunately for him.
"Someone who can get us on the front foot, fast paced, attacking football is a must".
A lot of speculation in the summer was surrounding Harry Kane, can Conte bring out the best in him?