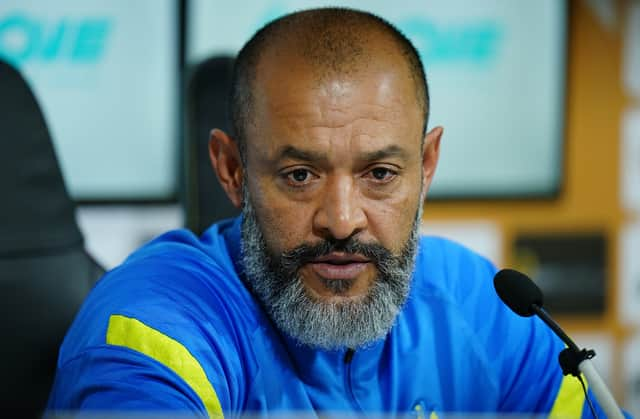 Head coach Nuno Espirito Santo of Tottenham Hotspurs FC during Tottenham Hotspur Press Conference (Photo by Gualter Fatia/Getty Images)
Tottenham manager Nuno Espirito Santo says Cristiano Ronaldo is a unique source of pride to all Portuguese around the world, and one of the best footballers of all time.
Nuno's Tottenham will welcome Cristiano Ronaldo's Manchester United to the Tottenham Hotspur stadium today, with both teams desperate for all three points.
United lost heavily to Liverpool with manager Ole Gunnar Solskjær under massive pressure while Tottenham recovered from their London derby defeat to West Ham by winning at Burnley in the Carabao Cup.
Spurs will want to return to winning ways in the league as well.
Ronaldo made a sensational return to Manchester United this summer, after a trophy-laden career that took him to Real Madrid and Juventus.
Before that, he made a name for himself in Manchester scoring 118 goals in 292 appearances for the Red Devils between 2003 to 2009.
Since his return, the 36-year-old forward has managed 3 league goals in six appearances, and is expected to lead United to silverware - even if recent results haven't been good.
Cristiano Ronaldo of Manchester United reacts during the UEFA Champions League group F (Photo by Naomi Baker/Getty Images)
What Nuno said about Ronaldo
Tottenham Hotspur manager Nuno Espirito Santo said: "Ronaldo for all of us Portuguese is something we are very proud of.
"Ronaldo brought us so many moments of immense happiness.
"When you go around the world and people ask you where you're from and you say Portugal, the first thing they say is Ronaldo.
"That is what it means for all of us, one of the best players in history.
"I know him, I was proud to say I was part of the squad for Euro 2008 so yes I know him."
Tottenham striker Harry Kane is yet to fully find his form in the league with just a goal to show for after seven games.
There are concerns that the England captain might not be fully committed having seen a desired move to Manchester City fall through this summer.
But Nuno denied Kane was distracted and instead called for all his players to improve, starting from the game against United today.
He added: "We should improve, we have aspects in our game that have improved.
"For example against Aston Villa we had many, many shots and the first half of the West Ham game, a game in my opinion we controlled and had momentum.
"We had chances, in the second half we didn't, we had situations with final touches that didn't improve, positions of the players. So it is up to us to find.
"As individuals the players have to improve, we are here to support and find the solutions. But unfortunately we have not been able to be consistent enough, we need to be able to sustain it."