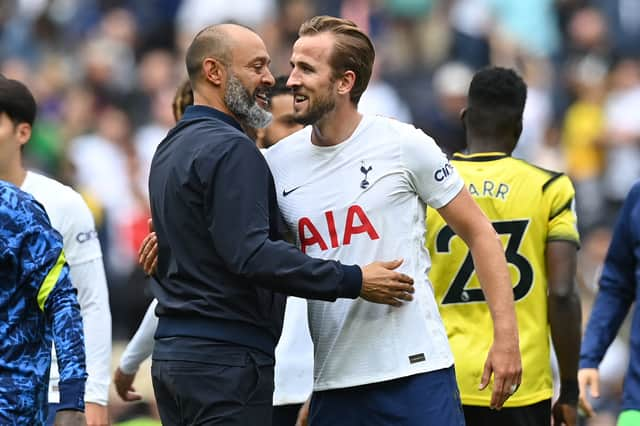 Tottenham boss Nuno Espirito Santo is certain Harry Kane will be back scoring goals for fun again despite the striker going through a rough period at the moment.
England forward Kane has not scored or assisted in six league games and was withdrawn on Tuesday night with England in search of a winner against Hungary.
The 28-year-old would have been surprised to see his name on the substitute board with his team in search of a winner but, that is how far the striker is currently away from his best form that he is being hooked when his country needs a goal.
There have been concerns that Kane is suffering psychologically from seeing a dream move to Manchester City fall apart in the summer but, his manager Nuno Espirito Santo is losing little sleep over his striker's dry patch in the league.
What Nuno said
Tottenham manager Nuno Espirito Santo said: "No honestly I don't see anything he is doing wrong.
"I really don't see anything because he is training well and working very well so I think It's just a matter of time.
"Everything will happen naturally and Harry is a fantastic footballer and his work goes beyond the goals because he works hard for the team and is a fantastic person.
"He is a nice person and I don't need to support differently. We all just have to make sure we are creating enough for him and everything will happen naturally.
"There is nothing there to say honestly and he will be back scoring again soon because he is really that good."
Former Manchester United captain Roy Keane has been particularly disappointed with Kane's form this season and how he has handled the fall out of his failed move to Manchester City.
Keane said: "When he's on fire he is fantastic and when he is off - and we've seen many times before - it's like he is on his heels and he can't get up to speed with the game.
"Whatever is going on at club level, he does need to do a bit more when he's not at his best in terms of general play."
Five of Harry Kane's impressive records
Harry Kane is the sixth highest scoring English player in Premier League history, surpassing players like Robbie Fowler and Jermaine Defoe.
Harry Kane is a three-time Golden Boot winner and won his third last season in a closely run race with  Liverpool's Mohammed Salah. 
Harry Kane has scored 41 goals for England and is fifth on the list of all time top scorers. 
Kane scored six goals at the 2018 World Cup in Russia to win the Golden Boot. 
Harry Kane is seventh on the list of all time top scorers in the Premier League with 166 goals, he is within touching distance of sixth place Thierry Henry who has 175.