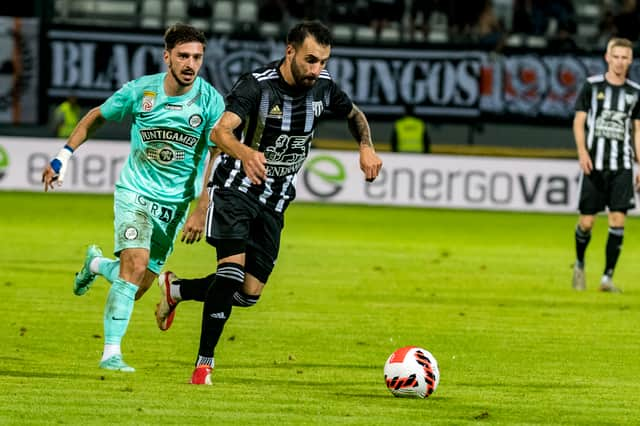 Tottenham Hotspur are in Europa Conference League action tonight as Slovenian outfit NŠ Mura come to the Tottenham Hotspur Stadium.
Spurs are second in Group G after drawing with French side Rennes 2-2. An own goal from Loïc Badé put Spurs in front but then Pierre-Emile Højbjerg had to save the North London side from defeat with an equaliser 15 minutes from time.
This is to be the first meeting between Spurs and the side which plays its domestic football in Slovenia, so this is the perfect opportunity to get a clue of the opposition.
Here is everything you need to know about NŠ Mura
Background
NS Mura is the second continuation of NK Mura, a club which was founded in 1924, but dissolved in 2005 after failing to obtain competition licences. The original club NK, played in the Slovenian PrvaLiga and qualified for the early rounds of the UEFA Cup, but could never qualify for the main competition.
After dissolving in 2005, a new club was born in ND Mura 05 but after just eight years in existence, they suffered the same fate as their predecessors due to financial difficulties.
Founded in 2012 and made mainly of the youth players from Mura 05, NŠ Mura now seems the strongest version of the club to date and have secured their financial future at least for a good few seasons after netting a windfall from their involvement in Europe this season.
Form
Playing at the Ljudski vrt, the home ground of league rivals NK Maribor - 35 miles away from their usual home ground in Murska Sobota, they suffered a 2-0 defeat to Dutch outfit Vitesse. The stats weren't pretty as they mustered up just one shot on target and their opponents had much of the ball.
On the domestic front, their season started back in mid July and is 11 games into the league season. They currently sit fifth in the division with four wins, four draws and three defeats. Three of those victories have come in the last five games, but in their last two league matches, they have drawn with both Tabor Sezana and Koper in the last week.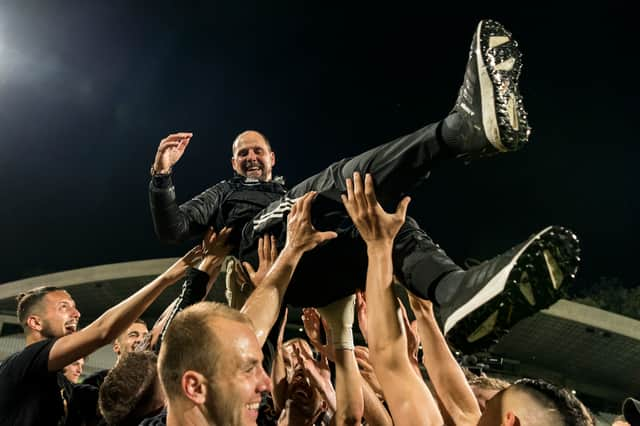 Who is their manager, top scorer and players to look out for?
At the helm is Ante Šimundža, who is a popular man in these parts, having twice been manager of ND Mura 05, the defunct version of NS Mura.
He is the man that played a key role in the clubs dramatic rise by taking them from the lowest tier of Slovenian football in 2017 to winning the domestic Cup in 2020.
A true footballing fairytale was complete by winning the league title last season, eclipsing any achievement of the two former variations of the club.
Šimundža played a majority of his football in his hometown of Maribor, spending six years with NK, making over 170 appearances and scoring 64 goals. He did test himself abroad though, playing in Japan for Brummell Sendai, as well as Young Boys in Switzerland and Malmo in Sweden. Home is where the heart is though as he returned to Maribor for a second spell, continuing to score goals, helping them qualify for the Champions League group stages in 2000. He would leave for a second time, joining Belgian side La Louviere, but wound down his career in his native Slovenia. He is tied with Gregor Židan as Maribor's all-time record appearance maker.
It's a tie right now for who is the top scorer this season with Kai Cipot and Amadej Maroša both scoring three goals apiece this season. Both players have come from the academy system and Cipot has been here since their reformation. Cipot, 20, only scored three goals in 32 appearances last year but has already matched that feat this season in 26 fewer games. Kai is the son of former Slovenia defender Fabijan, who made 26 appearances for his country.
In their historic title winning season, Croatian winger Luka Bobičanec was their top scorer, scoring 11 goals altogether, though his game time has been limited to just 131 minutes this season and he has yet to find the net this time around.
European history
This is the third consecutive season that Mura have been involved in European football. In their first season, they were eliminated by Maccabi Haifa in the first qualifying round of the Europa League.
The season after in which the qualifying format was changed to one-leg, they defeated Danish outfit Aarhus 3-0 to reach the third qualifying round, two rounds off of the group stage. They were handed a heavy defeat though losing to European regulars PSV Eindhoven, which brought an end to their involvement for that season.
It is their domestic success of winning a league title which has got them to where they are now though. They comfortably defeated Shkendija in Champions League qualifying to progress and play Ludogorets Razgrad, but they lost 3-1 over two legs, dropping into the latter stages of the Europa League qualifying.
After navigating past Zalgiris with a 1-0 win they were within one round of the group stages, but unfortunately they were hammered 5-1 over two legs but every cloud has a silver lining. The teams who lose in the play-off round of the Europa League are assured of a group stage spot in the newly formed Conference League, which is where we are today.