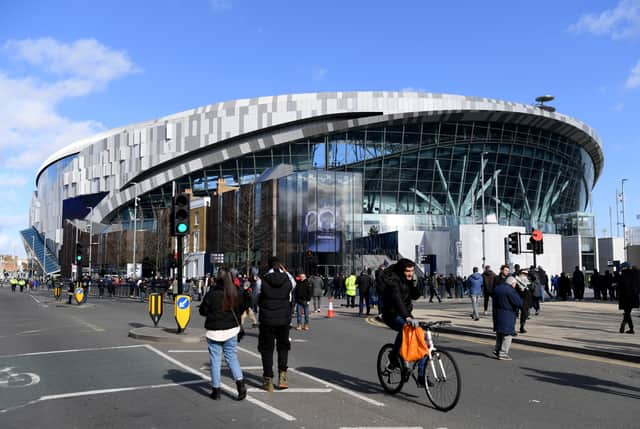 The Tottenham Stadium is one of the best arenas in world football, based on style, architecture and atmosphere on match days.
The 62,850 seater stadium replaced White Hart Lane, and is just metres away from the old ground's original site.
This means visiting fans can still enjoy the same match day rituals as before.
The ultra-modern stadium has its own brewery inside the ground, and Europe's longest bar at one end.
This season Tottenham's ultimate goal will be to get back into the top four and if possible win a trophy to appease a fan base, who have grown frustrated since the departure of Mauricio Pochettino.
Jose Mourinho who started last season has been permanently replaced with another Portuguese coach, Nuno Espirito Santo.
There are issues surrounding the future of star forward Harry Kane, and this could determine how well Spurs do as a club this season.
But the North London outfit have started well, seeing off champions Manchester City in the first league game.
Key Player: Dele Alli
"I don't blame anyone, I blame myself for not making it difficult for the manager to take me out of the team."
These were the words of Dele Alli, when asked why he did not play a lot last season. It's clear he is working on having a big season under Nuno Espirito Santo. Last season, the England international only managed 619 minutes in the league, contributing just one goal.
A few years ago, Alli was one of the first players on Gareth Southgate's team sheet but this summer he was on the outside looking in as the team made it to the final of Euro 2020.
This season feels like make or break for him and if he gets it's right Tottenham will be in for a successful year.
How to get to the Tottenham Stadium
Address: 782 High Road, Tottenham, Haringey, London N17 0BX
If you're driving around North London, the stadium located in the heart of Tottenham is unmissable.
The nearest Tube station is Seven Sisters, on the Victoria Line, which is a 30-minute walk from the stadium.
Supporters can also jump on the 259 bus, which goes to Edmonton Green and drops passengers off at the stadium.
Alternatively, fans can get the overground to White Hart Lane station and walk to the ground in three minutes.
Visitors can also jump on the National Rail service from Liverpool Street to Northumberland Park station, which is two minutes walk from the stadium.
Where to eat
There are plenty of pubs and restaurants on the walk through Seven Sisters, with Turkish food particularly popular.
Inside the newly-built stadium there are lots of food and drink options.
Supporters can grab burgers and hot dogs from food trucks on their way to the ground
There are several hotels around the Tottenham Stadium ,even though most supporters staying overnight prefer to stay in central London and travel in for the games.
Tickets
All Tottenham Hotspur match day tickets can be bought online, and there is also a in-person ticket office on Tottenham High Road.
General match day tickets are sold first to club members and then the remaining tickets available go on general sale.
To avoid any disappointment, it's advisable to become a club member.
Home pubs
The Bricklayers gives supporters the classic feel of a White Hart Lane matchday.
Fans are likely to meet long-standing Spurs fans, with plenty of history on the walls to make supporters feel at home.
Another place you could have a look at is the no.8 Tottenham which also has a good vibe on match days.
Away pubs
Away fan favourites the Haringey Irish Centre and the Elmhurst have closed, so rival supporters might be best stopping in a bar in central London on the way to the stadium.
Otherwise, the brand new ground has great food and drink facilities, with the longest bar in Europe and its own brewery.
Covid guidelines
Social distancing is no longer required at the Tottenham Stadium and fans do not have to get table service food and drinks in any more.
Fans may be be required to show proof of negative Covid test taken within the last 48 hours, or evidence of having taken both jabs of the vaccine on the NHS app.
This could become mandatory from October 1, and the Premier League is advising supporters to prepare for this.
The use of face covering is no longer required by law, but some clubs still advise they are worn when standing or moving away from your seat.
Stadium tours
Tottenham Hotspur organise tours that last for 90 minutes and includes the players' dressing room and the tunnel.
The tours cost around £30 and can be booked online or by showing up in person.
Fans can also do the Sky Walk around the top of the stadium, which gets incredible views over London.