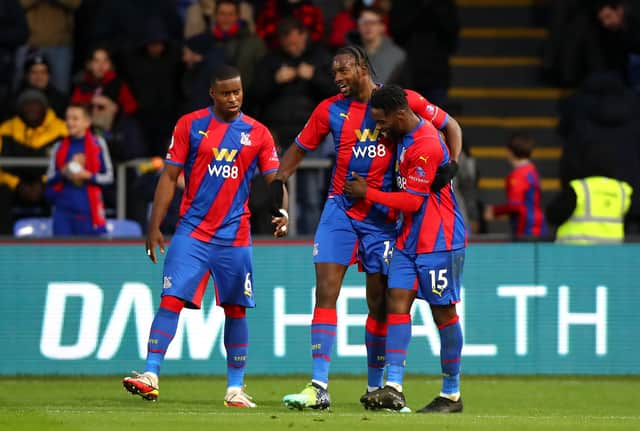 Jeffrey Schlupp of Crystal Palace celebrates scoring his teams third goal during the Premier League (Photo by Chloe Knott - Danehouse/Getty Images)
The Hammers went into the first half break with a three-goal lead, thanks to two goals from Manuel Lanzini and a predator's finish from Michail Antonio.
But substitute Michael Olise created a goal for Odsonne Edouard to reduce the deficit, before curling home a second for his side.
There was a push from the home side to try and rescue a point, but it was too little too late, and the Eagles succumbed to only their second home defeat of the season
Crystal Palace's January transfer wishlist
Crystal Palace have begun life under Patrick Vieira better than most would have anticipated, but there are glaring issues that the team need to perfect if they are to break into the top half of the table and stay there.
Three key players are leaving for the Africa Cup of Nations, and that is could be a problem for the Croydon side.
Jean-Philippe Mateta of Crystal Palace celebrates with Odsonne Édouard (Photo by Sebastian Frej/MB Media/Getty Images)
Move Mateta and Kelly on
Crystal Palace are yet to decide on what to do with Jean-Philippe Mateta since signing him on an 18-month loan a year ago.
He reminded everyone that he was still around with a goal against Norwich, along with a good overall performance.
But the striker has not done enough over the last 12 months for Palace to make the move a permanent one.
Palace will need a third striker who is as good as Benteke and Edouard to keep pushing the front two and keep them on their toes.
Martin Kelly has only played once for the U23s this season, and is yet to get a game with the first team.
It's clear he is not a favourite of Vieira and at the age of 31, he'd want to be playing regularly somewhere else.
A move away to bring in another young defender will be in the best interest of both parties at the moment.
Value of squad: £137.25m MVP: Wilfried Zaha - £36m
Look for cover for departing AFCON stars
It's still unclear what Vieira will do when Zaha, Ayew and Kouyate are away, but there is the need to gradually give time to Olise who is desperate to impress.
The former Reading man was fantastic in the Championship last season and it will be interesting to see how he develops when Ayew finally leaves for the AFCON.
Elise had his best game for the Eagles against West Ham, registering a goal and an assist.
For Zaha's position, Odsonne Édouard has been experimented with on the left hand side, and overall he has done a serviceable job even if he had a game to forget against West Ham.
But getting a lethal forward, who is able to finish off chances, will be the icing on the cake for the Eagles.
The coaching team are looking at the soon-to-return James McArthur to make up for the departure of Kouyate and increase the experience levels in the midfield area, but a fresh face to shake up competition will do the team a world of good.
: Will Hughes and Conor Gallagher of Crystal Palace during the Premier League match (Photo by Sebastian Frej/MB Media/Getty Images)
Speak to Chelsea about Conor Gallagher's situation
Whatever the situation is, they need to find out what Chelsea and the player want to do next season, so that it doesn't hit the club if he decides to leave at the last minute.
Tyrick Mitchell of Crystal Palace takes a throw in during the Premier League match between Crystal Palace (Photo by Paul Harding/Getty Images)
Buy another left back to help Tyrick Mitchell
The young left back has started all 20 league games for Palace this season and he's barely put a foot wrong.
He's an example of what youngsters can do when given a run in the first team.
Not many gave him a chance to make any kind of positive impression on this team but he started all games.
He's won more tackles than any other player in the Premier League so far and is going from strength to strength.
But Palace have an injury or a drop in form from him and they will be in trouble.
Nathan Ferguson is still working his way back to full fitness, and Palace do need another left back to keep up the standards beneath Mitchell.