Crystal Palace manager Patrick Vieira has tested positive for Covid-19
The Crystal Palace managed tested positive for Covid-19 on the morning of the Tottenham match, LondonWorld understands.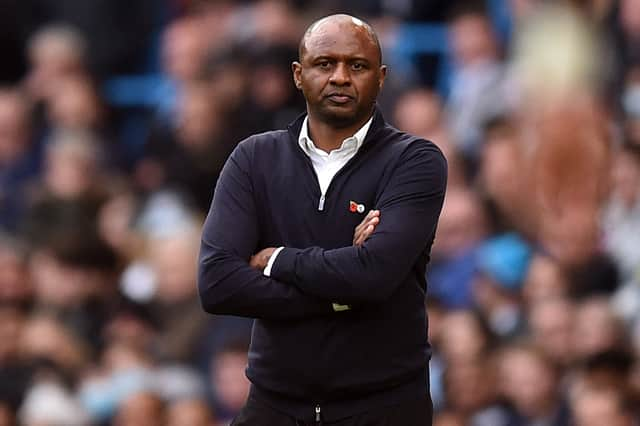 Eagles staff and players underwent additional coronavirus tests this morning, to check the Boxing Day clash against Tottenham was safe to go ahead.
It is understood that Vieira tested positive then, and Palace have confirmed he will miss the London derby.
The former Arsenal legend is currently self-isolating, however it is not known if he has any symptoms.
Palace said: "We can confirm that Crystal Palace manager Patrick Vieira is self-isolating after returning a positive test for Covid-19, and will be absent from the touchline for today's match against Spurs.
"Assistant manager Osian Roberts will deputise for Vieira for today's match."
He began his career with Bangor City, Bethesda Athletic and New Mexico Chile, but it was with the Wales national team in 2016 that his stock really rose.
Credited as the tactical brain behind the Welsh team that reached the semi finals of Euro 2016, he has been described as the "most powerful man in Welsh football".
The Eagles asked for the Tottenham match to be postponed last night, after four players tested positive, along with four staff members.
Rumours circulated last night that the match could be called off, however the Premier League has turned down the request.
Today, Crystal Palace confirmed the match was on, however moments later revealed their manager had test positive.
The Eagles preparation for the game had already been hugely disrupted.
Players unable to go into their regular hotel camp the night before the game, after two extra players, one who was signed from the Championship this season and another who was injured and missed the Euros, tested positive.
Those two cases added to other Covid positives that involved a striker and a midfielder, who has been injured and is working his way back to full fitness.
He said: "We hope that we can be OK, but if you look at what is happening around us then you begin to have worries.
"We have had a couple of cases in out football club and we have tried our best to keep it under control.
"But with the evolution for the next couple of days we don't know how it will go.
"I'm not worried about the welfare about the games during this period, because its been like that for years, I'm worried about their welfare regarding Covid.
"With what is happening around at the moment, I hope that we are able to put up a team that will be able to go to Tottenham and play."