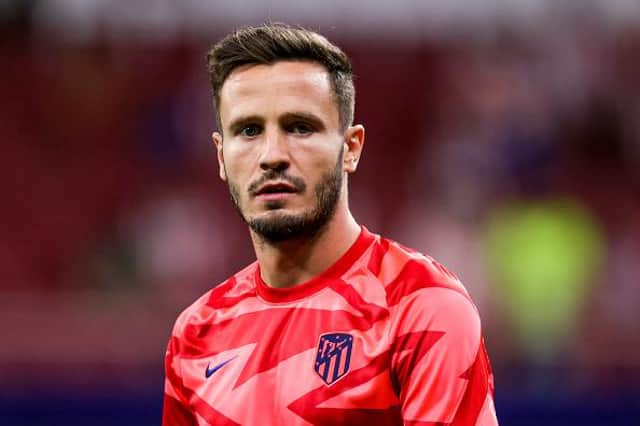 Saul Niguez of Atletico Madrid is one of Chelsea's summer signings.
The Spanish international was added to an already star-studded group of players who won the Champions League last season.
Manager Thomas Tuchel is clearly enjoying life in London and is not taking his foot off the pedal, illustrated by the signings of Romelu Lukaku and Saul Niguez on transfer deadline day.
For the midfielder, Chelsea offers a different kind of challenge, one that his impressive career has never had as he has been a one-club man at Atletico Madrid.
But on the evidence of his development, he should be relishing it.
He arrived at Chelsea aged 26, having played more than 300 games for Atletico Madrid, but in 2015 during a Champions League game against Bayer Leverkusen, his world came crashing down.
He was kicked by Kyriakos Papadopoulos in the stomach that led to a kidney trauma and internal bleeding.
The Spain midfielder played on with a catheter inside him for two years, before deciding to remove the damaged kidney for good.
He recently jokingly revealed that he played well with the catheter inside him, even though he had to adapt his game.
"I actually played very well with it," he told the Guardian in a recent interview.
Those close to him say he is a fighter and loves to play football, so with that in mind, LondonWorld takes a look at what he brings to the Champions League winners.
Offers the team directness
Saul was an integral part of the Atletico Madrid team that won La Liga last season, starting in 22 games as Los Colchoneros beat Real Madrid and Barcelona on the final day to win the title.
He is a midfielder who likes to progress the ball and pass it forward, unlike Jorginho and Mateo Kovacic who often recycle possession sideways.
Tuchel will particularly be delighted with his ability to progress the ball, as that makes him a direct replacement for often-injured N'golo Kante.
The manager will not be forced to play the double pivot of Kovacic and Jorginho everytime Kante is unavailable.
Chelsea's pursuit of Saul Niguez is the biggest ongoing story in the final hours of the transfer window (Photo by Denis Doyle/Getty Images)
Offers more goal threat than most of Chelsea's defensive midfielders
Saul has made a name for himself with trademark runs from deep, scoring and assisting goals both in Europe and La Liga.
He has scored more goals from open play in the last three seasons than Kante, Jorginho and Kovacic combined.
His technique, athleticism and impeccably well-timed runs into the box should also give Chelsea another attacking dimension, something they did not have last season.
Open-play goals by Chelsea midfielders in the last three seasons
Saul Niguez 18/19 (6 goals) 19/20 (7 goals) 20/21 (2 goals) Total 15
Ngolo Kante-18/19 (5 goals) 19/20 (3 goals) 20/21(0 goals) Total 8
Mateo Kovacic-18/19 (0 goals) 19/20(2 goals) 20/21(0 goals) Total 2
Jorginho -18/19 (1 goals) 19/20 (0 goals) 20/21 (0 goals) Total 1
Depth in centre midfield
Saul's arrival also adds to the numbers in the centre of the pitch, with Chelsea expected to compete for all three domestic titles as well as putting up a strong defence of their Champions League trophy.
The manager will also have a player he can use to give a rest to Kante, who has seen his involvement in the last two seasons consistently drop due to injuries.
Tactically, Tuchel is also able to vary his tactics, given that Saul is comfortable playing at the base of a midfield or at the heart of it and occasionally bursting in to try his luck at goal.
Five things about Saul Niguez at a glance
Saúl comes from a football family: his father, Jose Antonio played several years with Elche, as a striker, his brothers, Aaron and Jonathan, are also footballers.
Saul is currently in a relationship with a Spanish woman called Yaiza and is said to have been with her for the last five years. 
Saul scored his first international goal at Wembley, getting the first goal as Spain beat England 2-1 during the UEFA's Nations League in 2018.
This will be the first time Saul will be joining a team outside his country having only played for Rayo Vallecano and Atlético Madrid. 
Saul will wear the number 17 at Chelsea, the same number worn by fellow Spain international Pedro Rodrigez when he first arrived at Chelsea.