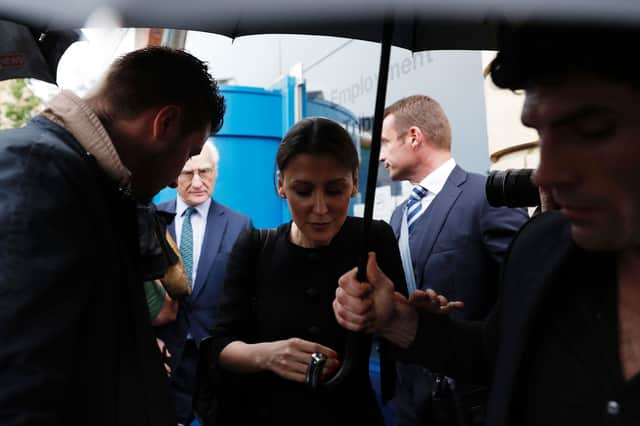 Marina Granovskaia, known within her close circle as the "Iron Lady", first came in touch with Roman Abramovich in 1997.
The future Chelsea Director had just graduated from Moscow State University, where she studied foriegn languages.
After two different interview stages, she secured a role as the personal assistant to Abramovich at his oil company Sibneft, using her fluency in French, English, Russian and German to great effect.
Roman Abramovich's profile in the world was rising, so when he bought Chelsea in 2003 he brought Granovskaia along with him to London to help with his communications.
She also worked as his fixer as the billionaire laid the foundations to transform the club into a true global heavyweight.
The early days in London
When Granovskaia first came to London, she was not directly involved with mega-money transfer dealings or negotiating player salaries.
Her job was quite simple, preparing communications for Roman Abramovich, offering advice on his PR issues and keeping eyes and ears on the ground especially in the media.
But all that quickly changed.
How she rose into her current role
Roman Abramovich's first years at Chelsea were sensational, with the club winning two league titles in three years.
The club also made five semi-final Champions League appearances in his first six years, laying down a marker as one of the best teams in the Premier League and Europe.
But as the years went by, Abramovich became tied up with issues back home in Russia, giving more responsibilities to Granovskaia and Michael Emenalo, who at that time was the club's director of football.
Granovskaia's negotiating powers were instantly felt as she led the renewal of contracts for key players like John Terry, who she once infamously told to "take it or leave it".
She also had the final say on club legend Frank Lampard's contract situation, which eventually meant he left the club to join Manchester City.
Through it all she remained behind the scenes, briefing Roman on the day-to-day running of the club, sitting in for her boss when he was away and using her accumulated business knowledge to advise on key club decisions.
But by the end of the 2011-12 season, the year Chelsea beat Bayern Munich to win the club's first ever Champions League trophy, the trust and confidence between Granovskaia and Abramovich had merged into an ionic bond.
The business mogul now trusted her judgment and was happy to leave key decisions to her.
The departure of Michael Emenalo and the elevation of Granovskaia
When Michael Emenalo resigned from his role as technical director at the club in 2017, agents, players and key Chelsea icons were comfortable discussing issues with Granovskaia, so Abramovich did not see the need to appoint a new director.
She had naturally grown into the role as the second most powerful person at the club.
Granovskaia took control and was elevated up to the Chelsea PLC and football club board.
Her role had now totally transformed from briefing Roman and writing his letters, to dealing with transfers, contracts, loans, the academy and close club affiliates.
Becoming the most powerful woman in world football
With Granovskaia now fully in charge, she changed the approach to transfers.
She turned the tables on discussions during contract negotiations, and would simply walk away if she felt agents or clubs were being unrealistic with their demands.
Close sources say the Iron Lady is obsessed with always paying the right price for deals.
The director negotiated the agreement with Vitesse Arnhem as a feeder club for Chelsea's young players.
She represents Abramovich's best interests and works with the principles she had seen from her boss when they first worked together at Sibneft.
Granovskaia has now mastered the art of football language, as shown in her recent transfer dealings, including the sale of Eden Hazard to Real Madrid for more than £140m despite the Belgium international having just one year left on his contract.
She also managed to pay just under a British record fee to bring Romelu Lukaku back to Stamford Bridge, paying £97.5 million.
That looks like a steal if you consider Manchester City paid £100m to Aston Villa for Jack Grealish.
Five of the best deals Marina Granovskaia has struck for Chelsea
Signing Diego Costa from Atletico Madrid in 2014. 
Orchestrating a sponsorship deal with Nike that earns Chelsea £60 million annually. 
Negotiating and signing a feeder club relationship with Vitesse to give fringe players opportunity to play competitive football away from the club. 
Healing the fractured relationship between Abramovich and Jose Mourinho, leading to the Portuguese's return to Stamford Bridge where he would go on to win another league title. 
Beating off competition and breaking the British transfer record to sign Fernando Torres for £50 million. 
It's worth noting that despite her growth at the club Marina Granovskaia has never granted interviews.
She only communicates through the club's website.