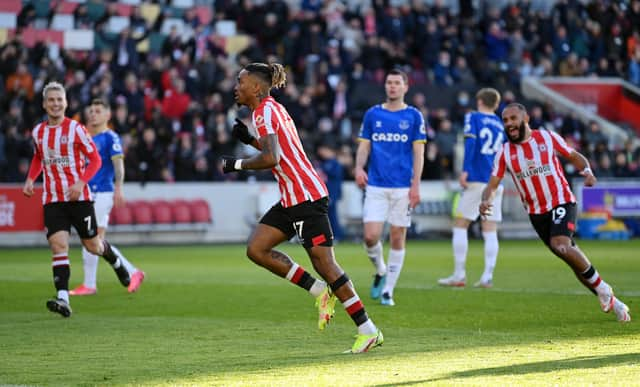 Ivan Toney celebrates after scoring his side's first goal from the penalty spot (Photo by Justin Setterfield/Getty Images)
Brentford goalkeeper Álvaro Fernández says his teammate Ivan Toney is the best player in the world when it comes to scoring from a penalty spot.
Ivan Toney's technique - where he keeps his eyes on the goalkeeper and only picks his spot after the 'keeper has moved - has been a major topic for discussion.
However it worked at the weekend, when he scored the only goal of the game against Everton to give his side all three points.
This season, Toney has again built on his 33 Championship goals that powered Brentford to their first ever Premier League campaign.
The goal against Everton was his fourth of the campaign, and came at a time when Brentford were enduring a winless run over three games.
The importance of the goal cannot be overstated.
Alvaro Fernandez of Brentford. Credit: George Wood/Getty Images
However his teammate Fernandez says he is not surprised by how well Toney has adapted to the Premier League, and the technique from the penalty spot is the best he's ever seen.
The goalkeeper said: "He's the best penalty taker in the world.
"When he goes to kick, he waits for the reaction of the keeper and then changes sides.
"I practice every day with him and try to save one.
"I don't save too many but it's not easy.
"But it's great that he has a very big [goal] percentage and we trust in him.
"What he does is so difficult because you have to be brave, but he is very brave."
Brentford started the season strongly with an impressive home win against Arsenal, which was the springboard on which they built their form.
They will now travel to the Tottenham Hotspur Stadium on the back of a confidence boosting victory against Everton.
Brentford manager Thomas Frank says he is relishing the opportunity to face Antonio Conte, who he first met when he was assistant to Dean Smith.
"Conte is one of the best managers in the world," he said.
"There are two main things I would say [about his teams].
"One is they are always very structured, defensively solid.
"Not that they play defensively, but they know exactly what they're doing.
"And then they just show a top mentality.
"I like to see that the team is always reflective of the personality of the manager, and he has a very strong mentality.
"So that structure on the defensive side of the game, plus he will teach them his mentality in terms of getting them to be a winning team.
"Hopefully, they're not there yet and we can do something again on Thursday."