Foo Fighters were scheduled to embark on a worldwide tour throughout 2022.
However, days after the tragic passing of their drummer, Taylor Hawkins, the band announced that they would be cancelling all their upcoming shows.
The band announced the passing of their drummer and friend on 25 March: "the Foo Fighters family is devastated by the loss of our beloved Taylor Hawkins."
"His musical spirit and infectious laughter will live with us forever," Foo Fighters wrote.
"Our hearts go out to his wife, children, and family, and we ask that their privacy be treated with the utmost respect in this unimaginably difficult time."
The band were in Colombia, and were scheduled to headline the festival 'Festival Estero Picnic' on Sunday 27 March, alongside the likes of The Libertines.
The performance was set to be their first Colombian performance in three years. The stage they were scheduled to perform on
Their upcoming 2022 tour was said to be one of their biggest yet, and a huge return to live music following Covid-19.
Their tour was set to kick off in Memphis, USA on 29 April, and they would play through until the last show which was scheduled for
So, how can you get a refund for your tickets?
Here is everything you need to know about the cancellations.
When were Foo Fighters expected to play London?
Foo Fighters were scheduled to play two shows at the London Stadium this summer on 30 June and 2 July.
Can I get a refund for my tickets?
For those who purchased tickets via Ticketmaster, all refunds for the tickets will be processed automatically and no action is required from the buyer's end.
According to Live Nation, the refund will be received from the event organiser within 30 days. The payment will be credited to the original source of payment used when buying the ticket.
"If the event organiser is offering a credit option, it will be visible within the event details of your order, which can be found in your Ticketmaster account," the website states.
Why is the tour cancelled?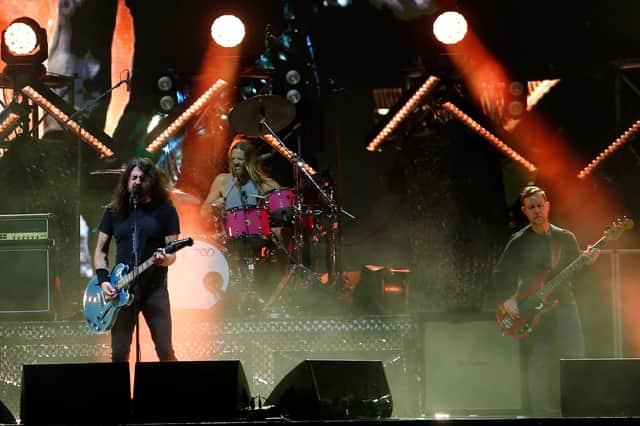 The band announced that they would be cancelling all their upcoming concerts for the year, and would not be rescheduling.
Their last performance as a band was on 20 March 2022 at the Lollapalooza festival.
The statement was released across the Foo Fighters social media channel's: "It is with great sadness that Foo Fighters confirm the cancellation of all upcoming tour dates in light of the staggering loss of our brother Taylor Hawkins,"
"We're sorry for and share in the disappointment that we won't be seeing one another as planned. Instead, let's take this time to grieve, to heal, to pull our loved ones close, and to appreciate all the music and memories we've made together."
Dave Grohl referred to Taylor Hawkins as his "best friend and partner in crime" in his 2021 autobiography, The Storyteller: Tales of Life and Music.
"During his stint as Alanis Morissette's drummer, long before he became a Foo Fighter, we would bump into each other backstage at festivals all over the world and our chemistry was so obvious that even Alanis herself once asked him, 'What are you going to do when Dave asks you to be his drummer?'" Grohl wrote.
"Part Beavis and Butthead, part Dumb and Dumber, we were a hyperactive blur of Parliament Lights and air drumming wherever we went."