Major section of Northern Line - including Bank and London Bridge - to be closed for four months in 2022
The Bank branch of the Northern Line will stop at Kennington and restart between Moorgate and Camden Town.
Watch more of our videos on Shots! 
and live on Freeview channel 276
Visit Shots! now
A‌ ‌major‌ ‌section‌ ‌of‌ ‌the‌ ‌Northern‌ ‌Line - including Bank and London Bridge stations - will be closed for four months next year.
Transport‌ ‌for‌ ‌London‌ ‌(TfL)‌ ‌has confirmed‌ ‌that‌ ‌the‌ ‌Bank‌ ‌branch‌ ‌between‌ ‌Kennington‌ ‌and‌ ‌Moorgate‌ ‌will‌ ‌be‌ ‌closed‌ ‌for‌ ‌17‌ ‌weeks‌ ‌from‌ ‌January‌ ‌15‌ ‌to‌ ‌mid-May‌.‌
‌This‌ ‌is‌ ‌to‌ ‌finalise‌ ‌work‌ ‌on‌ ‌the‌ ‌new‌ ‌Northern‌ ‌Line‌ ‌tunnel‌ ‌and‌ ‌to‌ ‌finish‌ ‌the‌ ‌£700‌ ‌million‌ ‌upgrade‌ ‌of‌ ‌Bank‌ ‌Station.‌ ‌
There‌ ‌will‌ ‌also‌ ‌be‌ ‌a‌ ‌reduced‌ ‌service‌ ‌between‌ ‌Camden‌ ‌Town‌ ‌and‌ ‌Moorgate‌ ‌during‌ ‌this‌ ‌period.‌ ‌ ‌
‌A‌ ‌temporary‌ ‌new‌ ‌bus‌ ‌route will‌ ‌also‌ ‌be‌ ‌introduced‌ ‌on‌ ‌weekdays.‌ ‌ ‌
This will be ‌the‌ ‌733‌ ‌from‌ ‌Oval‌ ‌into‌ ‌the City,‌ ‌which‌ ‌will‌ ‌run‌ ‌every‌ ‌seven to eight ‌minutes,.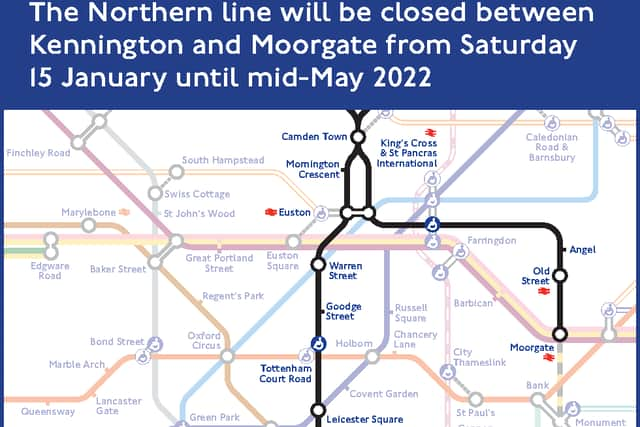 There‌ ‌will‌ ‌also‌ ‌be‌ ‌a‌ ‌number‌ ‌of‌ ‌weekend‌ ‌closures‌ ‌between‌ ‌Moorgate‌ ‌and‌ ‌Kennington‌ ‌ahead‌ ‌of‌ ‌the‌ ‌shutdown.‌ ‌ ‌
TfL ‌is‌ ‌asking‌ ‌customers‌ ‌to‌ ‌travel‌ ‌at‌ ‌quieter‌ ‌times‌ ‌or‌ ‌use‌ ‌alternative‌ ‌routes‌ ‌during‌ ‌the‌ ‌closure,‌ ‌as‌ ‌many‌ ‌lines‌ ‌and‌ ‌stations‌ ‌across‌ ‌central‌ ‌London‌ ‌will‌ ‌be‌ ‌busier.‌ ‌ ‌ ‌
The‌ ‌renovation‌ ‌will‌ ‌see‌ ‌Bank‌ ‌station's‌ ‌capacity‌ ‌increase‌ ‌by‌ ‌40‌ ‌% when‌ ‌finished,‌ ‌with‌ ‌improvements‌ ‌including‌ ‌a‌ ‌new‌ ‌railway‌ ‌tunnel‌ ‌and‌ ‌platform‌ ‌for‌ ‌the‌ ‌Northern‌ ‌line
There will also finally be step-free‌ ‌access‌ ‌to‌ ‌the‌ ‌Northern Line‌ ‌and‌ ‌improved‌ ‌access‌ ‌to‌ ‌the‌ ‌DLR‌ ‌platforms.
The famous maze-like station will also have more‌ ‌direct‌ ‌routes‌ installed, ‌and‌ ‌a‌ ‌new‌ ‌station‌ ‌entrance‌ ‌on‌ ‌Cannon Street.‌ ‌ ‌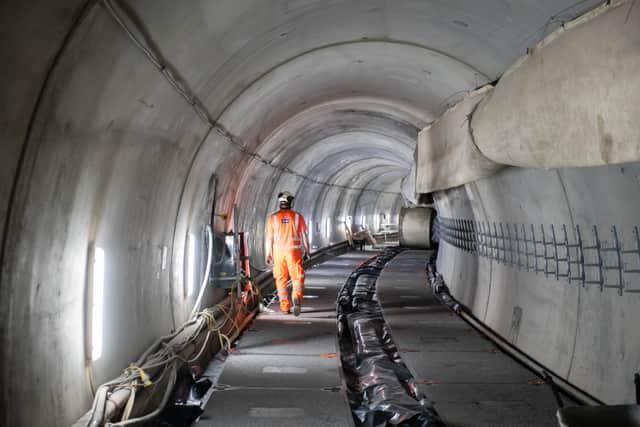 Heidi‌ ‌Alexander,‌ ‌deputy‌ ‌mayor‌ ‌for‌ ‌transport‌, ‌said:‌ ‌"This‌ ‌much‌ ‌needed‌ ‌renovation‌ ‌of‌ ‌Bank‌ ‌station‌ ‌will‌ ‌significantly‌ ‌increase‌ ‌the‌ ‌capacity‌ ‌of‌ ‌the‌ ‌station‌ ‌and‌ ‌make‌ ‌it‌ ‌more‌ ‌pleasant‌ ‌to‌ ‌travel‌ ‌through,‌ ‌as‌ ‌well‌ ‌as‌ ‌future‌ ‌proofing‌ ‌a‌ ‌key‌ ‌interchange‌ ‌station‌ ‌in‌ ‌the‌ ‌City.‌ ‌ ‌
"Once‌ ‌the‌ ‌upgrade‌ ‌is‌ ‌complete,‌ ‌passengers‌ ‌will‌ ‌benefit‌ ‌from‌ ‌step-free‌ ‌access‌ ‌to‌ ‌the‌ ‌Northern‌ ‌line,‌ ‌a‌ ‌new‌ ‌entrance‌ ‌and‌ ‌easier‌ ‌routes‌ ‌around‌ ‌the‌ ‌station.‌ ‌
"There‌ ‌will‌ ‌be‌ ‌a‌ ‌number‌ ‌of‌ ‌alternative‌ ‌routes‌ ‌to‌ ‌help‌ ‌passengers‌ ‌complete‌ ‌their‌ ‌journeys‌ ‌during‌ ‌the‌ ‌closure‌ ‌of‌ ‌the‌ ‌Bank‌ ‌branch,‌ ‌including‌ ‌a‌ ‌new‌ ‌bus‌ ‌route,‌ ‌so‌ ‌people‌ ‌should‌ ‌make‌ ‌sure‌ ‌they‌ ‌check‌ ‌before‌ ‌they‌ ‌travel."‌ ‌
Andy‌ ‌Lord,‌ ‌managing‌ ‌director‌ ‌of‌ ‌London‌ ‌Underground,‌ ‌said:‌ ‌"The‌ ‌Bank‌ ‌station‌ ‌capacity‌ ‌upgrade‌ ‌is‌ ‌a‌ ‌crucial‌ ‌project‌ ‌to‌ ‌support‌ ‌the‌ ‌City's‌ ‌continued‌ ‌growth‌ ‌and‌ ‌success.‌ ‌
"We‌ ‌are‌ ‌encouraging‌ ‌affected‌ ‌customers‌ ‌to‌ ‌check‌ ‌their‌ ‌journeys‌ ‌before‌ ‌they‌ ‌travel‌ ‌by‌ ‌using‌ ‌journey‌ ‌planner‌ ‌or‌ ‌the‌ ‌TfL‌ ‌Go‌ ‌app,‌ ‌and‌ ‌suggest‌ ‌they‌ ‌try‌ ‌to‌ ‌retime‌ ‌their‌ ‌journeys,‌ ‌or‌ ‌take‌ ‌a‌ ‌different‌ ‌route‌ ‌by‌ ‌Tube,‌ ‌rail,‌ ‌bus,‌ ‌walking‌ ‌or‌ ‌cycling‌ ‌during‌ ‌this‌ ‌vital‌ ‌17-week‌ ‌closure.‌ ‌
"I'd‌ ‌like‌ ‌to‌ ‌reassure‌ ‌everyone‌ ‌that‌ ‌we‌ ‌are‌ ‌doing‌ ‌everything‌ ‌possible‌ ‌to‌ ‌reduce‌ ‌the‌ ‌impact‌ ‌of‌ ‌this‌ ‌closure,‌ ‌with‌ ‌an‌ ‌increased‌ ‌service‌ ‌on‌ ‌the‌ ‌Charing‌ ‌Cross‌ ‌branch‌ ‌and‌ ‌a‌ ‌new‌ ‌bus‌ ‌route‌ ‌into‌ ‌the‌ ‌City.‌ ‌ ‌
"We‌ ‌will‌ ‌also‌ ‌use‌ ‌this‌ ‌closure‌ ‌to‌ ‌carry‌ ‌out‌ ‌maintenance‌ ‌and‌ ‌improvement‌ ‌work‌ ‌at‌ ‌other‌ ‌stations‌ ‌in‌ ‌order‌ ‌to‌ ‌minimise‌ ‌future‌ ‌disruption."‌ ‌ ‌