Protestors will gather outside the US embassy in London to demonstrate against the US Supreme Court's decision to overturn Roe v. Wade - a legal ruling which enshrined the right to abortion access in America.
The rally will take place from 7pm this evening at the US Embassy in Nine Elms, Wandsworth, south London, from 7pm this evening (Friday, June 24), organised by the Women's Equality Party (WEP) and Abortion Rights UK.
It comes after huge outcry following the decision which is set to transform abortion access and women's rights in America, with individual states now able to ban the procedure.
The ruling does not have any effect on abortion laws in the UK - but has been interpreted by some as part of a wider backlash to women's rights and the #MeToo movement.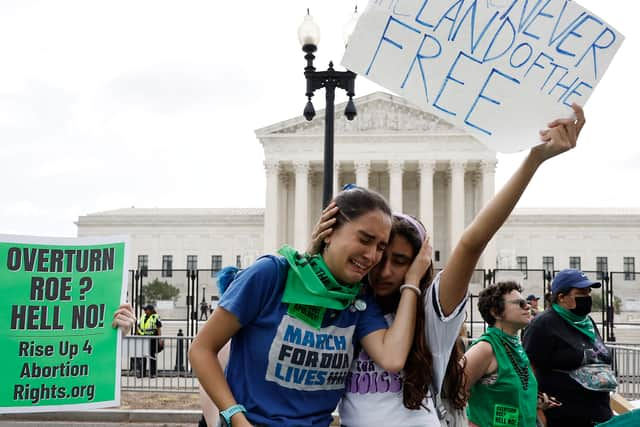 The court, which is the highest legal authority in the US, struck down the landmark 1973 Roe v Wade decision, weeks after an unprecedented leaked document suggested it favoured doing so.
Half of US states are expected to introduce new restrictions or bans on abortion following the ruling.
It has caused an uproar amongst women's right groups worldwide.
Female MPs and activists have shared their reactions to the news, branding it a "disgrace" and "barbaric".
Jamie Klinger, co-founder of feminist organisation Reclaim these Streets, tweeted that she was "devastated."
She wrote: "Rich white women will always have access to safe abortions.
"This is a disgrace. The fact that two Supreme Court Justices accused of sexual violence voted to overturn is not lost on me."
A spokesperson for the WEP said: "Make no mistake.
"Women will die because of this ruling, and tens of thousands more will be criminalised or forced to continue with pregnancies they did not choose.
"It is barbaric, inhumane and utterly heartbreaking.
"Solidarity with our sisters."
And a spokesperson for Abortion Rights, the UK's national pro-choice campaign for abortion to be safe, free, legal and accessible, said: "This ends 50 years of the legal right to abortion in the US and will have a devastating effect.
"We stand in solidarity with the fight to defend abortion rights in the US.
"Join our London protest at the US Embassy 7pm tonight."
Stella Creasy, the Labour MP for Walthamstow who has campaigned widely around mothers' rights in the workpalce, wrote: "To every one of our American sisters, we are with you.
"We will not rest until your rights are restored as your fight is our fight.
"They won't stop trying to control women and we won't stop fighting for their freedom everywhere.
"None of us should live under his eye."
While the mayor of London, Sadiq Khan, described the ruling as a "dark day for a great country."
He said: "London stands with the women of America, whose most basic rights and freedoms are threatened by this ruling.
"A dark day for a great country."